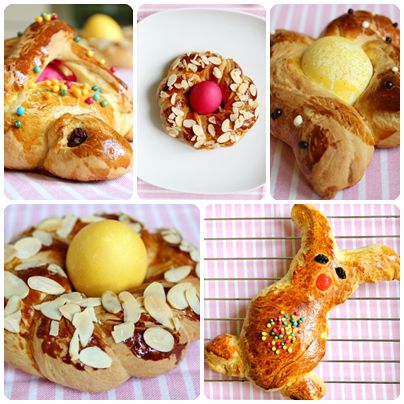 Semana Santa, or holy week, is the week of Easter celebrated throughout the world. However, many residents of Barcelona choose to spend the holiday in the nearby villages, seaside towns and country homes, leaving the city for travelers and tourists to explore.
With the warm spring weather creeping in and fewer people on the streets, Semana Santa makes for the perfect week for you to escape to Barcelona on your Easter holiday. Not to mention, there are many Barcelona apartments that you can call home for a few days while discovering all of the fun-filled festivities that Easter in Barcelona has to offer.
Easter Parades & Processions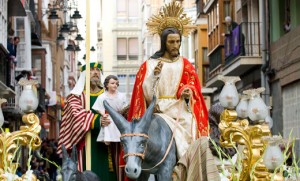 Since Barcelona is a cosmopolitan city filled with people from around the world, the parades and processions you will find during Semana Santa will not be as large as those you may see in other cities, such as Seville. However, that is not to say Barcelona is without its Easter traditions.
The first parade of the Easter holiday in Barcelona to begin is known as "El Paso de La Borriquita" and takes place on Palm Sunday in the Ciutat Vella, commemorating the arrival of Jesus in Jerusalem on donkey. Throughout this parade, visitors will be able to find stalls lining the streets selling distinctively traditional bleached palm fronds as a procession of floats and costumed participants goes by.
After this first live celebration, a week of devotional parades takes place in the Gothic Quarter of Barcelona as well as on the famous Las Ramblas.
Easter Gifts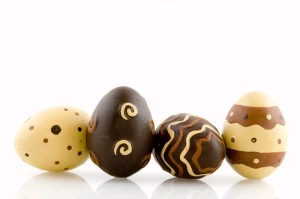 Gift-giving does not typically accompany the Easter holiday in Barcelona, with one exception: las monas. Children are given various small gifts to commemorate the resurrection of Christ. Usually, these gifts will be small chocolate figures, such as eggs, to symbolize the rebirth and new life of Jesus.
Along with this, it is traditional for godparents to give their godchildren a Mona de Pascua. Originally, the Mona de Pascua was an Easter cake made out of a marzipan substance and served with eggs. Today, the cake has many forms, some which include chocolate, and all of which are delicious.
Easter Treats in Barcelona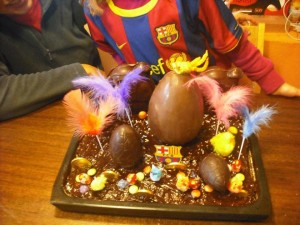 As a predominantly Catholic city, the tradition of not eating meat on Good Friday is alive among the citizens of Barcelona. However, this provides a great opportunity for people to indulge in the delicious Easter tradition of fish for the day. For example, cod is enjoyed widely throughout the city on Good Friday (as in many other cities).
Especially for the Easter holidays, bakeries and chocolaterias around Barcelona work to create the most fabulous and delectable treats, making those who have given up sweets for Lent wish that Easter Monday would arrive faster. Some of these scrumptious Easter traditions include Bunyols, Torrijas, Roscas de Pascua, Pestinos and as mentioned above, the Mona de Pascua.
A Taste of Seville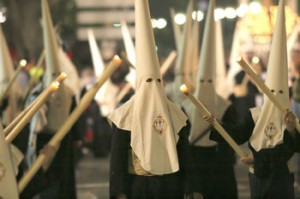 Seville is known for hosting the largest Easter celebrations in Spain, with flamboyant parades, outrageously luscious desserts, and most traditionally, the Nazarenos. But you don't have to go all the way to Andalucía to sample these customs, as most of them can be found (although to a lesser degree) here in Barcelona, too.
Though they're not a regular feature of Easter everywhere in the city, the hooded penitents named Nazaranos (based on the people of Nazareth) can be found in the celebrations of the L'Hospitalet de Llobregat district of Barcelona. A beautiful sight to see, the Nazarenos sport their distinctively shaped cloaks and masks during parades and processions. The cone that forms the top portion of the headgear is suggested to be symbolic of the Nazarenos rising to the heavens, providing them penance for their sins.
If you are coming to Barcelona during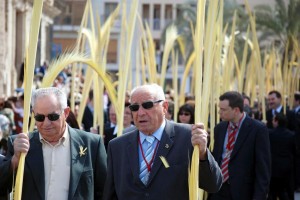 Easter week, you most certainly cannot miss out on seeing this medieval tradition come to life in modern day. Similarly, the parades that take place throughout Semana Santa are well worth watching, while a taste of the Mona de Pascua and the other Easter-related treats that you can find here are just too much to refuse. So grab some flights, book your apartment in Barcelona and head over to the Catalan capital for an unforgettable Easter holiday.