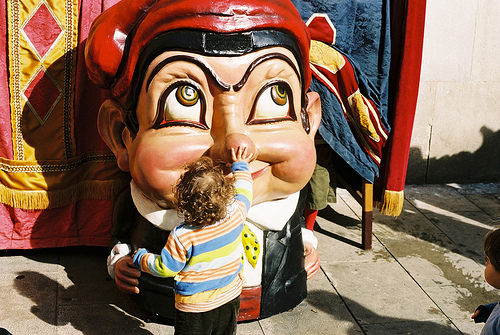 From August 15th through August 21st, Barcelona's usually quaint and quiet Gràcia district will host the annual Festa Major de Gràcia. Known as one of the largest street parties in Barcelona, this festival sees the Gràcia neighbourhood come to life with over 600 events, parades each day, human tower demonstrations and even a best decorated street contest…trust us, this is no ordinary block party! So, if you're in Barcelona during the middle of August, be sure to discover a taste of true Catalan celebration as the whole of this beautiful 'barrio' comes together to enjoy this spectacular neighbourhood fiesta. Plus, those renting one of the many Barcelona apartments in Gràcia for their holiday are welcome to join in all of the lively celebrations, including the weird and wonderful Catalan fire run. Read on to find out more…
Street Showdown
The main attraction of the Festa Major de Gràcia is the contest for the best decorated street, and boy do participants take this competition seriously! Roughly 19 streets throughout the district compete to win the title by decorating their alleyways in extremely elaborate fashions. Walking through the Gràcia district, you will find streets decked with remarkable detail. With a different theme every year such as 'Under-the-Sea' and 'Ancient Rome', residents strive to dress their streets with creativity and originality in order to win the coveted prize of 'Best Decorated Street'.  Draped with streamers, pictures and an assortment of artwork, the hard work and effort put into this contest does not go unnoticed as thousands visit the Gràcia neighbourhood every year to take part in the festivities and admire the colourful 'calles'. The celebration is also intensified by the energy of the daily events, ranging from free workshops, activities and concerts for everyone to enjoy.
Party Time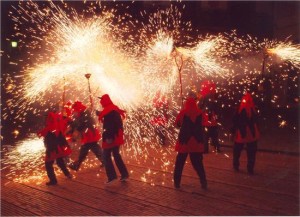 The first day of the festival, August 15th, is also known as the Day of Assumption, when the Virgin Mary's ascent to heaven is celebrated. The 15th is a public holiday in Barcelona and is therefore known to be one of the biggest days of partying, and with plenty of unique traditions to watch out for, you will be sure to see some unusual characters out and about…
One of the typical Festa Major de Gràcia traditions is the wild Correfoc (Fire Run), where people dress as devils and dance to the beating of drums while shooting off fireworks from their pitchforks. There are also parades every day, and the 15th sees the largest and most entertaining procession of the streets, consisting of marching bands, Bastoners (stick dancers), Gegants (giants made from papier-mâché and cloth that can be several metres tall), and Capgrosos (big-heads). Also be on the lookout for the skillful Castellers, who join together and assemble their human towers throughout the festival. Watch as these daredevils stack themselves far above the ground, sometimes towering up to 8 stories high!
A Community Celebration
The Festa Major de Gràcia is a compelling Catalan celebration that transcends age,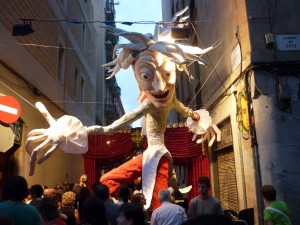 class and presumptions. Citizens come together as a community to celebrate the festival and it is not uncommon to walk through the streets and see 8 tables put together to make room for the whole block so they can all sit, eat, and drink with one another. Whatever differences there may be, everyone comes together to celebrate their neighbourhood and enjoy all of the festivities. For those looking to witness this rich community pride, be sure to visit Plaça Rius i Taulet, which offers various shows and exhibitions, jazz, rock, and classical music concerts, traditional Catalan food, and of course, plenty of drinks flowing into the early hours of the morning. Don't miss it!
How to get there: Metro station Lesseps (L3), Diagonal (L3 or L5), Fontana (L3)