Why rent an apartment in Barcelona?
There are many decisions to make when planning a journey abroad, whether it is a short weekend break, a business trip or a few weeks in the sun, so don't let finding accommodation in Barcelona become a chore. Renting an apartment rather than splashing out on a hotel is becoming a popular choice for those wishing to feel more at home when they are away. Below we give you some great reasons why staying in one of the many Barcelona apartments available to rent in the city is the better option.
Accommodating  for everyone
Apartments provide a homely feel when staying in a foreign country. They often have a larger living area and a more inviting atmosphere. The floor layout generally includes separation of bedrooms, kitchen, and living spaces rather than one large area. For groups of friends and families, separate rooms can provide privacy and space.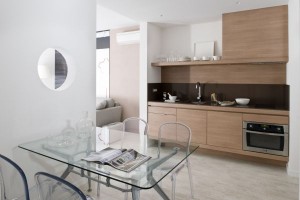 A big factor in choosing to stay in Barcelona apartments rather than hotels, is the kitchen. Having your own kitchen allows you not only to store cold drinks and snacks in your accommodation (an essential part of travelling abroad) but it also provides you with the freedom to cook for yourself and your guests whenever you wish, eliminating the obligation to eat every meal in a restaurant or café. This could potentially save you money on your trip, as well as give you the option to indulge yourself in some Barcelona culture by shopping for fresh ingredients at some of the city´s brightest and most beautiful markets such as La Boqueria on Las Ramblas.
Don't pay for the extras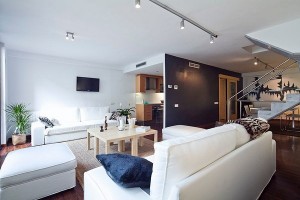 Because apartments are for rental use, their owners usually have the spaces fully furnished and well-equipped, with the necessary towels, bedding, toiletries and kitchen utensils that are essential for a comfortable stay. Many apartments include internet access, a DVD player with DVDs, games, books and other entertainment tools, perfect if you are taking a family vacation in Barcelona. Many apartments in the city also have a washer and dryer or washing rooms located in the building for your convenience. All of these things add up to give you the opportunity to enjoy your time in Barcelona without compromising your sightseeing savings on amenities.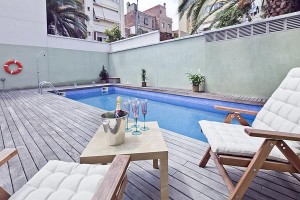 A Professional, Yet Personable Encounter
In renting a Barcelona apartment, you may have a personal contact within a company who knows your name and needs for your temporary stay. This allows you to work with professionals who can find the perfect accommodation for you in your desired location, such as beach apartments in Barcelona or Sagrada Familia apartments in Barcelona. If you choose to do your search online, finding an apartment in Barcelona which best suits you has never been easier, as online sites offer comprehensive overviews of each apartment, including room-by-room photographs, a full list of amenities and useful information on the surrounding areas, allowing you to get all of the information you need to make your decision. You can also find some fantastic Barcelona apartment special offers and last minute deals online, saving you money on rentals which are right for you.
So if you are looking for a home away from home, somewhere which gives you exactly what you need to relax on your trip or simply a place which fits your personal specifications, then choosing to rent an apartment in Barcelona will certainly give you the key to a perfect holiday.