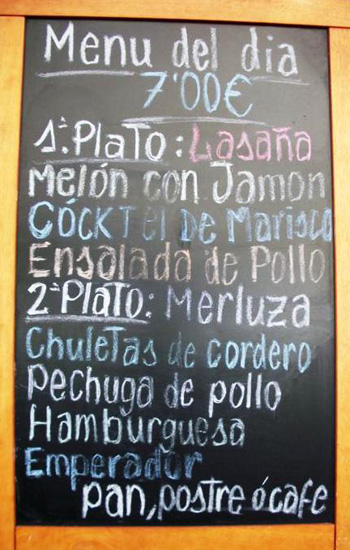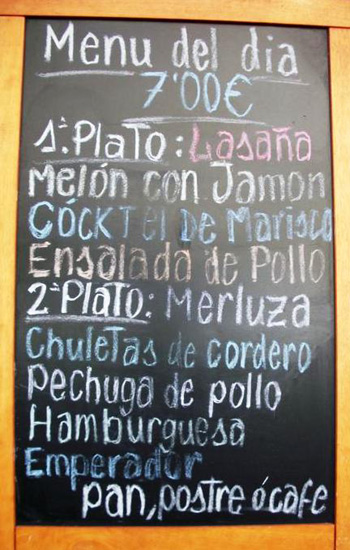 Lunching in Barcelona is a very cultural activity that all visitors should be prepared for when trying to get a genuine experience. The typical lunch is much larger than those in other countries and is eaten between the hours of 1pm and 4pm. Many restaurants offer what is called the "Menu del Día," or the menu of the day, which can be a cheap and authentic experience for all visitors.
What is el Menu del Día?
Typically, the Menu del Día consists of two courses, bread, a beverage and a dessert or coffee. On average, a Menu del Día will cost you only 8€-15€. Menus change daily and there are usually multiple options for each category of the menu, so you will have a variety of dishes to choose from and you aren't completely confined to one course. El Menu del Día is usually posted outside the restaurant, on either a chalk board or sign so you can browse a little before making your decision as to whether or not to dine there.
What is on el Menu del Día?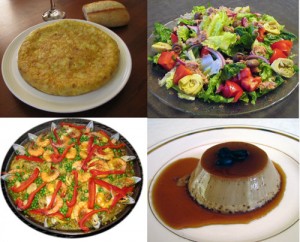 El Menu del Día varies based on the restaurant and day of the week. Some restaurants will give you more food, for less money, just simply due to the nature of the venue. Often, the eatery will even let you order two items from the same ¨plate category¨ instead of one from each. Make sure to check the sign out front for a full description of what you'll be getting if you order from the Menu del Día.  An example of a typical Menu del Día is as follows:
El Primer (First Course)
Ensalada Mixta (mixed green salad with tuna)
Paella (traditional rice dish with seafood, meat or vegetables)
Sopa del dia (soup of the day)
El Segundo (Second Course)
Chuletas de cerdo (pork chops)
Pollo asado (roast chicken)
Filete de merluza con tomate (white fish fillet with a tomato sauce)
El Postre (Dessert)
Flan (a traditional Spanish dessert, similar to crème brûlée)
Yogurt (various flavours of yoghurt)
Fruta (fruit)
Pastel del día (cake of the day)
Bebida (beverage)
 Vino (a glass of white or red wine)
Agua (with or without gas)
Pan (bread)
Why should I choose el Menu del Día?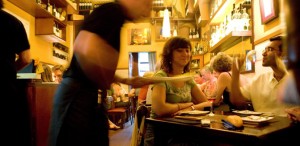 Quite simply, the value for money. El Menu del Día is one of the most inexpensive ways to get a full meal in the city, and enjoy some tasty Catalan cuisine. Aside from cheap fast food joints, the Menu del Día is one of the only ways to have a quality long lunch in Barcelona for a fraction of the price charged at many of the restaurants aimed at tourists.
Where can I find el Menu del Día?
The best part about el Menu del Día is that it can be found all over the city. Restaurants that provide it will also have a full menu of other delicious meals. Check out some of the inner streets of Barceloneta, El Borne, and Eixample for the best Menu del Día finds. Stay in a centrally located Ramblas apartment in Barcelona, and you will be sure to find this traditional option all around you.
Check out these great Menu del Día restaurants:
Can Pere
Mediterranean food with a Menu del Día of 9€
Street: Rosselló, 264, Barcelona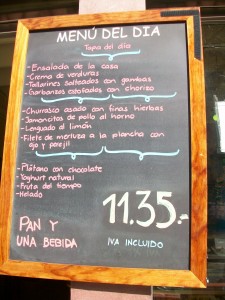 08037
District: Eixample (Dreta)
Metro: Verdaguer (L4 or L5)
Mexican food with a Menu del Día of 10€
Street: Gran de Gràcia, 167 Barcelona, 08012
District: Gràcia
Metro – Fontana (L3)
Catalan grill with a Menu del Día of 15€
Street: Diputació, 367 Barcelona, 08009
District: Eixample
Metro: Tetuan (L2)
L'Antull
Smaller typical bar/restaurant with a Menu del Día of 10€
Street: Europa, 32 Barcelona, 08014
District: Les Corts
Metro: Maria Cristina (L3)