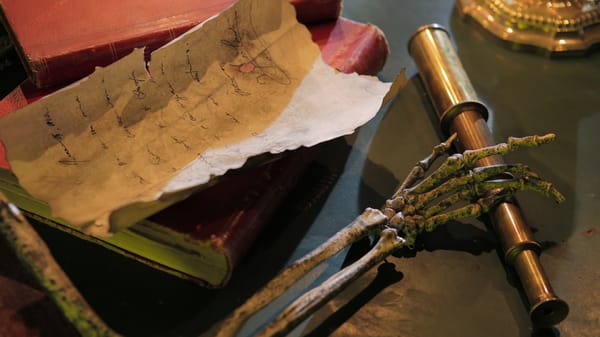 Love an adventure? Love the thrill of solving a puzzle? If the answer is yes, then trying out one of Barcelona's many escape rooms might be the perfect activity for you. You'll be placed smack in the middle of the action, given the opportunity to actually participate in a thrilling adventure—a completely different experience from seeing it in movies or video games.
Work with a team to find the way out of a tricky situation. You'll be forced to utilize all of your teammates' strengths in order to solve the puzzle in the mere 60 minutes you are allotted. The game is designed to promote cooperation, and by the end your team will feel closer than ever!
1. Chicken Banana
For groups of 3-30, Chicken Banana provides the perfect opportunity for your friends, your colleagues, or your family to practice working together to solve challenging problems. Equipped with hidden surprises throughout the hour, your adventure  in this Barcelona escape room will be anything but straightforward—forcing you to use your brain and the brains of your teammates to the max! Choose one of their three room options—mafia, psychiatry or prison, and find your way out of a tricky situation for just 17-20 Euros per person!
In mafia you are working for the mob. Your mission is to find evidence on a Barcelona mafia kingpin… watch where you step though, it's a tricky business and you don't want to cross these people!
In psychiatry you are patients of the asylum of Barcelona. Its director is doing illegal electroshock experiments… will you be able to escape before you're next?
In prison you are stuck in the jail of a corrupt regime. Prisoners have not been returning to their cells lately, but where have they gone? Will you be next? Do you really want to wait and find out?
Address: Carrer de Rocafort, 12
2. Enigma
Like solving seemingly impossible puzzles? Enigma is the place for you. In this escape room you and your team must figure out how to use the different objects inside your room to escape. This escape room in Barcelona has very advanced puzzles and gadgetry, including TVs, computer codes, magnets, digital safes, cameras etc. for you to take advantage of in your quest for escape, so if this appeals to you then this is the place for you.
For motivated, bold people, this experience, complete with a screen counting down every second of your 60 minutes, will push your mental capacity to its limits. Exercise your brain while you're on vacation, or bond with your coworkers and family by experiencing this team-building adventure. Strategize and take advantage of everyone's strengths in order to free yourself from your entrapment. Book your adventure on their website, for 50-65 Euro depending on the day for groups of 2-5 people.
Address: Carrer de les Acàcies, 38
3. Lock-Clock
This Barcelona escape room has three different theme options for you to chose from: Gaudí's Secret, Aztec Treasure, or After-Party. Suited for adults or children alike, for just 14-20 Euro you have the chance to work as a team utilizing each other's best techniques and skills to find your way out of the unique situations Lock-Clock puts you in.
Gaudí's Secret, a mission for the age of 14 and older, brings you back to the year of 1936, when a revolutionary group has set fire to the workshop of one Antoni Gaudí, one of the greatest modernist architects of all time. You must follow a set of mysterious clues to find a way to save his archive of precious plans and blueprints. This informational escape room is a perfect way to have an exciting adventure while simultaneously learning about the city of Barcelona, and one of its most famous designers Antoni Gaudí.
Aztec Treasure, suited for younger ages, is set in the captain's quarters of an ancient Spanish galleon. This ship is not just any ship however; it's filled with hidden Aztec treasure. Your mission is to find the hidden treasure within the captain's cabin before the boat sinks! Can you solve the puzzles to outsmart the captain before it's too late?
After-Party is where you wake up in a strange apartment in Barcelona after an epic party, with a hazy memory and an intense headache… where are you? How can you get out? In this mission coming soon to Lock-Clock, you must find your way out before the cops come knocking!

Address: Passatge del Patriarca, 4