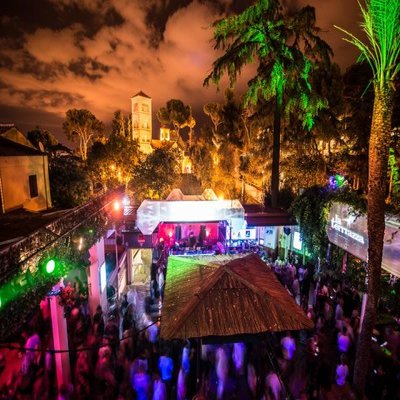 Barcelona is the perfect destination for a weekend of fun in the sun with your best girlfriends. In a city full of adventure around every corner, there is no shortage of things to do and see that will have your group buzzing with excitement. Whether its bonding over tapas or exploring the rich history of Catalunya, here we give you some tips and tricks to make sure your girls weekend in Barcelona is unforgettable!
Pamper yourselves at the spa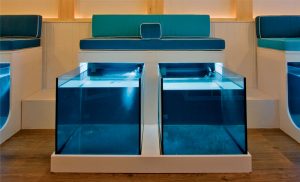 Every great girly trip starts out with a little rest and relaxation. Pamper yourselves and indulge in one of Barcelona's beautiful spas where people flock from across the globe to experience some of the most soothing, highest quality treatments in the world.
The beauty industry in Barcelona is known for combining the best elements from many different cultures. Feel like trying traditional Thai massage? What about exploring first-hand the luxury of Arab baths? All of that can be found in the heart of Barcelona!
If you're feeling a little more adventurous, take a walk over to Aqua Bliss Urban Spa (Carrer Comtal, 33) where you can dip your toes in their famous garra ruffa fish pedicures. These tiny pedicure fish clean away the dead skin on your feet, leaving your tootsies fresh and revitalized. Not to mention you get complimentary drinks while the fish get to work, a two-for-one.
Retail therapy

If you consider yourself a shopping enthusiast, you have arrived at the right place! The Barcelona is considered to be one of the best shopping locations in Europe, combining big name brands and exquisite boutiques to offer shoppers anything and everything under the sun. It's also easy to shop relatively inexpensively if you love the thrill of the sale!
Your first stop should be Passeg de Gràcia, the go-to boulevard in BCN lined with shop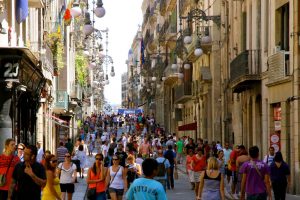 after shop to tickle your fancy. All the major luxury brands are well represented such as Gucci, Michael Kors, and Hermès. You can also find larger department stores like Zara, Mango and H&M.
Another area ripe for exploration is an area called El Born. It's known as one of the trendiest areas in all of Barcelona, known for its chic vibe and engaging culture. The boutiques that make up this neighborhood cater to every shopping desire from outerwear to accessories and everything in between. There are loads of charming treasures everywhere. You just have to look.
Extra tip: If your engine needs a little recharge, head into a café or gelateria for some of Barcelona's finest coffee and dessert. One of the best places to combine art and ice cream is Amorino, where you can get gelato in the shape of a rose! It's almost too pretty to eat, but you'll still do it. (La Rambla, 125)
Take in the sights and sounds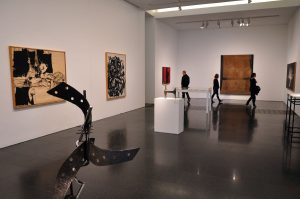 Get your cameras ready because Barcelona has Instagram-worthy views around every corner.  If you're an art buff you will love getting lost in this city, amongst the architecture and many museums that fill its streets.
A must-see is Park Güell, a UNESCO World Heritage Site and work of Barcelona's most beloved artist Antoni Gaudí. Bring a picnic for all to share and take in the 'modernisme' that the park embodies. It has multiple sections, each as intricate and exotic as the next. The breathtaking view of Barcelona from its famous serpent bench is unforgettable and sure to be a cherished memory for all who visit.
For an art experience that can be fun for the whole group, take a trip down the to the MACBA museum (Plaça dels Àngels, 1). The wacky and intriguing exhibits inside are conversation starters to say the least. With multiple different galleries, it's easy to spend the afternoon sipping café con leche and taking in the best Barcelona has to offer.
Food and wine tour
What's a girl's weekend without a drink or two? Learn why Barcelona is beloved for its
gastronomy on a food and wine tasting adventure. Indulge in traditional Spanish tapas and taste some of the best wines from vineyards around Barcelona in areas like Montserrat. It's a unique and elegant way to have fun and eat like a local!
For foodies wanting to get a real feel for Barcelona's tapas culture while visiting historic sites in the city center, multiple walking tours leave daily from El Born, Gràcia, and El Raval. We recommend checking out the various options here.
Beach day – Don't forget the sunscreen!
One of the many things that makes Barcelona unique is its over 4k of stunning beaches close to the city center and beautiful weather all year.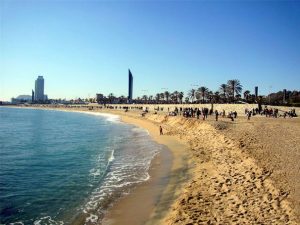 Barceloneta Beach is the most frequently visited, and is always lively no matter the day of the week. Take a break from all that sightseeing and shopping, and take in the sun on its golden
sand. If you're feeling up for it, you can also windsurf and kayak, as these are popular sports for visitors. There are also plenty of other activities like biking and volleyball available. Barceloneta is also easily accessible via the metro, L4 line.
If you're looking for a more chilled experience, we recommend heading further down the coast to the Bogatell and Nova Mar Bella beaches. You'll leave feeling bronzed and refreshed. What's more? The beaches are free!
Getting the party started
One thing Barcelona is known for is its nightlife. True to reputation, the clubs in Barcelona are as extravagant and vivacious as they come. You'll be surprised how easy it is to party until the sunrise, and it will be even better on a girls weekend in Barcelona! The city's best beach clubs like Opium Mar, Pacha, CDLC, Shôko and Danzatoria are open daily and frequently host big name DJs like Tiesto and Steve Aoki. Drinks at these clubs are known for being a bit pricey, but the experience of partying on the seafront terrace and taking a walk along the beach afterwards is totally worth it!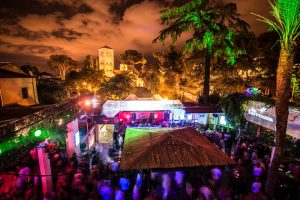 If you make it to Barcelona in the summer, be sure to check out the famous club La Terrrazza (Avenida Francesc Ferrer I Guardia). This beautiful open air club in Poble Espanyol is home to a techno loving crowd and only open in the summer months from May until September. It's been a local staple for the past 20 years because of its unique, Ibiza-like atmosphere.
Where to stay
The perfect itinerary requires the perfect accommodation. Renting an apartment in Barcelona is the best way to experience the city, especially when visiting with friends. If you're on a budget you don't have to eat out for every meal, you have your own kitchen where you can try your hand at some typical Spanish and Catalan recipes. You can stay all together in the same space, in the comfort of your home-from-home, making it easier to relax and enjoy a drink together before you go out.