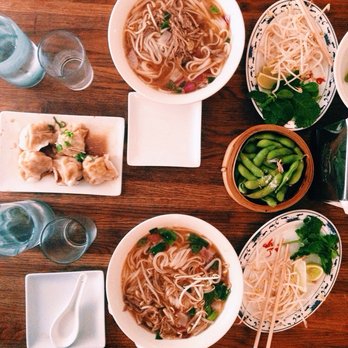 A new beer production trend has taken the nation of Spain by storm: craft beer. Back in 2011, the Spanish newspaper El País, stated that a "revolution is occurring in craft beer" (cervezas artesenales).  Since then the craze has thrived and spread well beyond the confines of Madrid to País Vasco, Valencia, and Barcelona, too.
Barcelona's beer-tiful history

When it comes to beer, people usually associate Barcelona with Estrella Damm and Moritz.  These beers are a familiar sight in almost every bar in the city and have been brewed here for over 100 years. Only as recently as 2004 was Moritz rescued from its demise after the company went bankrupt, although now it's main production has been moved from Barcelona inland to Zaragoza. Despite their dominance, for many foreign visitors their choice of beer was limited for those familiar with the great selection and quality they would expect from elsewhere.
However, savvy bar and pub owners noticed the growing demand for quality beer and have stocked up their bars with some of the best international brews you can find. These developments have occurred alongside the growing trend for Spanish craft beer where locals are creating their own produce through independent micro-breweries some of which can be found within the bars themselves!
The best ones:



1. La Taverna Racó de Sants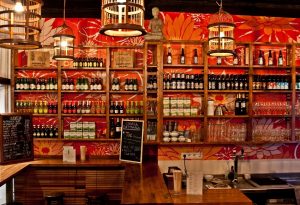 Situated in the Sants district of Barcelona, you'll find this beer house which began life in 1985, dedicated to bringing the Catalonian capital some of the best in craft beer.
Within a building dating back to 1861 you'll see staff pouring both craft and commercial beers of this dark but cosy tavern. There you'll be mesmerised by the selection of both the local Catalan beers and more traditional ones from the likes of Belgium and Ireland being offered in bottles or on tap.
Carrer del Guadiana 6 (Metro: Plaça de Sants L1, L5)
2. La Cerveteca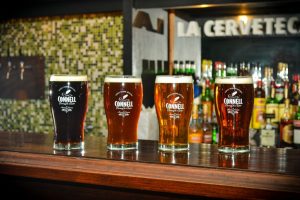 Found in the quirky streets of the Gothic Quarter, this place lives and breathes beer. This isn't your typical Barcelona watering hole but an educational experience too; where the visitor can learn about the origins of the beer and production of each drink. As if this wasn't enough, they provide workshops and house beer tours within the city.
Carrer d'en Gignàs 25 (Metro: Barceloneta L3)
3. BierCaB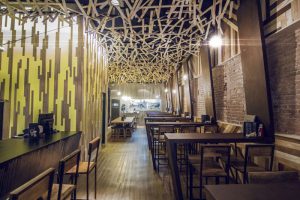 Designed with the purpose of showcasing the owner's passion for craft beer and gourmet grub, this gastro-pub has over 30 taps! Ten of these taps are from their very own beer house whilst the other twenty offer some of the greatest international stouts, lagers and ales available in Barcelona. Compliment your beer with some local cuisine – try some tapas of quality hand-cut ham and patatas bravas from their menu.
Carrer de Mutaner 55 (Metro: Universitat L1, L2)
4. Moritz
With the self-pr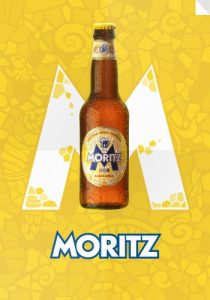 oclaimed title of  "the Rolls Royce of microbreweries" this craft beer house in Barcelona has a statement that's hard to dispute. The Fábrica Moritz Barcelona is as close to the birth of a beer as you can get.
Sample some of the freshly brewed, unpasteurised Moritz on the ground floor or take on the suggestions made by the gastronomic director Jordi Vilà. Kitted out also with a wine bar, concept store and multi-purpose rooms for events, open from 6am-3am, this Barcelona brewery offers all things beer.
Ronda St Antoni 41 (Metro: Universitat L1, Sant Antoni L2)
5. Mosquito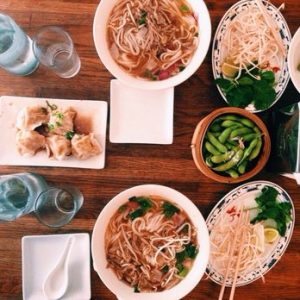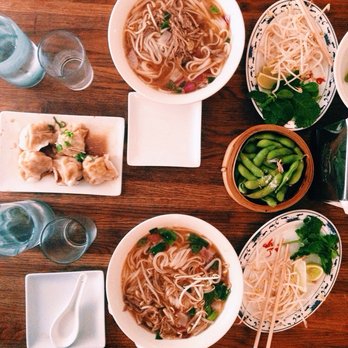 The unlikely marriage of craft beer and Vietnamese cuisine; where bottles are served with dumplings. A unique concept mastered by the creators of Mosquito who do it brilliantly. Here you will share a stool with the trendy young clientele of the city where the only problem you may have is a queue for ten or fifteen minutes to get a table. As long as you're a little patient you will be presented with a Vietnamese tapas menu and some of Barcelona's greatest artisan beer.
Carrer dels Cardels 46 (Metro: Jaume I L3, Arc de Triomf L1)