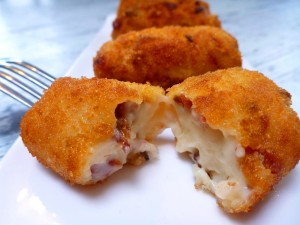 Perhaps you are the type that's comfortable with constantly trying different foods, or perhaps not. Either way, the tapas experience is an essential part of any Barcelona holiday. Catalan cuisine is both delicious and varied, and these bite-sized portions are perfect for sharing with friends. Here are some suggestions for you to consider when you explore the best tapas in Barcelona.
1. Pan con tomate – a Must-Have Tapa
A sidekick to almost every dinner here in Barcelona, "pan con tomate" is a firm favorite. This delicious dish is made with freshly toasted bread topped with squished tomato, salt, olive oil, and sometimes a little rub of garlic . This combo will have you dreaming for more in no time! Next time you are in the mood for tapas in Barcelona, don't forget the "pan con tomate."
2. Patatas Bravas – Your Favorite Fried Potato
Think a Spanish take on French fries, because that is what patatas bravas in Barcelona resemble. This savory snack of fried potatoes topped with a unique spicy sauce is a tapa that everyone craves! Luckily you can find this tapa almost anywhere in Barcelona, and each time will be a different experience because every restaurant adds their own twist.
3. Bombas de Queso – Explosively Delicious

Resembling croquetas, these Barcelona tapas taste like cheesy mashed potatoes. If you'd like something different to croquetas, but containing the same great taste, these are a good option. Barcelona's "bombas de queso" are always a great choice when searching for a quick and filling snack to keep you going.
4. Croquetas – Some of the Yummiest!
These little fried bites can have many different fillings and a taste you'll love.   Whether you are a ham and cheese fan, a mushroom fan, or chicken fan, you'll love the croquetas in Barcelona. From mouthwatering ingredients mixed with mashed potato on the inside, to the crunchy breaded coating on the outside, "croquetas" will hit the spot every time.
5. Tortilla  de Patatas is a Tasty Tapa!
Get the image of a flat, tasteless round used for tacos and burritos out of your head. Now think thick, fluffy, potato and egg-filled omelet. Choose from a variety of different tortillas, made with courgette, chorizo, onion, and other vegetables. This is either served warm and fresh, or cool, and is a delicious tapa in Barcelona.
6) Olives – Truly Scrumptious!
Olives can be prepared in numerous ways, but rumor has it that Spain does it pretty well. When you are out for tapas in Barcelona try ordering olives when you see them. Each chef marinates them differently, some using garlic and different seeds, while others add Spanish wine and an assortment of fresh seasonings. One thing to keep in mind when ordering olives in Spain is that they are sometime stuffed with anchovies. If fish is not what you are seeking, be sure to mention this.
7) Say Cheese!
If you are a cheese lover, then this is an obvious choice for you. Cheese platter tapas come with a variety of cheeses, ranging from the best Manchego and other goat cheeses, to more mild and fresh tasting cheeses. If you are served bread at the table, be sure to save a little for when the platter arrives, as most cheeses taste best atop a warm crunchy slice.
8) Catalan Sausage
Sausage tapas in Spain come in many varieties such as "chorizo", "botillo", "salchichon", or "morcilla". Their sweet meaty tang envelope your taste-buds and whether served cold or warm their different flavours are quite unique.
9) Mushrooms are a Marvelous Thing!
If you consider yourself a mushroom lover, then these tasty treats will capture your heart and stomach! Mushroom tapas are often prepared with olive oil, garlic, and fresh seasonings, perfectly combined to bring out their own flavours. Much like most tapas in Barcelona, every chef prepares these differently, so try them out a few times, and see which tapas bar has your favorite mushrooms.
10) Piquillo Peppers Stuffed to Perfection
When you hear peppers, you may think spicy. These peppers aren't hot, however, they are deliciously sweet, and stuffed with special cheeses, meats, or seafood, with a savory salty/sweet combination. These peppers are extra tasty when drizzled in olive oil, and perfectly accompanied by a round of "pan con tomate."
The choice is yours, but if you pick one of these ten suggested tapas in Barcelona, you will leave satisfied every time.  Each one is loaded with insanely great tastes, leaving your palates wanting more.  Maybe next you will be ready to leave your comfort zone and try something new after such a successfully delicious experience.
Feel free to leave us a comment below!