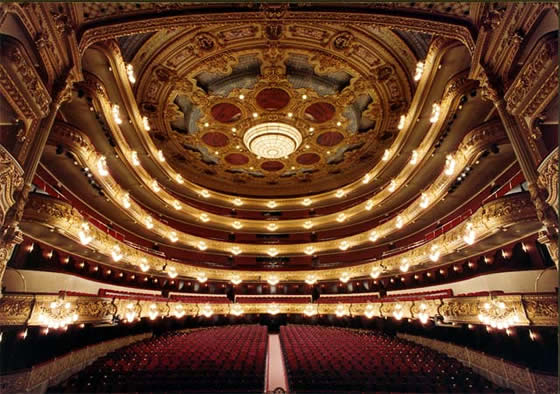 Many different civilizations have lived on the land that we now call Barcelona, and have each left their own distinctive traces. From Pre-Christian settlements, to Roman Barcelona and the medieval walled city, layer upon layer of history has grown and evolved through the centuries. Its artifacts and buildings are part of the everyday landscape, and include top Barcelona sightseeing attractions such as the Gothic Cathedral, fragments of the Roman city walls, La Basílica de la Mercè, and countless other churches and monuments.
Hidden secrets of Barcelona
However, a more esoteric Barcelona history also exists. Its layers are formed by energetic imprints left by past events, and their subtle lingering effects have been passed down through the generations as Barcelona urban legends. Read on, and if you feel a shiver creep up your spine whilst walking home late at night through the winding back streets of Barcelona's Gothic  district you might begin to realize why.
Gran Teatre del Liceu and its phantoms of the opera
Many esoteric stories and legends surround Barcelona's most famous street, Las Ramblas. One of the most popular is told about the Gran Teatre del Liceu Opera House, which is said to be cursed with bad luck. According to the legend, this theatre was built over the remains of an execution site from the Middle Ages.
Its construction was completed in 1847 and it has suffered more than its fair share of bad luck since then. The first tragic incident was a massive fire in 1861, and only a few years later it was again partially destroyed by anarchist bombs in 1893. To this day, it still holds a reputation for being haunted by ghosts, including unusual apparitions on stage or in the audience.
La Boqueria market: fruit, veg and slaughtered monks
Just a few hundred metres away along Las Ramblas we reach one of Barcelona's top tourist attractions, La Boqueria Market. This lively market is full of stalls that sell every type of local and exotic fruits, fresh vegetables, sweets, fish and cheese, and more tasty treats.
It was built over the ruins of the Carmelite Descalços de Sant Josep monastery, a notorious site for odd occurrences. It was said that a group of dead friars once appeared in this monastery, singing to all the brothers of the congregation and scaring them witless. According to the Barcelona legend, these cadavers rose from their tombs and then returned to the cemetery…
Ten days later, on July 25th 1835, the monastery was attacked and a crowd of unidentified individuals slaughtered the Carmelites. Even to this day it is said that as night falls on the 25th July you can hear the sound of singing echoing throughout La Boqueria.
The legend of Plaça del Pi
Just a block away from Las Ramblas you'll find Plaça del Pi. This square looks onto the magnificent church of Santa María del Pí, and is renowned for its regular artisan and art markets. Less people are familiar with the mysterious esoteric history that gave it its name.
It is said that once upon a time a young boy lived here, who was only able to make 'meaningless statements'. He was often teased by the neighborhood children, and was considered to have been rejected by God.  After he passed away his family buried him in this square, which was then a parish cemetery.
Soon after his burial, a pine tree with leaves filled with random words on them began to grow beside his grave. This was so unusual that people from all over the city began to come and visit the magical tree. The local priest was afraid that this meant the area was haunted, so the tree was dug up and removed by the church. It is said that when they dug up the tree, the roots led to the boy's open mouth.
18th century shadows in Plaça Reial
Another 'haunted' square of Barcelona is Plaça Reial. Several legends surround this iconic square in the centre of Barcelona, such as the story of the ghost of a young girl who wanders its perimeter at night. Many people have reported seeing this ghost for the past two centuries. The story goes that this is the ghost of the Viceroy of Peru's widow. She was a young girl who was supposedly forced into an arranged marriage with an older man she did not love.
So when you're walking around in Barcelona, taking in the sights, remember to keep an eye out for the shadows lurking in the corner;  that's the thing about legends, they get you thinking 'could it be true?'