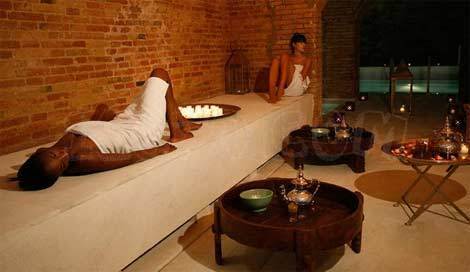 After a hard day's sightseeing in Barcelona you might like to take a moment to yourself and have a relaxing afternoon of indulgence in a Barcelona urban spa. There are many options, which range from a fish pedicure, to hot thermal baths in Barcelona, or a more traditional style spa. So where should you turn for a chilled aqua fix? Check out one of these watery wonderlands…
Arabic Baths: an urban spa in the Born
The benefits of thermal waters have long been enjoyed, from the Ancient Romans to the Arabs. But what you may not know is that the Moors actually left some baths tucked under Passeig de Picasso, which has now become Aire de Barcelona, one of the most popular urban spas in Barcelona.  Arrive at the appointed time and discrete staff will greet you with towels and special footwear for inside this exclusive Barcelona spa. Work your way down the candlelit staircase and you instantly notice Arabic style music and flattering lighting that gently fill the vaulted areas.
 Relax and unwind
First you'll see the steam room, which is super strength and nothing like the more half-hearted ones you often find in gyms. But the best part is just after this: a collection of pools of varying temperatures. At first when you enter the warm pool (97°F), you may simply feel a bit like you're in a bath. But follow this with the hot pool (104°F) and the cold pool (61°F), before returning to the warm pool and you'll notice the tranquilising effect.
Massage and Jacuzzi
If you also book a therapeutic massage, a member of staff quietly comes to find you – they can spot you by the colour of your wristband. Hidden from view, you then receive a gentle massage on a warm marble slab. After showering, head to the Jacuzzi area and consolidate the massage with the soft pummeling of water jets.
Naturally these Barcelona thermal baths are very popular (particularly at weekends) so book ahead.
Fish pedicure in Barcelona
Looking for an alternative kind of pedicure in Barcelona? Fish pedicures have crossed over from Asia where people have long been lowering tired feet into tanks of garra rufa fish, in a bid to relieve themselves of the day's cares – as well as a lot of dry skin. Now this treatment is available in the heart of Barcelona.
Aqua Bliss Fish Spa
Situated on Carrer Comtal (convenient for tired shopping feet!), the Aqua Bliss centre is a little oasis of calm. Before a treatment, beauty therapists check your feet and wash them with 100% natural soap to ensure they'll make a healthy meal. But never fear – garra rufa fish are specifically used because they don't have teeth. Seated comfortably just above a tank, feet are slowly lowered in. The sensation is immediately ticklish, but the urge to giggle subsides a few minutes in, after which you feel a bit like your feet are floating in a giant glass of bubbly. As you sip tea or cava, the fish diligently get to work, leaving no part of your foot untended. The movement eventually lulls you into a relaxed state.
Afterwards, feet are left notably smoother and you can complement your fish pedicure with a traditional one, or a massage.
More urban spas in Barcelona
While the above may be some of the most innovative ways to kick back in the city, there are  plenty other spas in Barcelona. Get a manicure while listening to blues and munching on a brownie buffet at the W Hotel's Bliss Spa. And near Plaça Espanya you'll find Agua & Vida, which features thermal loungers for reclining. A trip to one of these urban retreats is a luxurious way to relax during your holiday break in Barcelona.