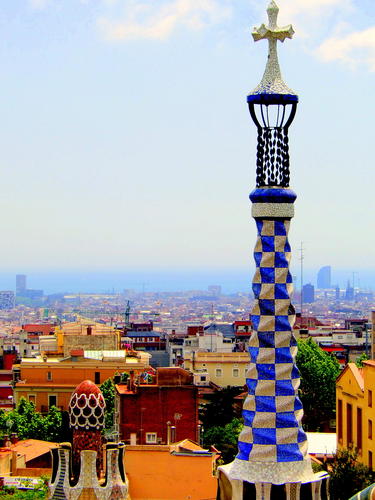 Think you need an extended stay to enjoy Barcelona? Think again. Here we have created a complete guide to visiting the highlights of Barcelona in just two days! Obviously, the more time in Barcelona, the better, however you can still observe the history, witness the natural beauty, and reflect upon the inspirations of Gaudí in a shortened vacation. To get the most out of a weekend visit in Barcelona, follow our ultimate Barcelona tourist guide especially created for the short-term traveler.
DAY 1



Let's start the day in the centre of Barcelona: Plaça de Catalunya and Las Ramblas.
9am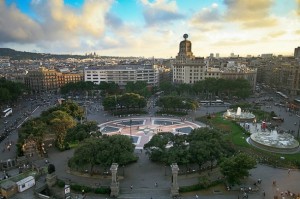 Begin with breakfast at Buenas Migas in The Triangle, next to Plaça de Catalunya. This delicious café specialises in foccacia bread and offers a range of breakfast dishes including jams, hand-made sweet foccacias and other baked treats.
10am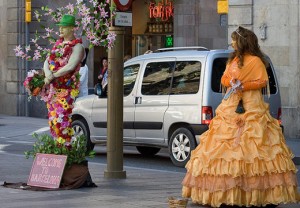 After breakfast, the first stop is Plaça de Catalunya. Covering over 50,000 square meters, this plaza is mainly known for its impressive fountains and statues, but it also displays some of the hustle and bustle often associated with Barcelona. Next, move straight down the famous Las Ramblas and explore the numerous souvenir shops, quirky bars and street stalls. Don't miss the live statues dotted around the street as they dazzle you with their creative costumes and imaginative acts.
11am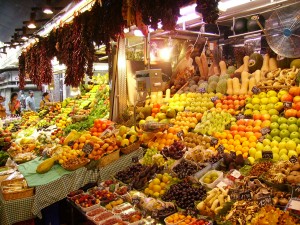 About half way down Las Ramblas, on your right, you will see one of Barcelona's most famous markets – El Mercat de Sant Josep de la Boqueria (or La Boqueria for short). Be prepared to feast all of your senses as tourists and locals collide in this amazing location, eating at the mouth-watering restaurants inside or buying fresh ingredients for their home-cooked meals. Known for the quality of its products, this market has over 300 stalls offering a variety of foods. Try a fruit snack pack while continuing along your journey.
Also to the right of Las Ramblas is the vibrant and multicultural Raval district. Here there are lots of bars and restaurants and you can choose to visit two of Barcelona's best known museums: the Museum of Contemporary Art (MACBA) in the Plaça dels Àngels and the Centre de Cultura Contemporània de Barcelona (CCCB) on Carrer de Montalegre.
1pm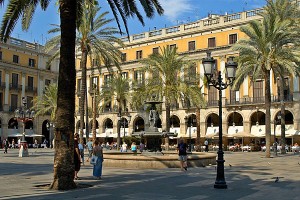 Continue heading down Las Ramblas and stop at Plaça Reial on your left. This square, built in 1848, displays a fine arcade, a fantastic centre fountain, palm trees, and lamps designed by Gaudí. For lunch, we recommend the magnificent Los Caracoles on Carrer dels Escudellers which offers the finest Catalonian and Mediterranean cuisine. Look out for the pictures on the walls of its famous visitors.
3pm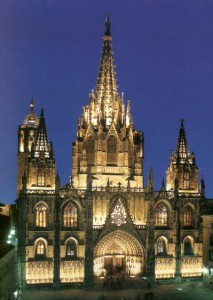 Next, make your way down a side street called Carrer de Ferran to the Gothic Quarter of Barcelona. This street offers a delightful stroll with more shops, boutiques, and cafés. Once you reach the Plaça de Sant Jaume, you can see the historic town hall and the government palace of Catalonia. From here you will see the small path named Carrer de Bisbal, which leads you towards the Catedral de Barcelona. Here you can observe this astounding Gothic cathedral, with its delightful cloister and religious artwork. While in this area, don´t forget to stop at La Pallaresa on Calle Petrixol. This quaint café was founded in 1947 and offers delicious ´chocolate con churros´ – perfect for a late dessert or afternoon treat!
4:30pm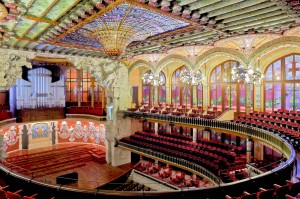 From the Gothic Quarter, head towards the street Via Laietana. If you walk along this grand avenue in the direction of the mountains, you can visit a UNESO World Heritage site: El Palau de la Música Catalana. With its intricate and ornate decorations and lavish interior, this concert hall was finished in 1908 and was designed by Lluís Domènech i Montaner in a modernist style. Some of the world's best soloists, conductors and orchestras have performed here.
6pm
Heading down Via Laietana towards the sea, you will be able to finish the day in the El Born neighborhood, one of the most fashionable spots in the city, presenting a bohemian character and just a 10 minute walk from Las Ramblas. Stop for drinks and snacks at La Vinya del Senyor in Plaça Santa Maria.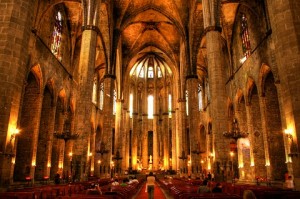 In this up-and-coming district of Barcelona, you will find many designer boutiques and arts shops as well as an outstanding example of Catalan-Gothic architecture, the Santa María del Mar basilica. This incredible church reveals a very unique architectural style with its swooping arches and stained glass windows allowing colourful light to enter the building – a feature unseen in many Gothic churches.
8pm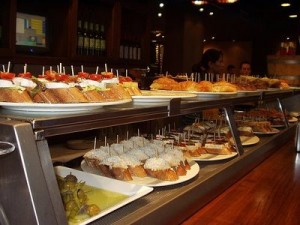 For dinner, we recommend Sagardi on Carrer de l´Argenteria 62, for some typical Basque Country cuisine, including a colourful selection of ´pintxos´ – little (but delicious) tapas on sticks. However, if you find you would like something a little more Catalan, head to Cal Pep in Plaça de les Olles for some wonderful seafood dishes.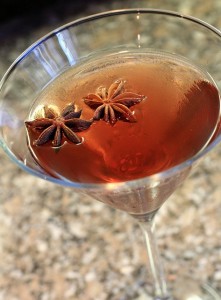 For after dinner drinks in El Born, try Miramelindo on Passeig de Born. This bar offers a salsa setting and a delicious signature drink, the Coca Cocktail. If you have chosen one of the many Barcelona apartments that are centrally located and you would like to stay closer to home, we recommend Boadas cocktail bar, located just at the top of the street. Looking to stay out a little later? Popular nightclub Sidecar can be found in Plaça Reial with music that varies from night to night.
Find out where to go on Day 2 of our Barcelona tourist guide here.
To see details of each location, just click on the icons!
View Barcelona in 2 Days: A Short Tourist Guide – Day 1 in a larger map