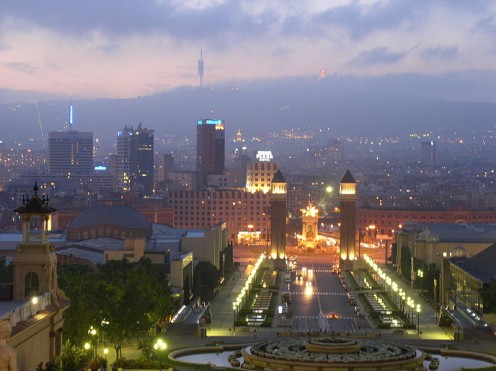 In day 1 of our Barcelona tourist guide, we took you on a tour of some the best sights in the city, from Las Ramblas, to the Gothic Cathedral, to El Born. But, of course, there is so much more to see! Get ready for some incredible architecture, delicious food and amazing views with day 2 of our short guide to the Catalan capital.
Day 2
Let's start day 2 in the Eixample district and kick off the tour by checking out the works Catalan architect Antoni Gaudí.
9:30am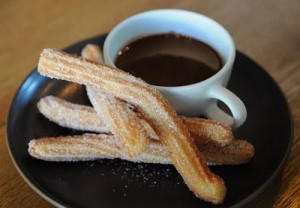 Begin with breakfast at Forn de Sant Jaume on Rambla de Catalunya, 50. This delightful café offers a selection of Catalan pastry treats to wash down with delicious tea, coffee or thick hot chocolate.
10:30am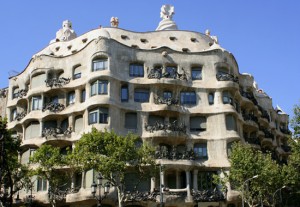 Keep walking up the Rambla de Catalunya until you reach the Diagonal metro station, then turn towards the grand Passeig de Gràcia where you will soon see one of Gaudí´s stunning successes: Casa Milà. Originally designed as a spiritual symbol and otherwise known as La Pedrera, meaning The Quarry, this magnificent apartment building was completed in 1912. With its unconventional architectural design and wave-like balconies, this truly is one of Barcelona's 'must-see' attractions. Don't forget to take a look at the amazing roof terrace with spectacular views over Eixample.
11:30am
Take about a 5 minute walk down Passeig de Gràcia to view another of Barcelona's treasures: Casa Batlló. This is a building that was restored with a modernist design by Gaudí in 1906 and looks as if it is made from skulls and bones. Take an audio tour of this colourful structure and explore its mosaic features which tend to avoid straight lines in a typical Gaudí style.
12:30pm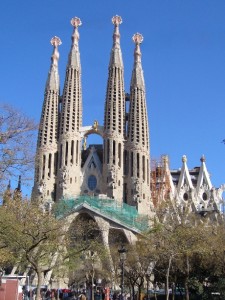 A visit to Barcelona would not be complete without seeing Gaudí´s unfinished masterpiece: the Sagrada Familia church. Take the metro line 2 from Passeig de Gràcia station, getting off at Sagrada Familia. Upon emerging from the metro station, you will immediately be astonished by Gaudí´s most famous work, which was started in 1882, and through continuing restorations, has yet to be completed.
2pm
For lunch we recommend Cal Boter on Carrer de Tordera 62, just a short walk from the Sagrada Familia. This wonderful restaurant was founded in 1986 and offers mouth-watering grilled meat and vegetable dishes as well as a variety of Catalan specialities.
3.30pm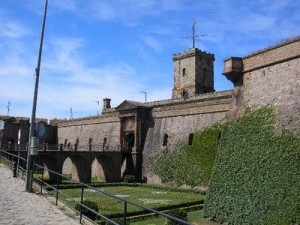 After lunch, it is time to proceed to Montjuïc – the famous hill that overlooks all of Barcelona and offers breath-taking views of the Mediterranean Sea. Take the metro line 2 from the Sagrada Familia station and get off at Paral-lel, changing on to the Funicular de Montjuïc. The historic castle of Montjuïc, which was once a fort of defence for the city and later a military prison, is located at the very top of the hill and can be easily reached by the nearby cable car. Other must-sees at Montjuïc include the Poble Espanyol, an open air museum, and the Fundació de Joan Miró museum of modern art.
5.00pm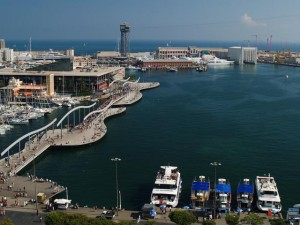 Next, let's head back down the hill to Barcelona's picturesque marina: Port Vell. Take the funicular train back to the Paral-lel stop and take the metro line 3, getting off at Drassanes. From here, you can walk down the end of the Ramblas and along Passeig de Colom into Port Vell, which, after an extensive urban renewal project, is now a main focal point of the city. It is home to the biggest aquarium in Europe with over 8000 fish and 11 sharks, and also boasts plenty of bars, shops and restaurants, many of which are located around the large Maremagnum shopping centre.
7:00pm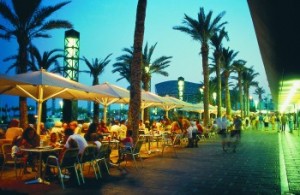 Let's end the day in La Barceloneta with a beautiful seaside dinner. Take a lovely walk down the Passeig de Joan de Borbó to Barcelona's beach neighborhood. We recommend El Suquet de l´Almirall restaurant for the best seafood in Barcelona at reasonable prices. You can enjoy the views of the Olympic port, the yachts in the marina, and the sunset while eating your last Barcelona meal.
If you would like to try out some more of Barcelona's nightlife, we highly recommend spending some time in the Port Olymipic area, just a ten minute walk down the coast from La Barceloneta. Shôko, Danzatoria and Opium Mar are some of the most popular hot-spots in Barcelona for both locals and tourists.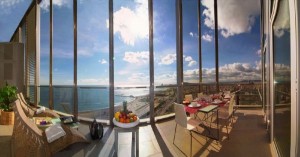 Ready to book your accommodation for your perfect two-day stay in Barcelona? From beach apartments in Barcelona to Eixample apartments; from Ramblas apartments in Barcelona to apartments in El Born – wherever you choose to stay for your Barcelona trip, you can find a variety of rentals that are well-connected to all of the attractions listed in our tourist guide. Check online for some fantastic Barcelona special offers and last minute deals and find your perfect Barcelona accommodation at the best price!
 To see details of each location, just click on the icons!
View Barcelona in 2 Days: A Short Tourist Guide – Day 2 in a larger map