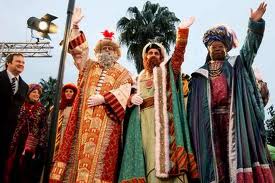 There are many celebrations in Barcelona throughout the holiday season worth experiencing:  Noche Buena (Christmas Eve), Noche Vieja (New Year´s Eve), and in particular the day of Los Reyes Magos (The Three Kings). This is arguably the most important day of the Christmas season in Spain as people give gifts, prepare feasts and celebrate the arrival of the Three Kings. Here, our Barcelona tourist guide tells you more about this unmissable event…
History
The actual Three Kings Day on January 6th, the Epiphany, and it stems from the story in the Gospel of Matthew, the first book of the New Testament. Here it is said that Three Wise Men from the East arrived in Bethlehem to visit the baby Jesus, bringing him gifts of gold, frankincense, and myrrh. Although the day itself is full of festivities, celebrations to commemorate the coming of the Kings begin the night before. Grand parades take place in towns all over Spain, with the biggest cabalgata in Barcelona taking place in the city centre.
Parades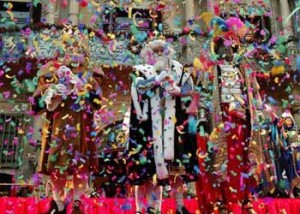 The fantastic Barcelona parade involves plenty of music and large floats which tour the city for a massive 5 kilometres. The three main floats are those which transport each of the Kings: Balthazar, Melchior and Gaspar, from the Port Vell, where they arrive on the Santa Eulàlia boat, to the Magic Fountain at Montjuïc. There are around 1200 participants in this colourful parade, and it is especially exciting for children as they scramble to catch the sweets thrown from the floats into the crowds.
Gifts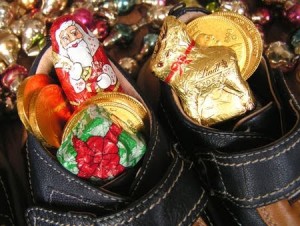 After the parade, families return to their homes, where children will put out food for the Kings, water for their camels, and a pair of shoes outside the door or window, in the hope that the Kings will pass by and fill them with gifts. The next morning, they awake to see which presents the Wise Men have brought them. Some might even find a lump of sugar coal if they have been particularly misbehaved that year!
El Día de Los Reyes Magos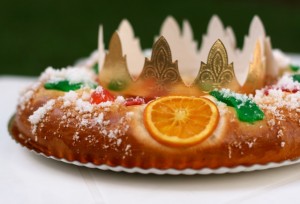 The day of Reyes is a magical one, much like Christmas Day, where families come together for a grand feast. A typical dessert you will find on this day is the Roscón de Reyes. Round-shaped and sometimes filled with cream, this delicious cake has two hidden elements: A dried bean and a small king figurine. If you happen to find the king in your portion of the Roscón, you get to wear a crown and are named king/queen for the day. But, if you find the bean inside your slice, you have to pay for the dessert!
If you are thinking of coming to Barcelona this Christmastime, do not miss out on this chance to experience the celebrations of the Three Kings Day. You can find many last minute offers on Barcelona apartments in the city centre, allowing you to stay close to all the action for these fabulous festivities. Book your apartment in Barcelona now and experience Christmas in true Spanish style!