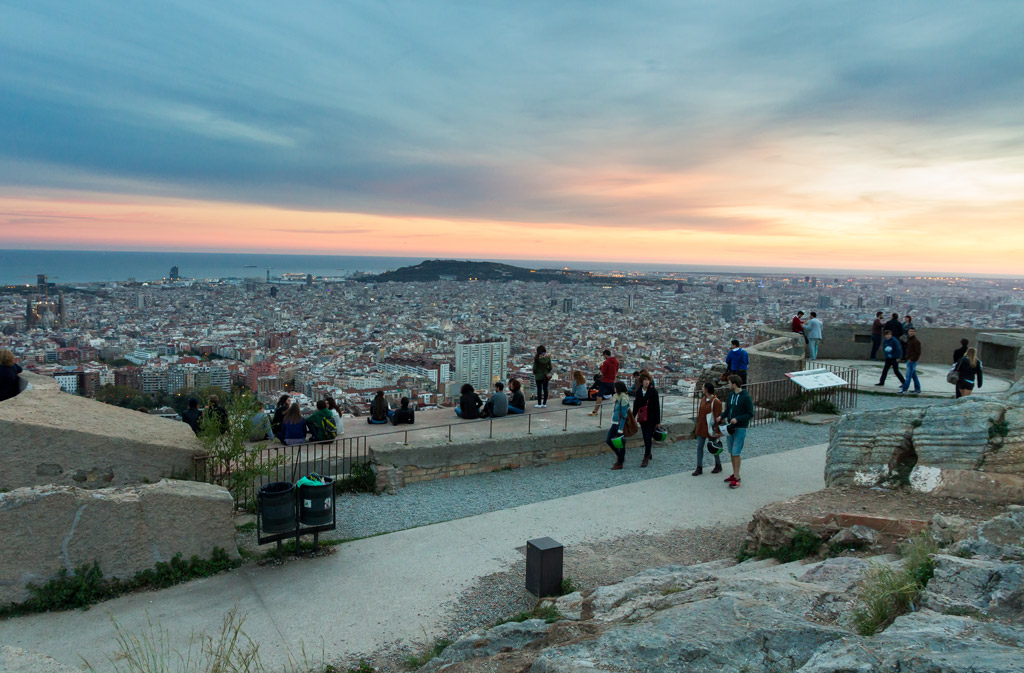 Going green in Barcelona is in fact simpler than you may think, as the Catalan capital offers plenty of ways to reduce your environmental footprint without sacrificing your favourite city break activities. The Provincial Government of Barcelona itself is established as a sustainable tourist destination and was recently awarded the 'Biosphere Responsible Tourism' certificate, supported by the United Nations and UNESCO. Locals and tourists alike can enjoy the city without the guilt of negatively effecting the environment, with plenty of shops, restaurants and hotels that function with sustainability in mind. Take a look at some of our top picks!
Getting Around the City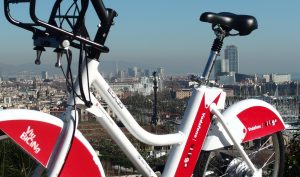 Many are aware of the fact that Barcelona's transport system is extremely well connected and highly regarded. Simply using the metro is much better than driving in Barcelona, however if you want to further reduce your carbon footprint, we recommend taking advantage of the fact that Barcelona is one of the most bike-friendly cities in the world.
If you are a resident in Barcelona, Viu Bicing is perfect for you! This is the city's urban and sustainable service that users can subscribe to allowing them to use the bicycles from over 400 stations around the city for only €47 per year. However, if you are simply just visiting Barcelona, there are plenty of bicycle rental shops dotted around the city, offering a set of wheels to rent from as little as €10-15 for the day!
Having said all this, we can't deny that our favourite way of getting around the city is in fact, walking. Not only is it eco-friendly but it's undoubtedly the best way to explore the city and discover all its sights!
Grabbing a bite to Eat
Due Spaghi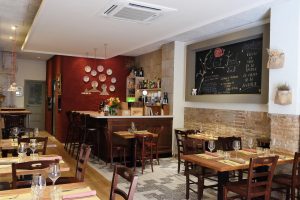 Offering a fusion of both Catalan and Italian cuisine, Due Spaghi is situated in lower Eixample, just a stone's throw from the quirky neighbourhoods of Sant Antoni and El Raval.  It is an establishment that most certainly emphasises its passion for the environment, referring to their suppliers as 'part of the family', this restaurant only uses local products and offers an inviting and homely dining experience. You may have heard of the 'slow food movement', which is promoted as an alternative to fast food that strives to preserve traditional and regional cuisine and encourages the farming of plants, seeds, and livestock from the local ecosystem. This movement began in Italy, and Due Spaghi strives to follow such rules whilst providing delicious food for environmentally conscious diners! Expect dishes such as saffron carnaroli rice risotto with ossobuco and pumpkin gnocchi with smoked ricotta, as well as plenty of vegetarian options.
Carrer de Sepúlveda 151, 08011 Barcelona
Bodevici
Ice cream is a favourite of many and can be found in cafés and ice cream parlours all over Barcelona. Bodevici, however, sells ice cream with a twist, made using organic cow or goat's milk, meaning you can enjoy tasty ice cream flavours without the guilt (well…almost!). The district of Gràcia boasts plenty of trendy eateries, so it comes as no surprise that this cool establishment is situated in this area. Cute and colourful would be the best words to describe Bodevici, and of course – eco friendly, making it the perfect option for environmentally conscious customers with a sweet tooth. Additionally, for those visiting the city who perhaps prefer something a bit lighter, they offer plenty of other options such as frozen yoghurt and scrumptious smoothies with plenty of fresh fruit toppings – yum!
Carrer de Torrijos 21, 08012 Barcelona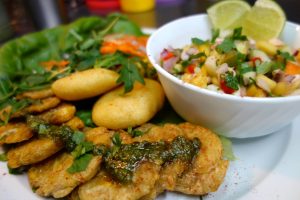 CatBar
Situated in the trendy El Born neighbourhood, CatBar is the perfect place for those looking to enjoy a few craft beers, along with some vegan snacks and quirky décor. This charming establishment offers a laid-back vibe and is known for its amazing vegan burgers and local artisan beers. Although if burgers aren't your thing, the menu also boasts plenty of other tasty, vegan-friendly snacks such as natural houmous, tortillas, patatas bravas with alioli and indulgent homemade cakes.  The interior itself is unusual but cosy, with plenty of character and makes for the perfect place to grab a bite to eat after a long day exploring.
P.S. Don't worry if you're not a craft beer expert, the friendly staff members will be sure to assist you in your choice!
Carrer de la Bòria 17, 08003 Barcelona
Shop 'til you Drop!
Amapola Vegan Shop
Barcelona is renowned for its amazing shopping facilities, and this is no different when it comes to hunting for eco-friendly fashion. Amapola Vegan Shop is a boutique situated in the heart of Gràcia that sells items made from non-genuine leather, including shoes, clothes, bags and wallets! What's more, the items are to die for – expect to fall in love with faux suede backpacks, stylish boots and cruelty-free yet chic clothing. This cute boutique also guarantees that no feathers, silk or wool are used in the manufacturing of their products, whilst still ensuring that they are of the highest quality with great attention to detail – what's not to like?
Travessera de Gràcia 129, 08012 Barcelona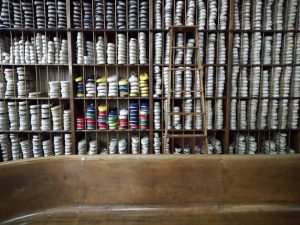 La Manual Alpargatera
The Gothic Quarter is a vibrant, historic and authentic neighbourhood in Barcelona, as well as being home to plenty of cool shops, including La Manual Alpargatera. This traditional shoe shop is home to endless different styles of espadrilles and sandals, each crafted with a fine artistry and attention to detail. High quality footwear can most certainly be found in this little shop, as there are rumours that espadrilles have been manufactured in Catalonia since the 14th century, so they really are experts! Situated just a minute or two away from La Rambla, La Manual Alpargatera is easy to find and offers countless choices for your summer shoe fix. Additionally, if you don't manage to find a pair of espadrilles that you like, they really go the extra mile by crafting personalised pairs for their customers, which usually take around 15 days to make.
Fun fact – many big names have purchased espadrilles from La Manual Alpargatera, such as Penelope Cruz, Pope John Paul II and Salvador Dalí!
Carrer d'Avinyó 7, 08002 Barcelona
L'Estoc 
With sustainability as its core value, L'estoc most certainly deviates from your average furniture store. Situated in the Sant Martí district, this quirky workshop/store designs, produces and sells one-of-a-kind furniture made from recycled objects. For example, the employees at L'estoc are able to create benches and seats from old wooden blinds, a bedside table from a wooden door, and a desk from an unused baby's crib – it's truly incredible work! In addition to their sustainable products, they also greatly value high morals and ethics, as well as giving back to the community. They employ people with disabilities, which is a much-needed initiative in a place where employment rates of disabled people is alarmingly low. L'estoc was also selected to participate in the programme for Social Entrepreneurship in the Momentum Project by BBVA and Esade, as well as receiving awards from La Caixa Foundation and the Generalitat de Catalunya. Bag yourself a unique and trendy item whilst simultaneously giving back to the surrounding community.
Carrer dels Almogàvers, 225, 08018 Barcelona
Other Sustainable Activities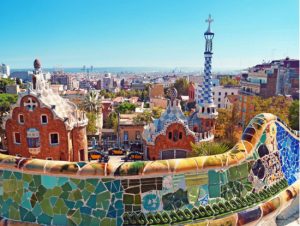 Parks and Hiking
Although renowned for its modernist architecture and winding streets, Barcelona is also spoilt for choice when it comes to parks, mountains and other green spaces. Take advantage of the sunshine and head to Gaudí's famous Park Güell or the lesser known (but equally as beautiful) Parque del Turó de Putxet, both of which offer great panoramic views of the city and the Mediterranean Sea. There are a number of great trails in and around Barcelona which combine the natural beauty of the great outdoors with Barcelona's trendy urban edge. If you're not a hiking expert, or are unsure where to go, not to worry! There are plenty of companies that offer sustainable guided hiking tours such as Barcelona Slow Travel and Barcelona Hiking Guides. If you'd prefer to go to a park to simply relax, we recommend packing a picnic and heading to Parc de la Ciutadella where you can sit by the grand fountain and take in the views.
See the Sights with a Walking Tour!
It's a well known fact that Barcelona is renowned for its incredible landmarks, the majority of which can be reached on foot when staying in the city centre, and, as we mentioned earlier, there is no greener way to see the city than on foot. There are plenty of walking tour companies in Barcelona, such as Free Walking Tours Barcelona and Runner Bean Tours – both of which are absolutely free of charge, so you can discover the labyrinth streets of the Gothic Quarter and take in the history of the amazingly detailed architecture without breaking the bank! However, if you'd be happy to fork out, some of the paid tours really do go that extra mile. For example, Discover Walks provide tours through the Old Town and of course visiting Las Ramblas and some of Gaudí's key works. 
Now that you know a few of the best sustainable hangouts around the city, you can organise your stay the eco-friendly way!