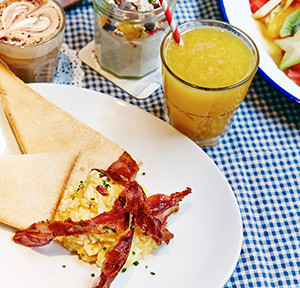 Are you a die-hard fan of eggs for breakfast? How about bacon? Pancakes, anyone? If you're in for a hearty and satisfying first meal after long days and nights exploring the wonders of the city, here's a list of six places we think are the best in Barcelona for brunch.
1. Elsa y Fred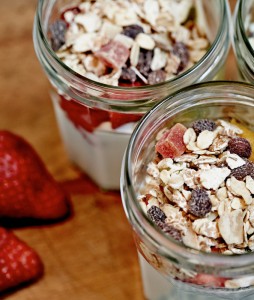 Located just a short walk from the Ciutadella Park, Elsa y Fred was started by two sisters from
Argentina – Sofia and Camila Matarazzo. This retro yet cozy 1950s-inspired gastrobar is home to a wide variety of egg, toast, and sandwich dishes inspired by different regions of Spain as well as other European cities.
Some highlighted favorites are: fried eggs served with Spanish meats, toast with scrambled eggs and smoked salmon, and Florentine eggs Benedict. If you're looking for the satisfying comfort of a home-cooked meal away from home, then Elsa y Fred is the place to be!
Address: Carrer del Rec Comtal, 11
Brunch schedule: 9:00h-16:00h Saturday, Sunday and holidays
Price range: €€€
2. Dostrece Restaurant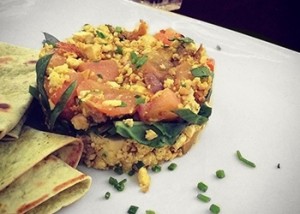 Located in Barcelona's Ciutat Vella, Dostrece is a great place for all food types.
Whether you're gluten-free, vegan, sugar-free, or not observing any particular diet, there's something for everyone. Be sure to try their blueberry pancakes or vegan French toast with seasonal fruits. If you're in the mood for something more protein-packed we recommend their delicious omelettes served with pan con tomate or vegan scrambled eggs with tofu, seitan and pico de gallo served with vegan pancakes. If you have extra room in your belly, try any of their vegan pastries including carrot muffins and pear oat scones.
Address: Carrer Carme, 40
Brunch schedule: 10:00h-17:00h Monday through Friday
Price range: €€€
3. Milk Bar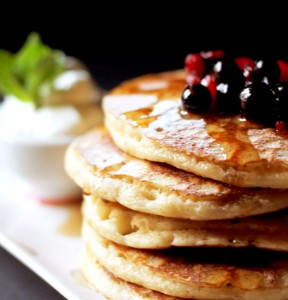 A crowd favorite, the funky and ever-bustling Milk Bar provides one of the most unique and diverse brunch menus in Barcelona. Their "Recovery Brunch" features: banana and walnut pancakes with vanilla Greek yogurt, huevos rancheros, and an egg, bacon and cheese breakfast-burger. To drink, we recommend their Very Berry Banana Smoothie. Brunch at Milk Bar makes for a very fun and filling meal with family and friends, especially after an enjoyable evening out.
Address: Carrer Gignàs, 21
Brunch schedule: 9:00h-16:30h daily
Price range: €€€
4. Caravelle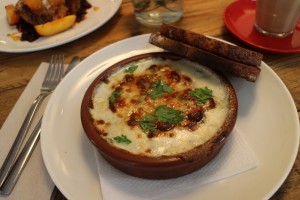 Started just a few years ago by an Australian chef, Caravelle has gained fame from locals
and tourists alike for its savory, innovative recipes. Though the menu is rather limited, the company makes up for that by carefully preparing dishes that are not only pleasing in presentation, but possess a harmonious blend of different flavors.
Some crowd favorites are home-toasted muesli with yogurt and fresh fruit, Moroccan-style baked eggs served on toast with feta cheese or with leeks and spinach, and coconut French toast with strawberries and ice cream. After feasting on such a delectable meal, take a stroll through El Raval, Barcelona's popular multicultural district.
Address: Carrer Carme, 40
Brunch schedule: 10:00h-16:00h Saturday and Sunday
Price range: €€€
5. Meatpacking Bistro

Housed in the laid-back neighborhood, Gràcia, this grub hub is not only famous for its New York-style burgers, but its hearty brunch menu. Here, you have the option of ordering a combo plate (eggs or pancakes with toast and bacon or fruit) that also includes a drink. Other popular options include any of their eggs Benedict dishes and their famous Meatpacking Burger, which is comprised of veal, bacon, caramelized onions, and cheddar cheese held together by bread from the local Turris bakery made that same day (gluten-free alternative available)!
Address: Travessera de Gràcia, 50
Brunch schedule: 11:30h-16:00h Saturday and Sunday
Price range: €€€
6. Timeline Bar
If you have a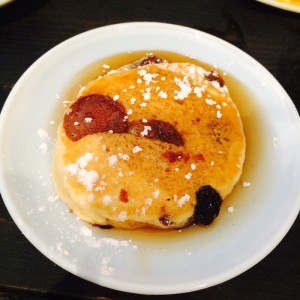 big appetite, then Timeline is the perfect fit for you! This is one of the few
restaurants in Barcelona that offers an all you can eat and drink brunch buffet. For 18€ you can get their D.I.Y. Timeline Brunch which includes bottomless drinks (mimosa, Bloody Mary, coffee, etc.) and a large selection of eggs, pancakes, pastries, seasonal fruits, breads and meats. Located in Gràcia, this breakfast haven is truly a hidden gem that emits a cool and relaxed atmosphere. Since Timeline can only seat a limited amount of people at a time, we recommend booking a table in advance.
Address: Carrer de la Providència, 3
Brunch schedule: 11:30h-17:00h Saturday and Sunday
Price range: €€€