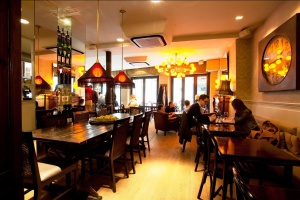 Looking to have a lovely night out with that special someone here in Barcelona? Whether you're on your first or 15th date, or celebrating your 25th wedding anniversary, we've made a list of the tastiest, most spectacular restaurants in the city for an unforgettable evening of romance.
1. Tickets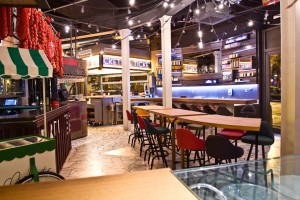 Regarded as one of the best restaurants in the world as well as an innovator in the culinary world of gastronomy, Tickets Bar is sure to be one of the most memorable dining experiences during your stay in Barcelona. Here, food and art are blended together to create a palette for your taste buds that is delicious and awe-inspiring. The staff prides itself on creating an experience in which the guest is not only a consumer, but also an interpreter of art.
The menu consists of tapas with wide varieties of seafood and meats as well as some vegetarian options. Much like a landscape painting, dishes are prepared in a way that is rather visually appealing to the guest. Here, the interior is just as impeccable as the food. Decorated in a harmonious combination of vaudeville theatre and outdoor patio, this locale fosters a very social ambiance. Though you will have to make a reservation at least one month in advance, it is definitely worth the experience!
Address: Av. del Paraŀlel, 164, Barcelona
2. Indochine Ly Leap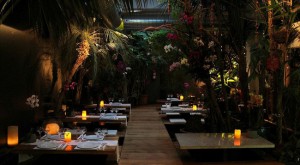 Located in the Eixample neighborhood of Barcelona, Indochine Ly Leap is famous for its unique ambiance and its fantastic Asian cuisine. Its interior is decorated with palm trees, blossoms and low wooden tables suspended over fish ponds like islands, making guests feel like they're being transported to the jungles of Southeast Asia. This fine dining experience is perfect for couples looking to have a temporary break from the bustling city atmosphere.
Address: Carrer de Muntaner, 82, Barcelona
3. Gurqui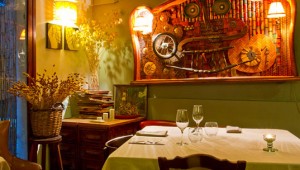 If you're looking for a dining experience that's full of the warmth and charm of grandma's cooking then look no further than Gurqui. With soft jazz music playing and its interior decorated with antique furniture and works by local artists, this restaurant boasts an atmosphere that is quite cozy and homely, much like the food.
Dishes vary by season and are made with top quality local ingredients. Some popular items from the menu include: shrimp omelet, clams with sake sauce, beef tenderloin with sautéed foie, and chicken fried duck egg with with foie gras and fries. In addition to a cozy interior, Gurqui features a lovely candle-lit terrace that's perfect for an even more romantic evening. While this restaurant is only open at night, it is guaranteed to provide a magnificent, unforgettable dinner experience for all guests.
Address: Carrer de Mallorca, 303, Barcelona
4. Torre d'Alta Mar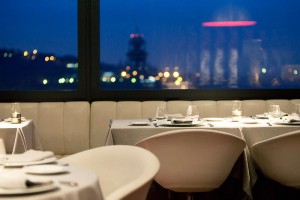 Located at the top of a cable tower in Port Vell, this restaurant offers spectacular encompassing views of the city landscape. It features an a la Carte menu with exquisite seafood and meat dishes. Its "dining amongst the stars" atmosphere makes it the ideal restaurant for a romantic date night. With Torre d'Alta Mar, you get the best of both worlds: fine Mediterranean cuisine and the best panoramic views of Barcelona. What could be more romantic than that?
Address: Passeig de Joan de Borbó, 88, Barcelona
5. Elsa y Fred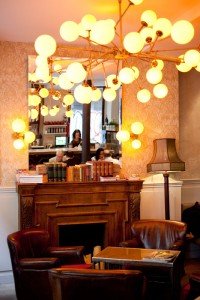 This charming 1950s-inspired restaurant is located in the old town area of Barcelona, just a short walk from El Born. Established by two sisters from Argentina, Sofia and Camila Matarazzo, Elsa y Fred Gastrobar has captivated the hearts of many locals and tourists alike with its carefully prepared, quality tapas dishes that never fail to amaze.
This restaurant's vintage décor and cozy lighting create an atmosphere that is elegant, yet comfy. If you like music, Tuesday nights are the best for catching a live jazz performance as you dine. Besides dinner, we recommend checking out their delicious weekend brunch as well as their lunch menu of the day.
Address: Carrer del Rec Comtal, 11, Barcelona