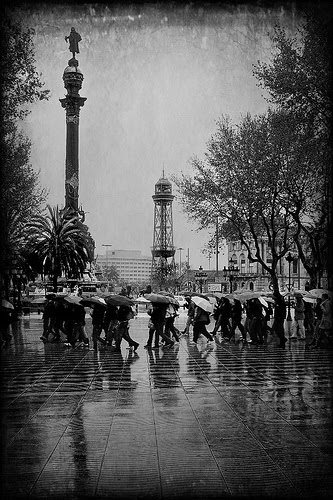 Although there aren't many rainy days in Barcelona, when they do come, they arrive full force! If you happen to be visiting the beautiful Catalan capital during one of these downpours, don't worry, Barcelona has plenty to offer. Grab your umbrella and head to one of these top rainy day spots next time you're forced indoors!
How About a Cozy Cuppa?
With great-tasting coffee and bang on trend bars, locals and visitors alike love a cuppa joe in Barcelona. So what better way to spend your rainy days in Barcelona, than warming up with a cup in hand along with a beautifully architected atmosphere? Each café has something unique to offer so you're sure to find the perfect locale for you. Here are just some of our favorites: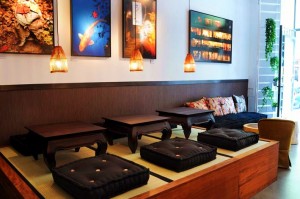 Akashi:  If you're in the mood for calm relaxation, check out this Japanese tea house. With a wide variety of tea options available, and a beautifully traditional presentation, you're sure to reach a full feeling of Zen here. (C/Rossello 197)
El Bosc de les Fades: Get away from the rain and step into this magical café. Here you can forget about time for a few hours and enter a world of enchanted forests and fairy tales! (Passatge de la Banca 5)
Cosmo: If you feel fit for a cool, local place, try out this art gallery turned coffee hang-out and get involved with Barcelona's hipster scene. It's spacious and lively, and is for sure a great place to escape the rain. (C/ Enric Granados 3)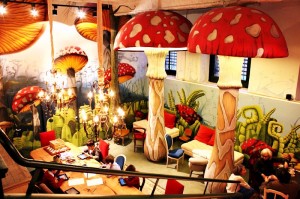 We Pudding: This tea and cake house is sure to amaze you with its intricate, Alice in Wonderland-style décor. A room filled with color, design, tea and cakes you'll love. If you're in for a secret treat, try 'grandmother's tea' and carrot cake, and you won't go wrong! (C/ Pau Claris 90)
There's a Chef in All of Us!
Taste-testing Catalan cuisine can be quite the treat when visiting Barcelona, but why not learn how to cook these exquisite foods, too? Get yourself signed up for a Catalan cooking class, and really make the most of your rainy day in Barcelona!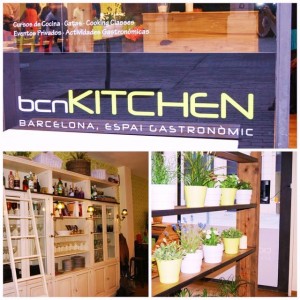 Barcelona Cooking: Want to learn how to make your favorite tapas? This company can offer you a class where you'll learn to make the best of the best when it comes to Spanish snacks! (La Rambla 58)
bcnKITCHEN: The fun starts early here as you venture to the local market to pick out your produce before taking part in a hands-on during a tutorial! By booking an apartment with Apartment Barcelona you qualify for a 10% discount when signing up for a class… so, what are you waiting for? (C/ Fusina 15)
Time for Some Culture!
Barcelona offers a wide selection of museums to choose from, all of which will surely entertain you. Mark a museum or two down in your agenda for a rainy day in Barcelona! There are plenty of options, but here are a few you should keep in mind: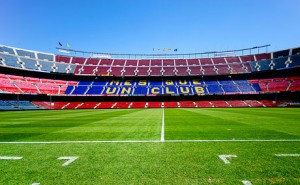 The Nou Camp: As is no surprise, this is the most popular museum in the city. Here you can explore the history of Barça and their successes over the years through the 'Camp Nou Experience'. (C/ Aristides Maillol 12)
L'Aquarium: A good place for those of all ages, and sure to entertain you for hours. Take a look at all of the interesting and beautiful species on display, and learn a little more about the curiosities that lie beneath the surface of the waters! (Moll d'Espanya del Port Vell)
Top Art Galleries: When it's raining in Barcelona, your options for making the most of your time in some magnificent art galleries are extensive. Choose amongst favorites such as the CCCB, MNAC, MACBA, or the Picasso Museum and you will not be let down. In a city lush with all spectrums of art, Barcelona is at the top of its game when it comes to creativity.
Shop 'Til you Drop…Without Getting Soaked!
If you're seeking shelter on your rainy day in Barcelona, and wish to wander the malls, Barcelona has some solutions for you! Here you will find a variety of stores to peak your interest, and you're sure to be entertained for hours.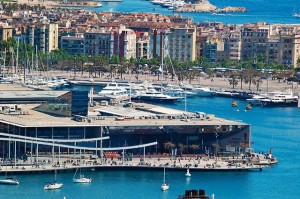 Maremagnum: Coupled with beautiful views of the Mediterranean Sea, this port-side mall is a great choice on rainy days in Barcelona! Offering fantastic food at its resident restaurants, you can escape the outdoors and watch the rain fall from the comfort of your seat. (Moll d'Espanya 5)
L'llla: Ranking high in popularity, this mall is sure to suite your style with its endless options. From toys and trinket items, to clothing and accessories, you can definitely find something to your taste. (Av. Diagonal 557)
Las Arenas: The history comes alive in this bullring turned shopping center. There are a great selection of stores to choose from, many restaurants, some with extraordinary rooftop views, and an enjoyable day to be had by all. (Gran Via de les Corts Catalanes 373-385)
The Perfect Excuse for a Chillax!
When you're finished with your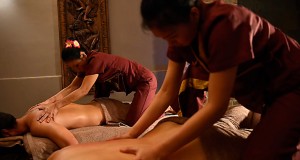 rainy day activities in Barcelona, you'll need to relax. And what's better than to checking out a spa and unwinding through calming, special treatments.
Aires de Barcelona: Barcelona's very own Arabic-inspired spa center offers soothing aromatherapy, Hammam, rejuvenating massages, a steam room and relaxing yoga sessions, all of which are ideal any day of the week! (Psg. Picasso 22)
If during your time in the city you find yourself caught in some Barcelona rain, then be sure to try some of these adventures, and you will be reassured that the Catalan capital can offer all that you need, whenever you need it.