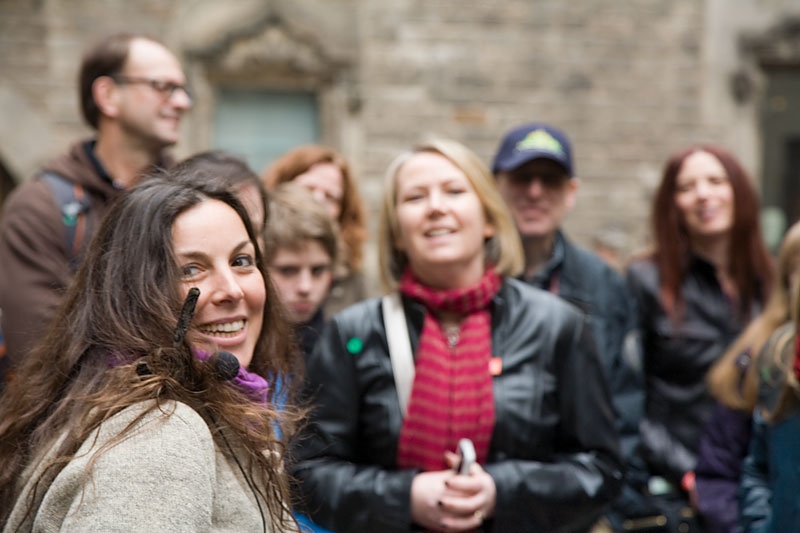 From the classic open-top bus routes to the more daring Segway and Jet Ski tours, there are now endless ways to see the famous sights of Barcelona. But if you really want to make the most of your time in the Catalan capital and pick up some top tips from the locals along the way, you can't go wrong with a free walking tour!
Wandering around the streets of Barcelona is one of the best ways to get to know the city. From the elegant tree-lined 'calles' of the Eixample district, all the way to the winding alleys of the Gothic Quarter,  a walking tour perfectly captures the beauty of each Barcelona barrio and its unique personality. And since many walking tours in the city are led by Barcelona natives, you'll have the chance to immerse yourself in the history and culture of the city while enjoying some interesting stories, facts, tips and anecdotes from the experts – all free of charge.
There are numerous companies in Barcelona offering free walking tours, each one with its own special charm. From Gaudí's masterpieces to the history of Roman Barcino, we've narrowed your choices down to these three great free walking tour companies in Barcelona:
Feel Free Tours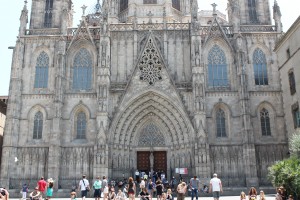 Feel Free Tours offer a variety of different ways to see the city: by bike, by boat or even with some tasty tapas and a Flamenco show thrown in! But this company's free walking tour of Barcelona is an experience not to be missed. Stroll through the streets with your guide (who speaks English or Spanish) as you are led down the bustling Las Ramblas, through the ancient Barrio Gótico and up towards the magnificent Palau de la Música Catalana on this two hour Old Town Tour of Barcelona. English tours begin at the Hard Rock Café in Plaça Catalunya at either 11.15am or 5pm.
You could also try out the free walking tour of Gràcia and discover the cool, bohemian vibes of this popular Barcelona neighborhood, and finish off with a walk around the beautiful Park Güell.
Top Tip: Receive 2€ discount on any of the Flamenco, boat and other paid tours when booking your apartment in Barcelona with ApartmentBarcelona.com
Sandemans Tours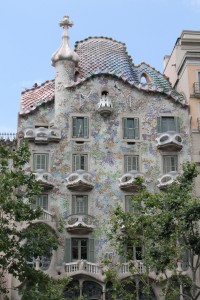 Sandemans now operate in 12 European countries, and they're renowned for their fantastic free walking tours. Their 3 hour tour of Barcelona covers everything from the Barcelona Cathedral to the Olympic Legacy, meaning these guys will give you a real taste of the city's history and culture. With a team of guides that are known to be charismatic and very knowledgeable, you'll be sure to have all of your burning Barcelona questions answered and leave with some fun memories!
Book your free walking tour of Barcelona (in English or Spanish) online here and head to the Jaume I metro stop any day of the week at 11am or 2pm.
Sandemans also do specialized packages including tapas routes and Gaudí and modernism tours, ideal for those looking to find out about Barcelona's delicious cuisine or visit the most amazing architectural structures of Barcelona. Although these tours start at 10€, they're well worth it and are a very informative way to spend time in the city!
Runner Bean Walking Tours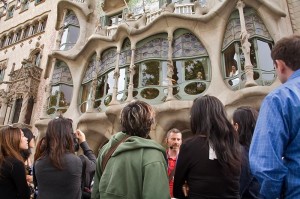 Runner Bean is the bees knees when it comes to free walking tours in Barcelona. With two free walking tours in English to choose from, Gaudí and The Old City, this company dishes out some great tips, quirky facts and wonderful secrets about Barcelona. Put yourself in Gaudí's shoes as you get to know all about his eccentric lifestyle, marvel at his magical buildings and of course his unfinished masterpiece, La Sagrada Familia. And for those history buffs out there, immerse yourself in the rich medieval past of Barcelona as you stroll through the ancient streets of the Gothic and Jewish Quarters, catching a glimpse of Barcelona's Roman heritage.
Want to know what Gaudí, Star Wars and lollipops have in common? Intrigued as to why there are always exactly 13 geese living at the Barcelona Cathedral? Then a Runner Bean walking tour is definitely for you! To try one out, head to Plaça Reial at 11am or 4.30pm any day of the week.
If you're headed to Barcelona with kids, Runner Bean also offers a great family-friendly walking tour. From medieval legends of kings and queens to workshops and sing-a-longs, youngsters will have a fantastic time on this interactive tour of Barcelona. Prices for this tour start at 43€ per family.
So, hit the streets and see the very best of the Catalan capital with a free walking tour of Barcelona. The interesting and insightful tours are definitely worth your time. Whether you're heading to the city for a summer holiday or a quick weekend break, you are sure have an unforgettable time roaming the streets of Barcelona. You never know, you may even end up becoming a Barcelona buff yourself!