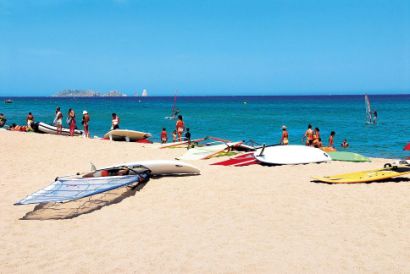 When the hustle and bustle of everyday life compels the masses to seek out a little weekend retreat, many escape to the quiet coastline of Costa Brava. Located in the Girona province of northeastern Spain, Costa Brava's incredible beauty combined with its relatively close proximity to Barcelona makes it an ideal holiday destination for any weary city-goer.
From romantic dinners near the French border to exhilarating hikes along rocky terrains, Costa Brava truly has what it takes to back its well-earned reputation as one of the most popular holiday destinations in Spain. However, the area's most widely appealing characteristic exists in the numerous natural beaches which have been offering visitors enjoyment for countless years.
For this reason, we have taken the time to create a list of, what we feels are, the best beaches in Costa Brava.
1)      Platja de Castell – Palamós
This well hidden beach area is located just north of the Costa Brava town of Palamós. Unlike many other beaches which make up the northern coastline of Costa Brava, Platja de Castell has remained relatively unaffected by the development of large resorts. This sandy sanctuary is surrounded by breathtaking forestry and large cliffs which enhance the feeling of seclusion. We recommend taking a dip in the clear blue waters or walking the old smuggler's path which runs along the beach.
2)      Platja de Pals – Pals
Located near the midpoint of the expansive Costa Brava coastline, Platja de Pals is the perfect beach for those seeking some high energy activities. Although Costa Brava can be translated into "rough and rocky coast", this particular beach breaks away from the title. In fact, unlike most other rocky Costa Brava beach destinations, the entire two mile stretch boasts soft golden sands. This makes Platja de Pals ideal for a variety of Mediterranean beach sports, such as volleyball, windsurfing and many more. We also recommend checking out one of the superb golf courses just steps off the beach!
3)      Platja Gran – Tossa de Mar
Centered equidistant between Barcelona and Southern France, Platja Gran is no stranger to culture. With the historic town of Vila Vella at its back, visitors come from all around to walk the beach while viewing the ruins left behind by past Roman settlers. After a long day of sun-filled relaxation at the popular holiday resort of Tossa de Mar in Costa Brava, we suggest grabbing a bite to eat at one of the many authentic Catalan restaurants right off the beach. With the well-balanced combination of culture, cuisine and beachside fun, there's no denying that Platja Gran is an ideal Costa Brava beach destination.
4)      Platja de Sant Lluís – Cadaqués
If exploring nature is something that appeals to your particular interests, we recommend that you venture out to Platja de Sant Lluís. This beach can be found in the nature reserve of Cap de Creus which boasts magnificent rock formations and vast wilderness. Spend the day traversing the rough terrains surrounding the beach or wading into natural rock pools. This 'playa' is also known for its relaxed atmosphere, so be sure to bring all your beach essentials to laze around on the sands after your time discovering nature has been spent.
5)      Platja de Tamariu – Tamariu
For some family fun in the sun, pack up the trunk and head over to Platja de Tamariu, Costa Brava's most family-friendly beach spot. The area surrounding this lovely beach is home to numerous family resorts, as well as a variety of activities appealing to thrill-seekers of all ages. The restaurants, bars and cafés in the town of Tamariu are located just feet off the edge of Platja de Tamariu, too.
It's widely known throughout Spain that the charming beaches of Costa Brava have been captivating the interest of visitors for decades. Whether you go for a quiet beach getaway on a day trip from Barcelona, a cultural experience near the Med sands, or a sun-filled family holiday, there's no doubt that there's a beach on the Costa Brava that's perfect for you!