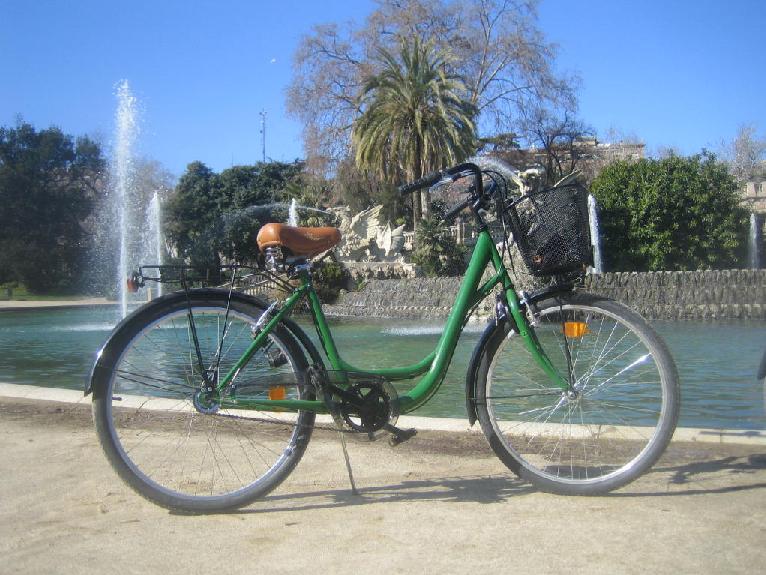 Barcelona is such an exciting place to discover, and there are so many great ways to do so! From bus tours of the main attractions to jet-ski tours of the coastline to walking tours of the Gothic Quarter's winding streets, there are endless routes around this beautiful city to enjoy. Perhaps one of the better ways to take in all the sights, from the colorful Boqueria Market to the amazing Gaudí architecture, is on a bike tour of Barcelona. Biking offers a healthy and fun alternative to other methods of transportation in Barcelona and it's a greener way to enjoy all of the Catalan capital's top attractions. There are tons of different types of tours and bike rentals to choose from so you're guaranteed to see exactly what you want, with the knowledge and help of a friendly, experienced tour guide. What's more, these bike tours are located all across the city, meaning you don't have to travel far from one of the many Barcelona apartments in the center to find the right tour for you.
Here are just a few of our favorite bike tours in Barcelona:
Fat Tire Bike Tours
Much like the name suggests, Fat Tire Bike Tours is a company that offers relaxed trips around the city while riding atop some very cushy seats, ensuring that comfort is not an issue as you travel around Barcelona. The Fat Tire tour guides like to offer historical information about the city that can't be found on those 'typical tours' and as Barcelona experts, they enjoy engaging with the customers and answering any questions, no matter how unique. This tour is meant to offer a calm day of pedaling around the city, which has created an ongoing joke among the staff that goes, 'If you break a sweat, then we are doing something wrong.'
We suggest the 'Barcelona City Day Tour', which lasts about 4 hours and takes you into the depths of the Gothic Quarter, the gorgeous Ciutadella Park, the immense Sagrada Familila, Port Vell, and even the Barceloneta Beach. Near the end of the tour, the guides enforce a mandatory stop at a 'chiringuito' (beach bar) which allows visitors the chance to mingle, enjoy a fruity glass of sangria, or cool down in the Mediterranean Sea.
Baja Bike Tours
If appetizing food is more your 'speed', then you're going to love the 'Barcelona Tapas Bike Tour', by Baja Bike Tours. The combination of both the best attractions and food in Barcelona makes this a tour you just can't miss! On this tour you'll take pleasure in the sea views at the Old Port, the hustle and bustle of Las Ramblas, and the intriguing work of Antoni Gaudí. In between these great landmarks, you'll break at one of the best tapas restaurants in Barcelona, where you can try various types of these traditional bite-size snacks!
Interested in sports? Baja Bike Tours has you covered. Try the tour created especially for football fanatics on which you'll see the most interesting attractions of Barcelona, the various football hotspots, and the stunning Camp Nou football stadium, all in 4 hours! On this thrilling tour, your English speaking guide will give you all the details about the widely celebrated sport of football, as well as the history of the rivalry between Barça and Real Madrid.
Steel Donkey Bike Tours
A Steel Donkey Bike Tour is the perfect experience for those who seek a more 'off the beaten track' tour! Lose yourself as you stumble across Barcelona's hidden gems with guides, Slinky or Katia, who both guarantee a personalized experience as no two tours are ever the same! Marvel at the Hospital de la Santa Creu i Sant Pau, known for its fantastic architecture, or the neoclassical cemetery of Poblenou, which isn't actually as scary as it sounds. Some tours even include spending time at some local, hillside bars or playing ping pong at the beach!
With this company you are guaranteed a unique experience, whether that be peeking in to vintage shops or tasting the best farmhouse cheeses in Barcelona. So what are you waiting for? Hop on your steel donkey and see what's out there!
These are just a few of the many great companies offering tours of Barcelona by bike. There are plenty of other exhilarating tours throughout the city offering activities from private rides to night tours, and most companies have multilingual guides to cater to everyone. If you're not looking for a guided tour, you can always rent a bike in Barcelona and explore the city at your own pace. For example, Green Bikes Barcelona gives you the opportunity to pedal around the city for less than 2€ per hour! So, whether you decide to see the city on your own terms or let a guide show you the way, there's no excuse not to jump on the saddle!