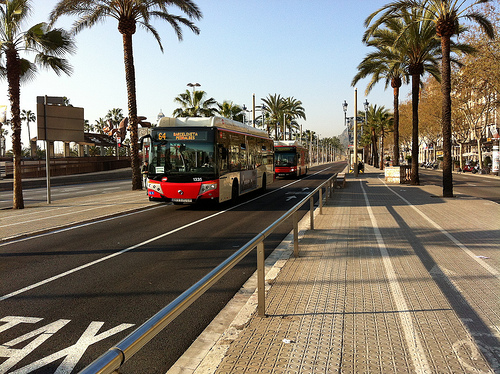 So, your suitcases are packed, you've booked one of the many Barcelona apartments close to plenty of the sights  and you are all set for your trip to Barcelona! Now you just need to plan your journeys around the city. Rest assured, Barcelona is an easy city to navigate and with so many affordable and efficient ways to get around, you'll have the hang of it in no time! Here we have put together a short and handy guide on the Barcelona public transport system, making sure that you see everything you want on your trip easily, and without leaving a dent in your wallet!
Barcelona Airport Transport: Getting There and Back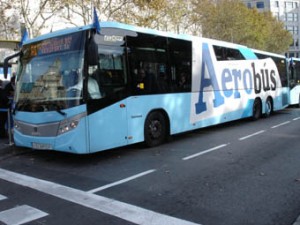 The closest airport to the city center is the Barcelona El-Prat airport, so if you have managed to bag yourself some cheap flights to Barcelona, then you will most likely be landing here. There are plenty of ways to get from El-Prat into the heart of the Catalan capital in a flash! The Aerobus is a service that runs frequently, about every 5-10 minutes, giving you a quick ride to and from both terminals of the El-Prat airport. The journey time is approximately 35 minutes, and either the A1 or A2 bus (depending on which terminal you're traveling to/from) will pick you up right outside the main airport buildings and drop you off at Plaza de Cataluña in the very center of the Catalan capital. Prices for this service are around 9.95€ for a return ticket. Take a look at the Aerobus website for more information.
The Transports Metropolitans de Barcelona (TMB) airport bus (number 46) is the most cost-efficient way to get into the city center and runs from 5am to midnight. If you're arriving or leaving between the hours of midnight and 5am you can always take the NitBus (number N17), which leaves from Plaza de Cataluña, but be aware that this bus only goes to Terminal 1 of the El-Prat airport.
If you are in a rush to get unpacked, taxis offer a more direct route and can be hailed in front of the airport. Plus, Renfe trains run to and from Terminal 2 of the airport every 30 minutes and drop you off at various train stations in the city center. For more information on getting to and from the El-Prat airport, check out our Barcelona Airport Transport Guide and for more information on the 3 airports of Barcelona visit Barcelonatravelspain.com.
Travelers tip: Save on costs by using your T-10 card (more about this later) on the TMB bus and airport Renfe.
Buses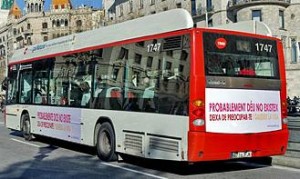 Buses are frequent and inexpensive in Barcelona. The city has a fleet of over 1,000 TMB buses which makes for a relatively cheap and handy way to zip around Gaudí's city. With more than 100 lines covering over 900km in Barcelona and its surrounding towns, hopping on a bus in Barcelona will definitely get you where you need to go. For those worried about the language barrier, don't be, the bus system in Barcelona is very easy to use. Simply check the sign at the stop for your route, step on and slide your ticket into the fare machine, then sit back and enjoy the views of the city on the way to your destination.
Travelers tip: Take bus 24 from Passeig de Gràcia to Parc Güell to see the amazing views of Barcelona from Gaudí's famous green space.

Metro
With eight lines and 165 different stations across the city, the Barcelona metro system is fast and easy to use. What's more, many stations are located next to some of the best sights in Barcelona such as the Sagrada Familia (L2 & L5) and the Montjuïc fountain (L1 & L3), you will have no excuse not to explore every inch of the city. The metro is also operated by TMB and tickets can be purchased at any of the underground stations. And if you are worried about getting lost, rest assured, maps showing all the routes and intersecting stations can be found at every metro stop.
Night Buses
The Barcelona NitBus runs from 10pm to 6am, meaning that you never have to worry about finding a way home.
For an in-depth breakdown of the routes, maps and timetables of all the buses departing from Plaza de Cataluña, check out the official website of the Barcelona Night Buses.
Travelers Tip: To immerse yourself in the bustling Las Ramblas, hop on the Green Line (3) to the Catalunya, Liceu or Drassanes stops.
Taxi

For those who wish to make the most of their time in the Catalan capital and prefer a method of transportation that's a little more private, hailing a cab is a great option. With more than 274 taxi stands across the city, spotting a taxi is simple – just keep your eyes out for the black and yellow
cars zipping through the traffic, and hop in!
Travelers Tip: When the light is green the taxi is free, and when there's another color (yellow or red) or numbers, it means the taxi is occupied.
Renfe
With so many wonderful places located just outside of Barcelona, there is absolutely no reason to confine your trip to the city limits of Barcelona. Jump aboard a Renfe train: a service that allows transportation all over Spain. We recommend heading to serene Sitges or the Roman ruins of Tarragona for a memorable day out!
Travelers Tip: The easiest way to purchase a Renfe ticket is by visiting the Renfe website, however, you can also buy tickets at any of the Renfe train stations located in Barcelona, such as Sants Estació, Passeig de Gràcia or El Clot-Aragó.
Tram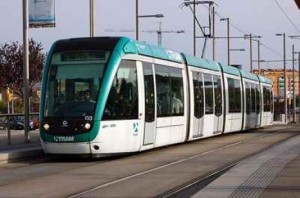 For those looking to venture along the coastline, towards the university area and into the suburbs of Barcelona, the Barcelona Tram runs six lines (T1 –T6) from Plaça de Francesc Macià. The trains stretch all the way out to Sant Feliu de Llobregat, Sant Joan Despi, Bon Viatge, Ciutadella Vila Olimpica, Gorg and Sant Andria.
Travelers Tip: All standard TMB transport passes are valid on the Trams too!
Tickets
T-senzil (one-way ticket, TMB vehicle) – 2€
T-dia (unlimited rides in 24 hours) – 7€
T-10 (ten journeys, TMB vehicle and some Renfe lines) – 9.45€ return
And for those who plan to stay in Barcelona for a longer amount of time, check out the following options :
T-50/30 (fifty journeys in thirty days, TMB vehicles) – 37.30€
T-Mes (unlimited monthly card, TMB vehicles) – 50.95€