Are you ready for an unforgettable tour of Barcelona? Introducing:  GoCar Tours. Give your feet a well-deserved break and explore the Catalan capital in a new way. With their convertible-style tops, these cars are ideal for a city adventure, and you'll be able to feel the warm Barcelona sun on your face as you discover just all of what this Mediterranean metropolis has to offer.
What is GoCar?
GoCar is a unique, computer-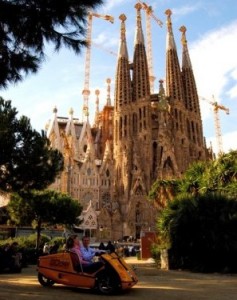 guided vehicle that is programmed to tell you all about the city, as you zip through the streets from the top of Tibidabo down to the Barceloneta Beach. The idea behind the GoCar is to let visitors experience the entire city in one day at their own pace, stopping along the way wherever they feel inclined.
The car is built to fit 2 people with space in the trunk for extra shopping bags, a picnic basket or whatever else you need for the perfect day out! GoCar offers various different tours with all the main stops along the way, including Gaudí's masterpieces and Camp Nou. However if you'd rather, you can tour the city on your own, and when you stumble across a significant site, the car will tell you interesting facts and stories! The GPS in the car always knows where you are, to help avoid getting lost.
GoCar for everyone

The car is programmed to speak in 6 different languages: English, Catalan, Spanish, French, Italian and German, ensuring that all visitors from around the world can enjoy the tour. There are over 50 sites set in the computer's database, all planned to deliver historical facts, and some of them with a humorous twist. With a personality of its own, you'll fall in love with this car in heartbeat!
In order to rent a GoCar, the driver must be 21 years old or more, with a valid driver's license. The GoCar is charged by the hour, starting with a payment for the first two hours and then further costs for each additional hour.
Try something different on your Barcelona trip and take a GoCar Tour! The rental store is centrally located just off Via Laietana at C/ Freixures 23, Bisbajos. Start your day near the beach and zoom your way all across town learning everything about beautiful Barcelona. You can even stay in one of many Barcelona beach apartments, just a short walk from the best sightseeing hot-spots in the city!