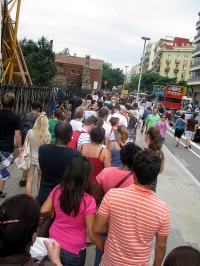 If it's the first time for you in Barcelona, you don't want to miss a visit to the Temple of La Sagrada Familia. Maybe you´ll have to devote an entire day of your holiday to the task, 60% of which might be consumed by waiting in the line, no matter what time of year it is.
You can find more information about how to buy your tickets to the Sagrada Familia in advance through Ticketbar. You'll avoid queuing and have access from an exclusive entrance.
To save time on travelling to the site of La Sagrada Familia,  Apartment Barcelona offers fully-equipped Sagrada Familia apartments situated so close to Gaudí´s beautiful cathedral that you can walk by it everyday if you wish.
Are you travelling with children under 10? The entrance to Barcelona´s most impressive cathedral is free for them, as long as you are purchasing an adult ticket. Special fares are also applied to pensioners, students and youth card holders.