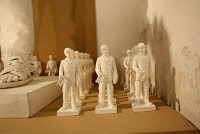 It's not a key-ring from la Sagrada Familia, nor a screwdriver with a Gaudí lizard handle, a fridge magnet with La Pedrera or a jolly paella. It's a life-size sculpture of a very well-known figure both to residents and visitors: the Pakistani man selling cans of beer in the streets at night, calling the passersby with the litany "cerveza-beer-amigo" (or "sexy beer" when he targets party goers leaving their Barcelona apartments ready to hit the town).
Art director Michele Salati decided to immortalize this emblematic character of the contemporary Barcelona with a life-size statue, making him a monument, turning him into a modern souvenir. It's an artwork that can be appreciated for its realism: the tired posture, (you can find your beer-selling friend even when all the bars have long since closed), the head bending to the side for that slight ever-begging attitude of the seller, the offering gesture, the six pack, the bag with extra cans… All conveys a sense of sympathy and respect wrapped into a timeless package of irony and melancholy.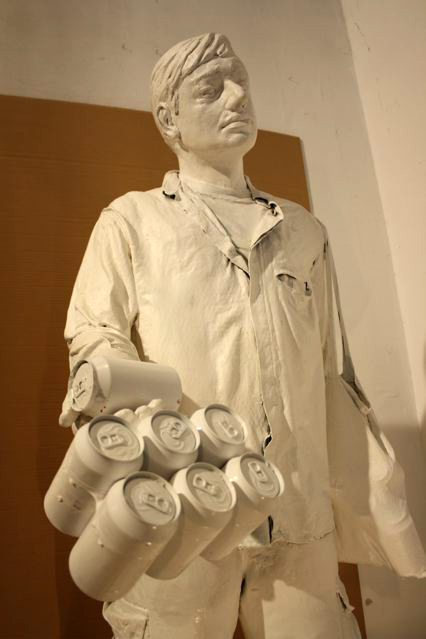 To make a mark on the aspect of social criticism in his artwork, Michele video interviewed some Pakistani people to get to know what they really think about this activity, unveiling the difficulties this social group encounters with their effort to integrate into Catalunya and the necessity of making a living with odd jobs like selling beer, among others.
After a provocative "live" exhibition consisting of leaving the statue alone in a few corners of Barcelona to record the effect on the people, the "Monumento al Paquistaní" is now visible at the Base Elements art gallery, a temple of graffiti and street art in the Gothic neighborhood.
A small, synthetic marble replica of the statue is available in limited edition for sale. So stop by Base Elements if you want to purchase a truly modern souvenir of Barcelona.