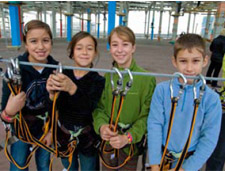 Barcelona now has its own adventure park in the city. The Barcelona Bosc Urbà (Urban forest) is a new facility located in the Forum, a multipurpose area on the shoreline, home of big events such as the Primavera Sound Festival or the traditional "Feria d'Abril".
Kids and adults alike are welcome to experience more than 50 attractions divided in three circuits of increasing levels of difficulty: the orange circuit, for children from 3 to 8 years old; the blue circuit, suitable for children over 8, families and adults, and the red circuit, designed for those who need an adrenaline rush like a regular person needs an espresso coffee.
So if terms like Tibetan bridge, zip wire, creeper, V-shaped net, monkey bridge or pirate net are not only familiar but attractive to you, catch the yellow line of the metro to Maresme-Forum for a day of family entertainment and fun with your friends and enjoy the Bosc Urbà.  At the end of the day, you can then relax in your fully equipped Barcelona apartment and make a nice dinner, or head out for some nice Mediterranean food, maybe in one of the restaurants we recommend.