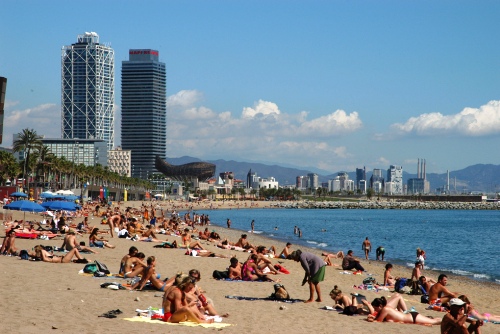 Is a beach destination on your list for your holidays?
We recommend you to put La Barceloneta, Barcelona Beach on top of your list.
Barcelona beach is one of the most popular beaches. It starts at the Olympic Port (Port Olimpic) and follows the coast to the street called Almirall Cervera, where it joins the most southerly beach, Playa de Sant Sebastià.
In this area you can find shops, cafés, restaurants a casino at the Arts Hotel. There is an open-air gym, which is free to the public in the middle of the breakwater. Barcelona Beach has all of the infrastructures that you could wish for at a city beach.
Staying at a beach apartment in Barcelona is a good way to be close to all that La Barceloneta has to offer. Only a short walk to the beach itself, you can relax on the sand, take a long stroll on the promenade and with a sea view apartment in Barcelona, you can enjoy the yachts coming and going in the Olympic port. There are also many restaurants along the seafront.
Restaurants and beach bars at Playa de La Barceloneta
You will find a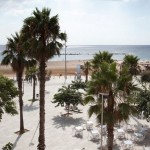 long the seafront almost all restaurants at La Barceloneta and some of them become nightclubs after regular hours such as Opium, SHOKO and CDLC. You can visit online Barcelona Beach night life for more information. At Barceloneta Beach you can find the following restaurants: Bestial on the terrace, with a set menu priced around €25, Sotavento Beach Club, Pez Playa, Shoko , Ice Bcn, Opium, CDLC. Further down La Barceloneta you will find more restaurants like: Ca la Nuri, Baba Cool, Sal Café, and El Arenal bicycle hire.
How to get to Barcelona Beach/ Transportation Information:
Bicycle: A cycle path runs alongside the beach
Metro: Line 4 – La Barceloneta  or Ciutadella
Bus: 14, 16, 17, 36, 39, 40, 45, 51, 57, 59, 64
Finding parking spaces around La Barceloneta can be very difficult but there is a pay car parking on the Passeig Joan de Borbó.