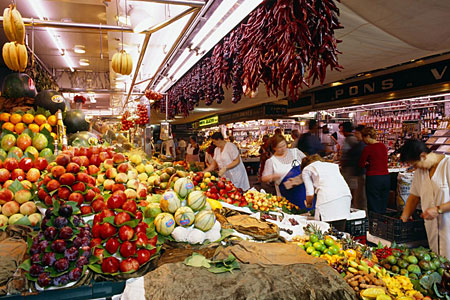 To discover why Mediterranean cuisine is internationally known for its ingredients you should visit La Boqueria Market. You can find here all the products from Catalonia: fruit, vegetables, fish and seafood, tapas and even pizza bars and others. La Boqueria Market turns it into an obligated must-see for all tourist who visit Barcelona.
La Boqueria Market is situated next to the metro station "Liceu" but the place is best known today under the name of Las Ramblas. Since time immemorial, farmers were selling their products to merchants, or Botiguers.
As the market's popularity grew, farmers from neighbouring towns, such as Les Corts and Sarrià, were banned from trading there. Because of the high competition within the market, there were some fights between the old greengrocers and the new ones. Therefore two markets were merged into one: La Rambla de Sant Josep. Fish shops, butchers, and bird shops were built surrounding the new place.
In 1835 the destruction of the convent of Sant Josep took place. It was replaced by a square, which at that time was the biggest square in Barcelona. Surrounded by porches, with gardens and fountains, it was named Plaça del Treball. When the construction was almost complete, it was believed necessary to temporarily install the market in the old place of Sant Josep and so be able to remove it from the middle of La Rambla. The first stone of the market of La Boqueria was placed on St. Joseph's day in 1840.
Over the years, La Boqueria market has become a symbol of the history of the city, all their families, their traditions, and festivals. It is the largest market in Spain. The current merchants are mostly from the third and fourth generation of market vendors. Is the union of past and present.
Buying ingredients for your dishes
If you are staying in a Barcelona apartment, especially a Las Ramblas apartment close to La Boqueria, it might be a good idea to take a break from eating out one night and stroll down to one of Catalonia´s most famous markets. Test out your fully equipped kitchen by trying your favourite recipes with some of Barcelona´s freshest ingredients!
There are spectacular fruit places, in which you can find the freshest fruit and merchants are responsible for peeling and cutting, offering glasses of fresh-cut fruit. This not to mention the delicious fruit juices squeezed on the spot.
Not less attractive are those candy spots with the biggest variety of sweets to choose from. But we can also find fish stalls, nuts, vegetables and spices. What is important is that all the products are of excellent quality and an enviable freshness.
Besides the above, along the Boqueria market are many bars where you can sample a variety of dishes made with the best products. The commercial offer is varied, fresh fish and seafood, salt and canned fish, meat and offal, poultry, game, and eggs, fruit and vegetables, herbal and diet, legumes, cereals, food, bakery and restaurant, frozen specialties, sausages, etc.