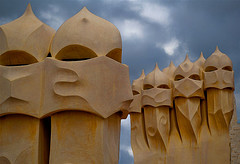 Antoni Gaudí
was a Catalan architect, leader of the Catalan Modernism.
Gaudí
was an architect with an innate sense of geometry and volume, as well as a great imaginative ability that allowed him to mentally project the majority of his works before passing them on to planes. In fact, rarely performed detailed drawings of his works, preferring to recreate them on three-dimensional models, molding all the details coming up was going mentally. At other times, I was improvising on the fly, giving instructions to his staff about what they had to do.
With a strong intuition and creative ability, Gaudí conceived his buildings on a global basis, serving both structural solutions such as functional and decorative. Studied to the smallest detail of his creations in architecture integrating a range of handicrafts that he mastered to perfection: ceramics, glassware, iron forging, carpentry, etc. It also introduced new techniques in the treatment of materials, such as his famous "trencadís" made with pottery waste.
After some early influenced by the neo-Gothic art and certain oriental trends, led Gaudí
modernism
in its most dynamic era between the late nineteenth and early twentieth centuries. However, the architect Reus went beyond orthodox modernism, creating a personal style based on observation of nature, the fruit of which was his use of geometric rules, such as the hyperbolic paraboloid, the hyperboloid, the helix and the conoid.
Gaudi's architecture
is marked by a strong personal stamp, characterized by the search for new structural solutions, which came after a lifetime devoted to the analysis of the optimal structure of the building, integrated into its surroundings and being a synthesis of all arts and crafts. Through
study and practice of new and original solutions, Gaudí's work will culminate in an organic style, inspired by nature, but without losing the experience gained from previous styles, creating an architectural work that is a perfect symbiosis of tradition and innovation. Also, his work is marked by those who were his four great passions in life: architecture, nature, religion and love for
Catalonia
.
Gaudí's work has reached over time with a wide international exposure, and countless studies devoted to his understanding of architecture. Today he is admired by professionals and the public in general: the
Sagrada Familia
is now one of the most visited monuments in Spain.
If you are planning to visit Barcelona and want to see some of Gaudí's most famous works, staying in a city centre Barcelona apartment is a good option. In particular, staying in a Ramblas apartment in Barcelona or a Sagrada Familia apartment in Barcelona is a great way to enjoy his amazing architecture everyday. You can also take tour around
Eixample
district where you can see two interesting works of Gaudí:
La Pedrera
(also known as Casa Mila) and
Casa Batlló
.