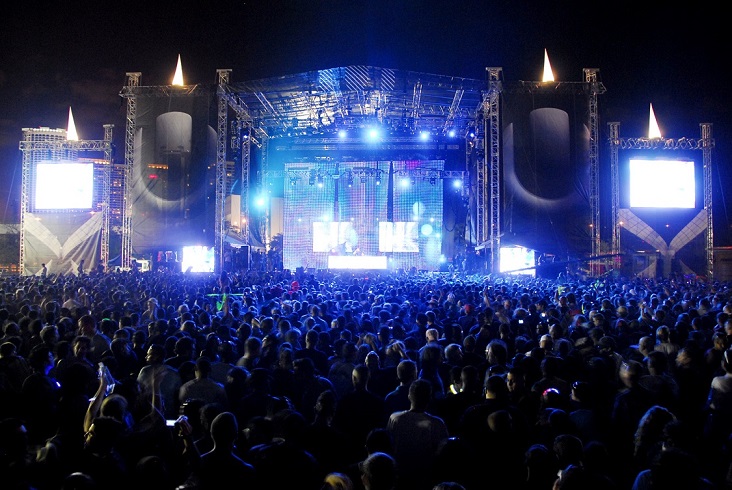 Get ready for the ultimate electronic music experience right here in Barcelona! This year marks the 25th anniversary of the Sónar Festival, also known as the International Festival of Advanced Music and New Media Art. Taking the city by storm for 72 hours of non-stop partying from June 14th until June 16th, music fanatics will be totally thrilled by the incredible line-up of artists this year. Top acts and great electro tunes combined with dazzling visual art displays make the Catalan capital the place to be this summer!
Take a look at what to expect at Sónar 2018 in Barcelona:
Barcelona is Buzzing this Summer! 
One of Barcelona's biggest summer events, Sónar has hosted some of the biggest names in the music business over the years, from the Scissor Sisters to Goldfrapp. Dubbed as one of the top music festivals in Europe, those attending Sónar 2018 in Barcelona won't be disappointed.
This year's line-up includes the likes of Laurent Garnier, Richie Hawtin, Bonobo, and many others, offering an eclectic mix that is sure to make this one of the most memorable festivals of the summer.
Sónar by Day: A Cultural Kickback

This three day event, encapsulating the very best in electronic music and visual arts, is split into two main sections: Sónar by Day and Sónar by Night. With the daytime events taking place from noon-10pm, festival-goers can immerse themselves in the inspirational world of new media art and continue the party well into the night when the real 'fiesta' begins.
During the day, those attending Sónar 2018 can choose from a wide variety of activities, from film screenings to audio poetry.
Sonar+D: Something Different
Sónar+D is the spot to be for those looking to mix and mingle. This festival within a festival is a celebration of innovative technology and creativity. From workshops and hackathons to interactive installations and product demos, Sónar is so much more than just a music festival.
A Three-Day Energetic Fiesta
Sónar 2018 is expected to attract more than 100,000 visitors from across the globe, all heading to the Catalan capital in search of a phenomenal experience. Grab your tickets while they are still on sale with daily passes at 58€ and nightly passes for around 79€. The full 3 day musical mayhem is currently priced at 195€, a small fee for the endless events taking place during the festival. For more information, visit the Sónar Festival website or check out the latest info on the Sónar Facebook page.
So, if you are ready to be part of one of the greatest summer festivals that Europe has to offer, make your way to Sónar Festival 2018 in Barcelona! Get your tickets today and book your apartment in Barcelona, for a comfortable stay near the venues, but hurry, the Catalan capital is set to be flooded with locals and tourists all looking to make the most of this summer festival in Barcelona!