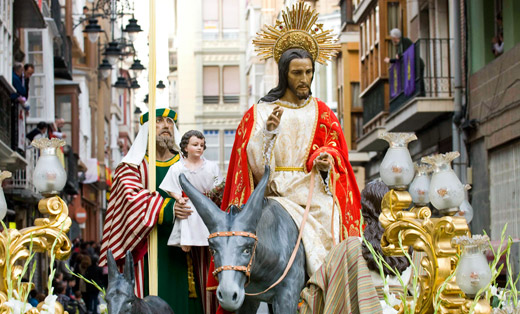 One of the most important events on the religious calendar across the world is undoubtedly Easter. Each year Barcelona comes to life as the city's streets are filled with spectacular Easter celebrations including parades, processions and, of course, delicious chocolate treats. Also known as 'Semana Santa', this Holy week kicks off on 25th March 2018 and runs all the way through to the 2nd April 2018, meaning that visitors have 8 days of traditional festivities and activities to enjoy on their Easter breaks in Barcelona!
While many residents of the city choose to escape Barcelona during Easter and head for the nearby towns and villages, visitors to the Catalan capital will have plenty to see and do on their trips. Plus, with spring just around the corner and the weather beginning to warm up, Barcelona is an ideal destination for an Easter holiday.
Parades, Celebrations & Easter Processions in Barcelona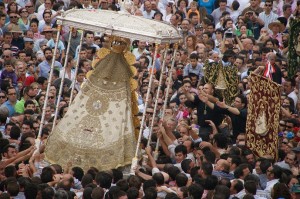 Barcelona's Easter festivities are quite small in comparison to those in other Spanish cities, such as Seville, but those looking for a taste of tradition in Gaudí's city won't be disappointed.
"El Paso de la Borriquita" is the first parade of Easter in Barcelona and takes place on Palm Sunday in the Ciutat Vella district. This procession commemorates the arrival of Jesus in Jerusalem and sees the city filled with stalls lining the streets selling distinctive bleached palm fronds.
Following this first parade, a week of devotional processions will take place in the Gothic Quarter of Barcelona and the surrounding towns, as well as on the famed Las Ramblas. The procession of the "Virgin de la Macarena" takes place on Good Friday, which falls on March 30th this year. It starts at 17:00 in the Raval neighborhood at the Sant Agustí Església and ends at the Barcelona Cathedral around 20:00. These Easter parades in Barcelona are sure to leave a lasting impression, whether you consider yourself to be religious or not.
Easter Gifts in Barcelona
Though Easter gift-giving may be a major part of the celebrations in other parts of the world, it is not a customary practice in Barcelona, with one exception: Las Monas de Pascua.  Best described as chocolate cakes, eggs or figurines, they are typically given to children by their godparents and come in all shapes and sizes. You can usually grab one from any "pastissería" around Easter time in Barcelona.
Easter Treats in Barcelona
Barcelona, being a Catholic city, upholds the Easter tradition eating fish on Good Friday. Some of these delicious dishes include cod with chickpeas, cod with potatoes and salted cod, all of which can be enjoyed in restaurants throughout the city. And if you're up for some more customary treats this Easter in Barcelona, don't forget to pick up some special Easter cakes and biscuits like Bunyols, Torrijas, Roscas de Pascua, Pestinos and as mentioned above, the Mona de Pascua.
A Taste of Seville in Barcelona
Seville is known for hosting the biggest Easter celebrations in Spain, but if you can't make your way to Andalucía, then be sure to catch some of their customs right here in Barcelona!
Some of the most traditional figures to be seen around Easter time in Seville are the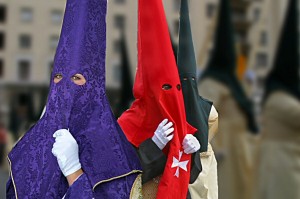 Nazaranos, based on the people of Nazareth. In Barcelona, you will find the most popular parades of Nazarenos in the district of L'Hospitalet de Llobregat, where the different groups march through the streets wearing their distinctively shaped cloaks and masks. The cone that forms the top of their headgear is said to be symbolic of the Nazaranos rising to the heavens, providing penance for their sins.
Apartments for Easter in Barcelona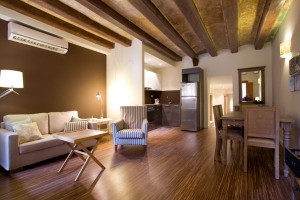 To make the most of the Easter celebrations in Barcelona choose to stay in one of the many Ciutat Vella apartments like a Ramblas apartment in Barcelona. Whether you opt for a studio on this bustling street or a family apartment tucked away in the historic Gothic Quarter, one thing is for sure, the Semana Santa festivities in Barcelona will be just around the corner, meaning that you'll be able to enjoy every second of this 8-day event!