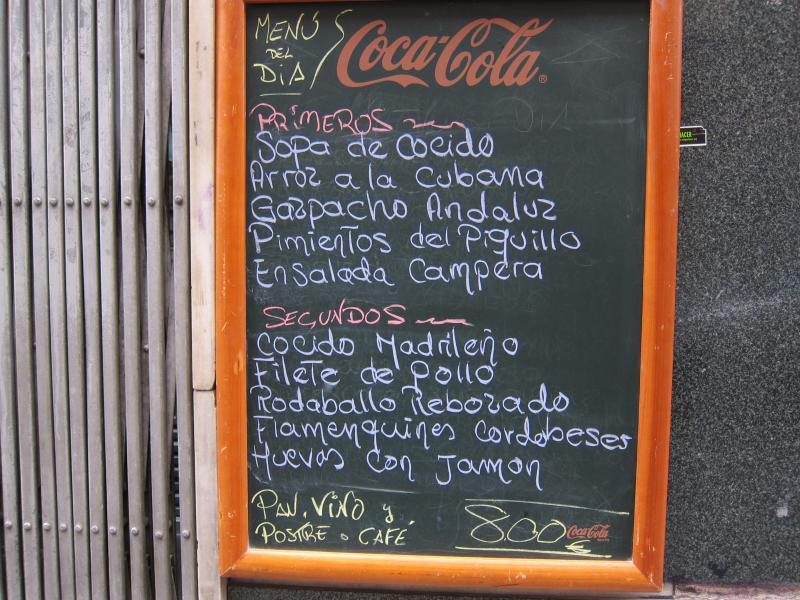 Of course during your trip to Barcelona you'll want to sample some local delicacies, but sampling the very best of Spanish & Catalan cuisine doesn't have to be expensive. There are many tasty, local and cheap eateries in Barcelona. To help you out, we've hand-picked a few of our favourites to save you some pennies…
1. La Tasqueta de Blai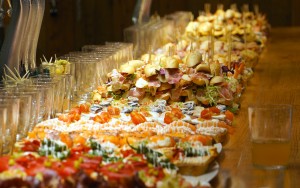 Appetizing, Spanish pintxos can be found scattered about the four corners of the city. These small snacks are topped with meats, cheeses, peppers, you name it; and then are stabbed with a toothpick, holding the toppings in place. To grab some of these bite-sized snacks, we recommend you head to Carrer Blai where yuo can pick up Pintxos for just 1€!
Address: Carrer de Blai, Poble Sec, Barceñpa
2. Nostrum
If you are feeling like a snack and want something to-go, that is both tasty and inexpensive, check out Nostrum – a self proclaimed "the mum's food takeaway!" This chain offers quick eats in a variety of dishes, such as soup, pasta, veggies, meat, desserts and fruit for under 5€. The company believes in quality, home-made, 100% natural and balanced products, and that is just what you will find at this cheap eatery in Barcelona.
Locations all over Barcelona. 
3. Buenas Migas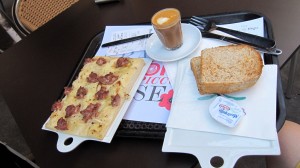 With many citywide locations, Buenas Migas is amongst some of the best quality yet affordable restaurants in Barcelona. Here you can find a mixture of Italian and English treats, sandwiches, salads and desserts. Pick up a delicious hot or cold bite to eat, guaranteed to satisfy your hunger, for under 8€!
All over Barcelona (incl. El Triangle shopping centre near Pl. Catalunya)

3. Bo de B
Not just another sandwich spot, this hole-in-the-wall joint serves up some of the best subs you will ever get your hands on in Barcelona. Have your choice of chicken, beef, salmon, or tuna, pile on the toppings and pay around 4€ for fresh and tasty sandwich! This eatery is well known to locals and tourists alike, so don't be discouraged when there is a line outside!
Address: Carrer de la Fusteria, 14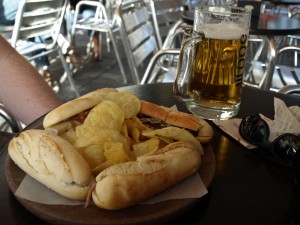 4. Cerveceria 100 Montaditos
With over 100 "montaditos" to choose from, these tasty bite-sized sandwiches will have you coming back for more. The prices for these miniature treats range from 1 to 2€ each as well as just 1€ for a beer, but it gets better: Every Monday all montaditos are knocked down to just 50 cent – bargain!
Address: Rambla de Catalunya, 11 , Carrer d'Aribau, 242, Heron City Barcelona Av. Rio de Janeiro, 42
5. König
If you are in search of a tasty, decent sized hamburger and/or tapas we recommend you give König a try. This German/Catalan restaurant is conveniently located just off Plaça Catalunya. With so many options to choose from, yuo can walk out will a belly full for under 10€! When it comes to cheap eateries in Barcelona, König offers great prices, quality food and excellent service.
Address: Rambla Catalunya, 5
A Couple Tips for the Road
Many restaurants in Barcelona offer a Menú del Día which is a set daily menu at a reasonably cheap price. Often you can find a Menú del Día for less than 10€!
Did you know in Barcelona you can even get free tapas when you order a drink in some bars?
Photo Credits – Flickr: Marcus Hansson, Donna, Trubble, and Melanie J Watts