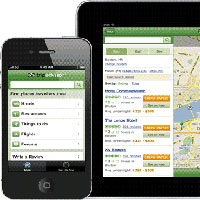 One of your most important travel tools is your smart phone, this is because the growing marketplace for apps now offers amazing tour guides, offline maps, customer reviews and more. You will not want to be caught in Barcelona without a city tour guide hiding right inside your phone. All you need to do for an amazing and easy visit to the city is download these five top mobile apps and start exploring.
1. Tripadvisor App
Of all the apps you download while you are in Barcelona, Tripadvisor may be the most useful because there is so much to be offered within the customer reviews. Tripadvisor is your one stop for discovering which restaurant really has the best paella, as opposed to which restaurant claims to.
In this app you can view the highest rated restaurant and business by category or area and rest assured that the ratings are being given by locals and travelers just like yourself. You can use Tripadvisor to find information about the hottest places in the city that are buzzing with people, or dig a little deeper to find a hidden treasure that maybe even most locals have never been, and don't forget to leave your own reviews through the app to help your fellow travelers.
2. Official Barcelona Mobile Guide

Avoid the crowded Barcelona Tourist Office and go straight to your smart phone for the ins-and-outs of touring the Catalan capital. The Official Barcelona Mobile Guide, created by Barcelona Turisme, will become your most valued tool while in the city.
This eye catching app will point you in the right direction of everything you might want in Barcelona, like the Magic Fountain, Sagrada Familia, and Barceloneta Beach. Access to great restaurants, attractions, museums, and events will be right at your fingertips, and the best part is the map feature, including the metro system, which can be accessed offline so you will never be lost.
3. Gaudí's Barcelona
Exploring Gaudí's Barcelona is something that many visitors come to do, and Barcelona Turisme has made it very easy for to navigate through all of the Catalan architect's masterpieces with this app. Here you will find the location, operating times, and entry prices for his most famous works in the city like the Sagrada Familia, Park Güell, and La Pedrera.
The most amazing feature about this app, and why it is worth purchasing, is that once you arrive at your Gaudí destination, it transforms into your own personal tour guide providing written information as well as an audio guide. All your questions will be answered through this app with extensive knowledge of the late architect and his artistic visions.
4. CAT112 Emergency Services App
Safety is the most important and sometimes most forgotten part of having an amazing vacation. This app is a necessity in the city, of course you don't expect to need emergency services but it is always better to be safe than sorry. The local council has developed this app in several different languages including English, French, German, and Chinese.
When you download the CAT112 app you input your personal information which makes it very easy for the emergency responders to better treat your condition, it also accesses your location so they know exactly where to find you. You do need an activation code to access its features, just ask your accommodation provider.
5. Nightlife Barcelona App
Barcelona is famous for nightlife, but when everything is always busy it is hard to know where will be the best place for you, the Nightlife Barcelona app helps ease your confusion by giving detailed information about all of the amazing bars and clubs in the city.
The app includes descriptions and reviews of all the hot spots and also shows you where they are located on a map. You can search using your current location or by category so you can be sure not to end up in a heavy metal bar when you really prefer top 40 hits.