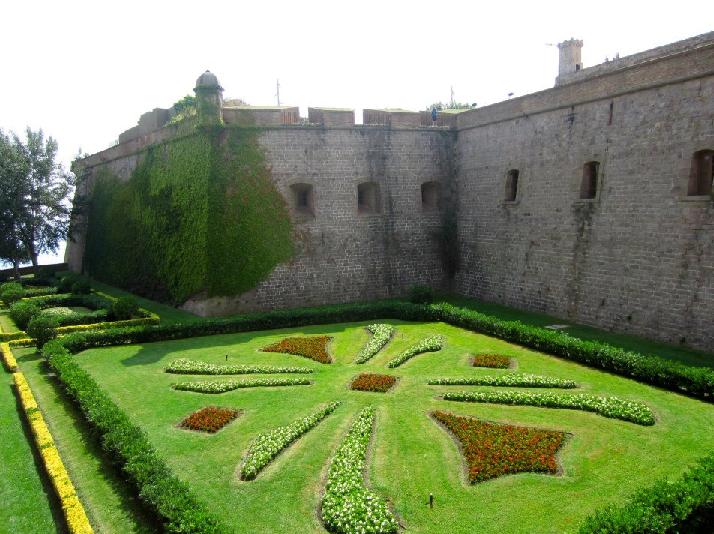 Barcelona is not only home to mesmerizing Mediterranean beaches, amazing architecture and some of the most delectable dishes on the Iberian peninsula; The Catalan capital also boasts some fantastic green spaces, perfect for a relaxing day away from the city center crowds. You may be surprised to find that 10% of the city of Barcelona is made up of parks, from colorful playgrounds to historical havens, and even a tribute to Joan Miró!
Here we give you a round up of Barcelona's top 5 parks:
1.    Parc del Laberint d'Horta
The Labyrinth Park in Barcelona is the oldest garden in the city and since it's located on the outskirts of the city, it is often left unexplored by many visitors. Ideal for families visiting Barcelona, the Parc del Laberint d'Horta has a real-life maze, which will keep the youngsters entertained while you soak up the views from the terrace that overlooks the park. Keep your eyes peeled for the turtles and geese in this natural sanctuary, one which is perfect for a tranquil day out.
How to get there: Mundet (L3)
2.    Parc Güell

Parc Güell in Barcelona is a colorful playground and offers visitors an up-close look at some of Antoni Gaudí's most significant modernist works. Here, you may feel as though you have entered an alternate world as serenity is all around, something not often enjoyed in other parts of the city.
When strolling around Parc Güell, make sure to watch out for Gaudí's signature 'trencadís', a style which uses broken, glazed ceramic tiles to create mosaics. And don't miss the famous dragon fountain which leads up to the Sala Hipòstila, an area originally intended to be a marketplace. This space is now home to 86 grand columns that support the public square above, where the famous benches of Parc Güell can be found. From here, you can enjoy some breathtaking views of Barcelona.
How to get there: Vallcarca (L3) or El Coll/ La Teixonera (L5)
3.    Parc de Joan Miró
A tribute to the surrealist imagination of Joan Miró, this Barcelona park in the Eixample Esquerra area is a great place to relax. The park is often referred to as the 'Parc l'Escorxador' as it stands on the site of an old municipal slaughterhouse. The area is now an outdoor haven which hosts many events and activities from concerts to cultural workshops.
The park has two levels, the lower landscaped with pine, palm and fragrant eucalyptus trees and plenty of colorful flowers.  On the upper level of the Joan Miró Park in Barcelona, you'll find one of Miró's last sculptures, 'Dona i Ocell' (Woman and Bird).
How to get there: Tarragona (L3)
4.    Parc de la Ciutadella
A former military citadel, the Parc de la Ciutadella in Barcelona is one of the largest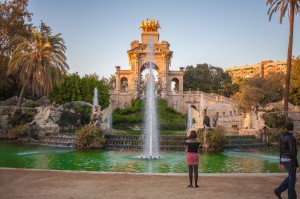 green spaces in the city, and has something for everyone. Here you can kick back with a picnic basket, row a boat on the lake or even head to the Barcelona Zoo; the Ciutadella Park is full of interesting places to explore.
At the heart of this tranquil space is a beautiful waterfall, designed by Josep Fontseré for the Universal Exhibition in 1888, and just a few steps outside of the park you'll find the monumental Arc de Triomf on the tree-lined Passeig Lluis Companys.
How to get there: Arc de Triomf (L1) or Ciutadella/Vila Olímpica (L4)
5.    Parc de Montjuïc – Magnificent Views Await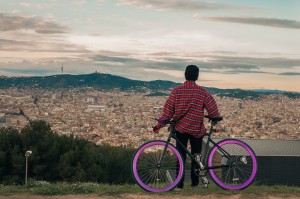 Montjuïc in Barcelona may have been the venue for the 1992 Olympics, but nowadays this area is a stern favorite for many visitors and residents looking for a breath of fresh air. Green spaces, lush gardens, museums and cultural centers and even the Botanical Gardens make this the ideal destination for a day out. Here you can also head to the Montjuïc Castle in Barcelona, where you can explore the historic fortress and lose yourself in astonishing panoramic views of Barcelona.
How to get there: Bus 150 from Plaza Espanya to Castell de Montjuïc or Paral-lel Metro (L2 or L3) to the Montjuïc Funicular
So, whether you just wish to escape the crowds of the bustling city center or get an up-close look at historical spots around the city, the parks in Barcelona don't only offer a tranquil day out, but also make for an exciting cultural experience, not soon to be forgotten!  By choosing to stay in one of the many city center holiday apartments in Barcelona, you'll be able to explore all of these natural havens, as well as the more frequented sights in and around the Catalan capital.