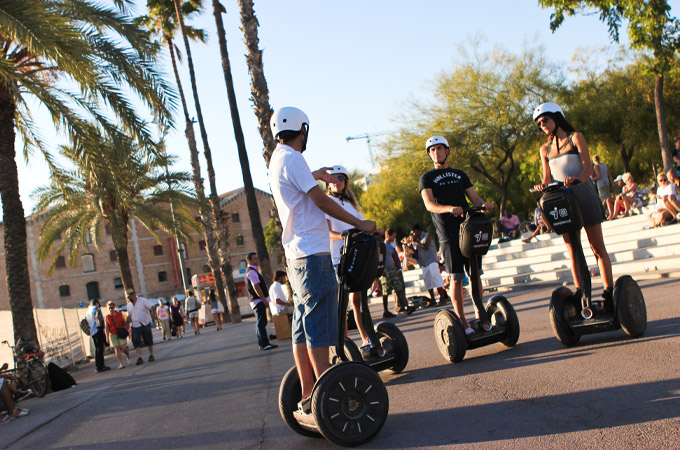 There are plenty of ways to see the dazzling sights of Barcelona: boat tours up and down the Mediterranean coast, bike routes around Montjuïc, ghost walks in the Gothic Quarter… But, if you're looking for a fun way to explore the city that's safe, speedy and a little out of the ordinary, then we suggest you try one of the Segway tours of Barcelona!
Segways – Cool, Green and Pretty Nippy
Segways are two-wheeled, self-balancing electric scooters. These personal transporters have become increasingly popular over recent years and not only provide an eco-friendly way to get around, but are also perfect for sightseeing in Barcelona due to their speed and compact dimensions. If you are looking for a way to discover the city without breaking a sweat, then a Barcelona Segway tour is the way to go!
A Tour for All: Barcelona Segway Glides

A Segway tour that covers all of the must-see sights in Barcelona, from the historic Gothic Quarter and the Barceloneta beach to the bustling Las Ramblas and the tranquil Parc de la Ciutadella, Barcelona Segway Glides is a top choice for visitors looking to get the most out of their trips. This company's tours last for 3 hours and not only will you cover the main sights and attractions, but you'll also be able to grab some helpful tips on how to spend the rest of your time in Barcelona, too.
The tour guides know their stuff when it comes to Barcelona facts, so feel free to ask anything you'd like. Be prepared for some funny and memorable anecdotes, too, sure to stick with you long after you leave Gaudí's city. What's more, if you're coming to Barcelona with a large group or even on a romantic getaway for two, this company also offers private tours, making for a more personal experience! For more info, visit the Barcelona Segway Glides Official Website.
Personalize your Tour: Barcelona Segway Tour
For those looking for something special, be sure to check out Barcelona Segway Tours. This company offers various packs suited to your needs, including "Discover and Relax" which combines a city tour with a spa bath and massage, or the "Rock and Segway", where you end your adventure around the city with drinks and a meal at the Hard Rock Café.
One of our favorites is the 'Tapeo after Segway' which combines a fun sightseeing tour with a dash of culture. On this tour you can enjoy delectable tapas paired with some delicious Catalan wine in a quaint Gothic Quarter bar. For more info, visit the official Barcelona Segway Tour website.
So, whether it's to zoom past the sights as you explore the best of Barcelona, or just to try something different on your trip to the Catalan capital, whatever your reason for taking a Barcelona Segway tour, you'll find it's is a great way to discover all that Gaudí's city has to offer, and more!