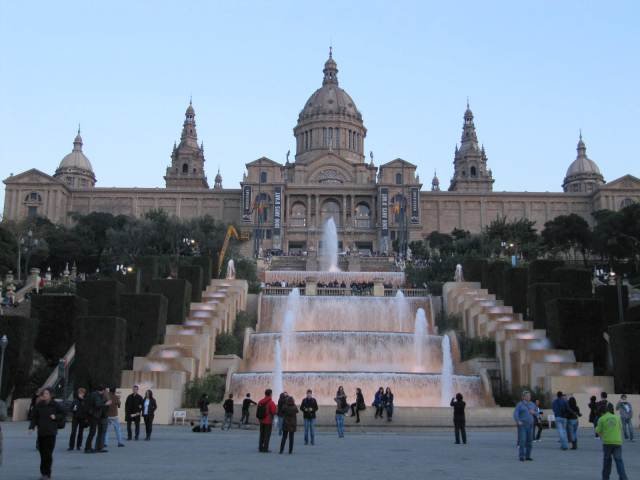 If you're looking for an all-round cultural experience, visiting some of the museums in Barcelona should definitely be top of your to-do list. With endless exhibits and attractions, from Dali's surrealist art to miniature versions of Barcelona carved in chocolate, the museums of Barcelona grant you an up-close look at some of the city's most valued works. Plus, with plenty of events, shows, activities and workshops going on at these magnificent venues, there's something for the entire family to enjoy. What's more, if you are thinking of staying in one of the many  Barcelona apartments in the Gothic quarter or Raval areas, then you definitely won't have to travel far to get to some of the best museums in Barcelona!
Here we give you just a few of our favorites:
1.      

Picasso Museum
One of the greatest painters of all time, Pablo Picasso, found much inspiration in the Catalan capital, so it naturally follows that some of his best works are proudly displayed in the Picasso Museum of Barcelona. With more than 4,500 pieces by the man who brought Cubism to the forefront of the industry during the early 20th century, everyone, whether an art connoisseur or a budding painter, is sure to find inspiration in the exhibits of this talented artist. For more information, check out the Picasso Museum website.
How to get there: C/Montcada 15. Metro station: Jaume I
2.      

MACBA 
Prefer something a little more contemporary? If so, head to the Museu d'Art Contemporani de Barcelona, also known as the MACBA. Home to some of the most influential art from the mid-20th century onward, there is no better choice of museum for those looking to enjoy something more up-to-date. Plus, this museum is renowned for its events and concerts, so keep an eye on the MACBA website for news on the latest big names to hit the stage at this awesome venue.
How to get  there: Plaça dels Àngels, 1. Metro station: Universitat (L1)
 3.      

CosmoCaixa Museum
The CosmoCaixa Museum of Science is the perfect place to visit if you're on a family vacation in Barcelona. With hands-on exhibits and activities, a planetarium, and an amazing 1000m2 recreation of the Amazon rainforest, this museum is ideal if you need something to do on one of those infrequent rainy days in Barcelona, especially if you're in the city with kids. For more information on current exhibits, check out the CosmoCaixa website.
How to get there: C/ Teodor Roviralta, 55. By train: Take the L7 (FGC) from Plaça Catalunya to Avinguda Tibidabo, and then switch to the 196 Bus.
4.      

National Art Museum of Catalonia
For those who wish to gain a deeper understanding of all things Catalan, a trip to the National Art Museum of Catalonia is sure to answer all your questions. From sculptures to photography, engravings to posters, and paintings to coinage, visitors to the MNAC will get an up-close look at the history of Catalan art, from the Roman period all the way to the mid-20th century.
How to get there: Palau Nacional, Parc de Montjuïc. Metro station: Espanya (L1 or L3)
 5.      

Barcelona Chocolate Museum
Sweet tooth? The chocolate museum in Barcelona, known as the Museu de la Xocolata, offers an unforgettable experience. Fight the urge to chomp into the Sagrada Familia as you make your way around the space, taking a peek at all things Barcelona carved in chocolate, while learning about the history of the cocoa bean in Spain and the various recipes used to create this delectable snack! A must for those visiting Barcelona with kids!
How to get there: C/ Comerç, 36. Metro station: Jaume I
 6.      

Dali Museum
For sneak peek at a private collection by the world famous surrealist artist, Salvador Dali, be sure to check out Real Círculo Artístico Museum of Barcelona. The museum hosts 44 original sculptures from the Clot collection, inspired by themes ranging from eroticism to Don Quixote. For those Dali-addicts out there who want to see a little more, we recommend a day trip to Figueres where you will find the Dali Museum, sure to satisfy all your curiosities about this mysterious artist.
How to get there: C/ Arcs, 5. Metro station: Jaume I
  7.     

F.C Barcelona Museum
A trip to the Camp Nou Museum is a must for any footy fan visiting Barcelona! Home to a glass case with all of the team's trophies on display, as well as a giant interactive touch screen which allows you access to the squad's details since it was founded by Joan Gamper in 1899, this will truly be an unforgettable experience for any football lover. A special section dedicated to the values of FC Barcelona is also on display. "Mes Que Un Club", the team's motto which means "more than a club," is defined by four ideals; Catalan identity, universality, social commitment and democratic commitment. For more information and accessibility, visit the FC Barcelona website.  iVisca Barça!
How to get there: C/ d'Arístides Maillol. Metro station: Les Corts (L3) or Collblanc (L5)
8.      

Gaudí, Gaudí, Gaudí…
It goes without saying that a trip to Barcelona would not be complete without spending time admiring the astonishing works of the famous Catalan architect, Antoni Gaudí. Be sure to check out the Sagrada Familia Museum right on the site of his unfinished masterpiece, as well as the exhibitions at Casa Batlló!  You can even check out the residence of this amazing architect at the Gaudí house in Park Güell, which is now open to the public, allowing visitors a chance to get even closer to the Catalan genius!
How to get there: Sagrada Familia  – Sagrada Familia Metro Station (L2 or L5). Casa Batlló – Passeig de Gràcia Metro Station (L2, L3 or L4). Park Güell – Lesseps Metro Station (L3), or bus 24 from Plaça Catalunya.