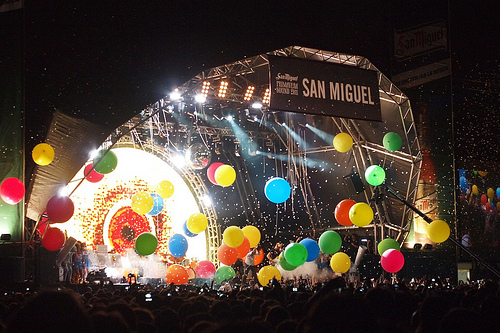 Barcelona, a metropolis best known for its breathtaking art, interesting history and Catalan culture, is gearing up as the 12th annual Primavera Sound Festival draws nearer. The festival, which runs from May 30th to June 3rd, is proudly sponsored by San Miguel. Revered as a 'must for any music lover', Primavera Sound  is one of the only music  festivals  that  ensures every musical palate will be satisfied with an eclectic mix ranging from pop and rock, to underground tendencies.
A Show for All Tastes
The Primavera Sound Festival has been a big hit in Barcelona since its first edition in 2001, setting the bar high for the years to follow. This year, true to form, the list of bands ready to perform is sure to please. The reason for the success of the concert may indeed be the astonishing amount of legendary bands that have graced the stage over the years. Such stars include the likes of The Pixies, Sonic Youth, Portishead, Arcade Fire, My Bloody Valentine, Franz Ferdinand and The White Stripes. As the lineup continues to grow, this year's festival is sure to be another memorable event.
Think of yourself as a muso? Then you are in for a treat as legendary band, The Cure, confirmed they will be headlining the show on June 1st in an unprecedented two hour set, which will consist of tracks from all fourteen albums, including 'Wish', the album which celebrates its 20th anniversary this year.
And, if that is not quite music to your ears, perhaps you may prefer indie-alternative Washington natives, Death Cab for Cutie, or Scottish post-punk revival band, Franz Ferdinand. An artist many fans are also excited to see is Rufus Wainwright, notorious for his own genre consisting of sounds influenced by rock, opera, theater, drama and film.
A Five-Day Musical Feast
picture from go-mag.com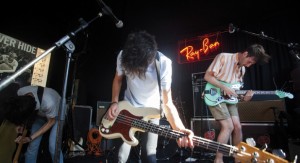 With such a diverse mix of artists on display, it should be no surprise that festival planners are expecting approximately 100,000 concert-goers across the two main venues in Barcelona: Parc del Forum, in the Poble Nou neighborhood, and Arc de Triomf.
Primavera Sound 2012 runs for five days, and while you may opt for a daily pass, available for Thursday, Friday and Saturday at 75€, you may just prefer buying the full price ticket for around 190€; a small cost for a festival experience you are sure to treasure for the rest of your life. For more information about the venues or tickets, visit the Primavera Sound Festival website, and to see constant updates on performers, check out the Festival's Facebook page.
If you are thinking of heading to this year's wild event, you will find plenty of Barcelona apartments close to both venues, as well as apartments at the beach, where you can make the most of the springtime sun on your trip, too. Don't forget to book your tickets in advance to avoid disappointment, as this year the Primavera Sound Festival is set to be one of the best ever!