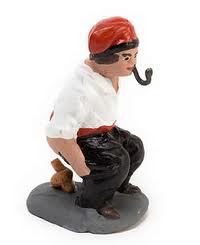 Those who have booked flights to Barcelona for a Christmas getaway may be surprised when they come across local nativity scenes. As well as the usual characters from the Story of Christmas (Mary, Joseph, Baby Jesus, the Shepherds and the Wise Men) it is a Catalan tradition to include el Caganer: the figure of a red-hatted Catalan peasant caught short, pants down, in the middle of a bowel movement.
El Caganer is obviously quite amusing to youngsters (and those with a scatological sense of humour), but the reason for his placement in the scene of the birth of Jesus is perplexing.
Unfortunately the precise origins of El Caganer have been lost to the annals of time, but he appears to have been part of the nativity scene since the Baroque period of the 18th Century. The Caganer probably started to appear around the time that scenes from 18th century life were incorporated into the nativity scene.
In Spain, nativity scenes are very elaborate with the whole town of Bethlehem depicted. The Caganer is just one of many characters going about his daily business; it's common to also see women washing clothes in the river as well as town weavers and bakers at work. The Caganer is usually hidden somewhere within the scene, far out of sight of the manger. This provides hours of entertainment for people trying to find the Caganer and where he is hiding.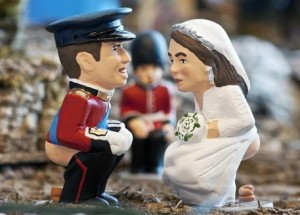 There are a number of theories about what the Caganer symbolises, which may go some way to explaining his presence in the nativity scene. Some say that he symbolises fertility and hope for the year ahead; as he defecates, he is fertilising the soil. Others believe that he is an emblem of the equality of all men; it doesn't matter who we are, we all poop. Another school of thought holds that he shows God can appear without waiting for us to be ready even if our pants are around our ankles.
But who is to say that the Caganer isn't there just as a bit of fun? Catalans aren't known for their subtlety when it comes to bowel movements; a famous Catalan saying is "menja bé, caga fort i no tinguis por a la mort!" ("eat well, poop strongly and do not be afraid of death.")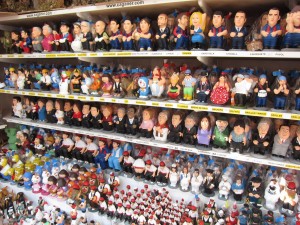 The Caganer is an important part of Catalan culture to this day. There was a public outcry in 2005 when Barcelona Council removed the caganer from their nativity as he was "setting a bad example". He was put back in place in 2006. Children are rewarded with a prize if they can spot el Caganer in the nativity scene, and although red-hatted peasants are traditional it's possible to buy caganers modelled on famous faces such as Barack Obama and Michael Jackson, for inclusion in your own nativity scene.
So if you are planning to visit Barcelona this Christmas, make sure you've got a little extra room in your suitcase to bring a few humorous presents back for friends and families. Many of the budget airlines who offer cheap flights to Spain have strict baggage restrictions, but with a little careful packing and prioritising of what's worth carrying – socks or rude ornaments – you should be able to find some space and bring home a gift, that's definitely going to be the most unique your friends and family get this Christmas.
Travelling to Barcelona this holiday season? Rent one of the city centre Barcelona apartments for your trip, and enjoy your stay a fully equipped home-away-from-home close to all of the best sightseeing hot-spots in the city this Christmas.