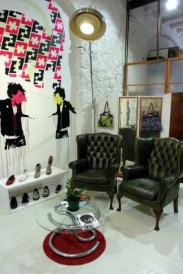 Endorphins mean pleasure, well-being and relaxation. Endorphins are released by eating chocolate, doing sport or having sex. But also, from shopping. The Ndorfina shop is a beautiful, artistic open space in the heart of the Barri Gotic that sells clothes and accessories; it also gives away good feelings for free. Just by stepping in, one gets captivated immediately by the sweet smell. Ndorfina smells good, indeed, and that's a very welcoming start for indulging and exploring what Laura and Victor, the charming owners, have to offer. In this reconverted ancient carpentry workshop, with its impressive stone walls – they share a chunk of Roman Wall that runs down to the street below – you'll be able to browse a fine selection of clothes and accessories that were hand-made in Barcelona, chosen with great taste and style. According to Laura, all the articles have to be colorful, fresh and above all, timeless: fashion doesn't dictate in Ndorfina! Through the years – she proudly admits – the shop has been a powerful platform for designers, artists and jewelry makers, a fact that also fostered a heavy rotation of products, making the shop experience here always something new.  Those who seek originality but also vintage style can be truly rewarded here, since the only non-hand-made articles for sale are vintage clothes and jewels,  specifically new (not second hand) and made in Barcelona. The fashion for men is limited to t-shirts, but some of the most original and creative  t-shirts on sale in Barcelona can be found in Ndorfina. And for Victor the quality doesn't end in the items, but in the whole ambiance of the shop. The music is chosen attentively to create a relaxed, modern and informal atmosphere, to put clients at ease, to give girls the time to enjoy trying on the clothes as if they came for a tea. Ndorfina stands for the concept of "slow": shopping should be a relaxing activity. Take your time to choose the best and let some endorphins in!
Ndorfina. Baixada de Viladecols 3, Barcelona – 933 190 182
Enjoy a short break in the centre of the Catalan capital as you kick back in one of the many Barcelona apartments in the Gothic Quarter, El Borne and Raval areas. Starting from 56 euros per night!