Best Short and Long Term Luxury Apartments In Barcelona for Rent
Find one, two and three bedroom apartments and homes at our luxury apartment rental sites, perfect for single, groups or famalies. Located in the center of Barcelona in such areas as Ramla or on the beach Barceloneta area, . Finding apartments in New York City can be challenging. NY apartments are part of the vast Manhattan real estate and New York real estate markets. Barcelona apartments will find you a new home as we offer more than 500 apartments in Barcelona that you can see
here
.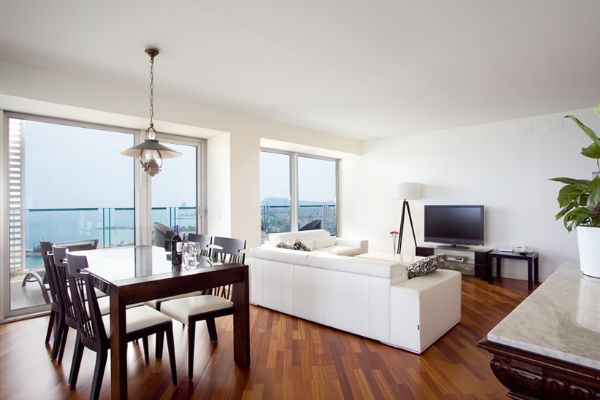 This luxury apartment, located on the first line of sea and offering great view on the city and the Mediterranean Sea, is the perfect choice for a luxury stay in Barcelona. The apartment has a big living room with parquet flooring, high quality furniture and decoration, a big screen TV, DVD player.
Apartment Overview
Minimum stay
4 nights Exceptions 4 nights between 06/04/2010 and 31/12/2011 4 nights between 20/04/2011 and 24/04/2011 5 nights between 16/06/2011 and 18/06/2011
Apartment Features
Balcony, Elevator, Wood Floors, Communal Roof Terrace, Central Heating, Heaters, Tv, Stereo, Dvd, Internet, Air Con, Private Pool, Hair Dryer. Beds and linen: Double Beds: 1, Single Beds: 6, Bed Linen, Towels. Kitchen: Stove, Microwave, Coffee Maker, Toaster, Oven, Juice Maker, Kettle, Pots And Pans, Hob Cooker, Dryer, Dishwasher, Napkins, Olive Oil, Salt, Sugar, Tea, Loundry Detergent, Toilet Paper. Others: Parking, Wash Machine, Phone In, Iron, Credit Cards Accepted On Arrival. If you like the apartment and would like to rent it visit the Apartment Rental Page and choose your dates.If you didn´t like this apartment ,choose dates in the following form and see all apartments in Barcelona available on the site.