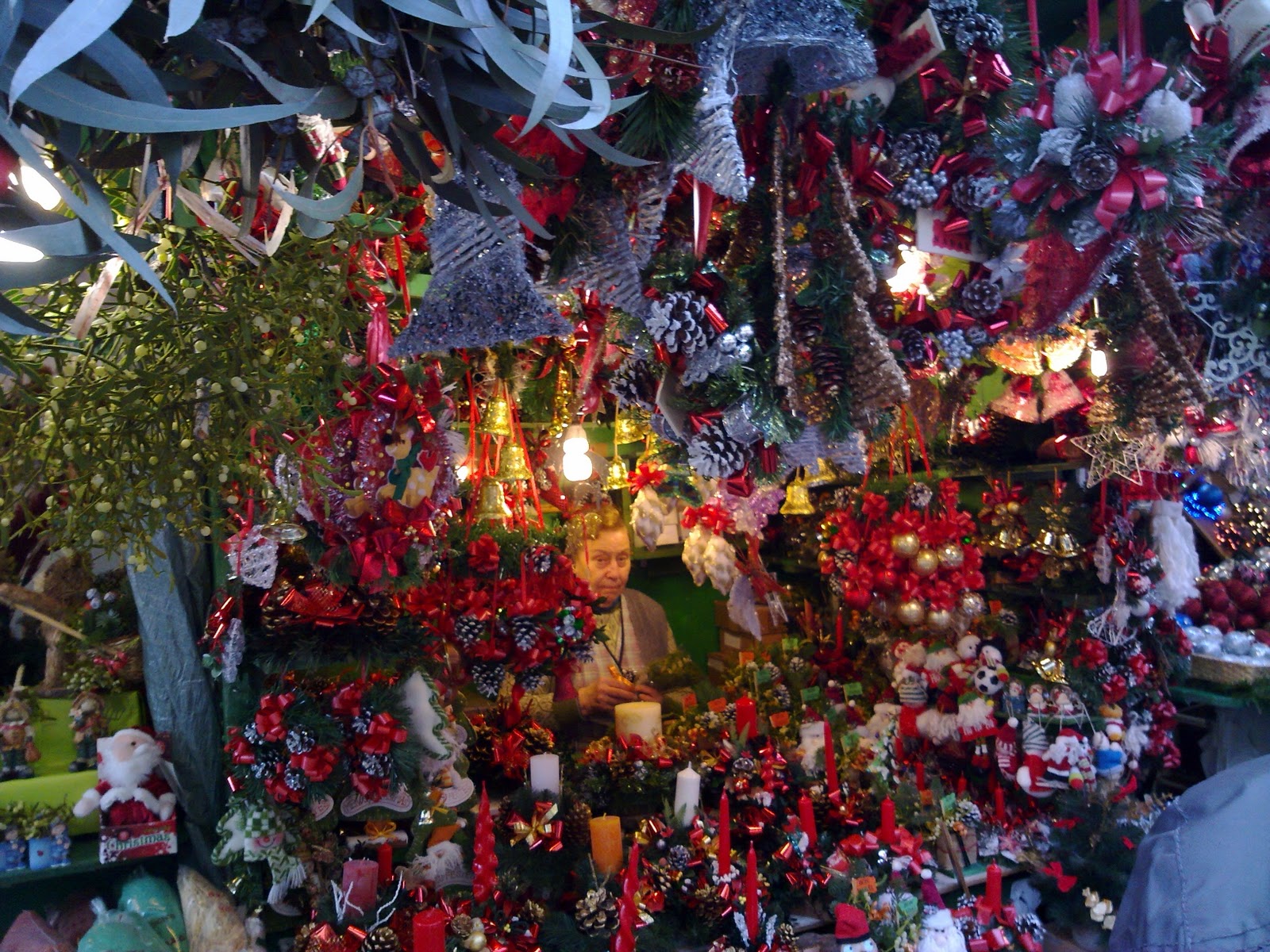 If you are spending part of the holiday season in Barcelona, you are in for a real treat, as each year the city comes to life with colorful light displays and unusual Catalan customs. One of the most notable Christmas traditions in Barcelona is most definitely the Fira de Santa Llúcia:  Barcelona's oldest Christmas market. This year marks the 230th anniversary of this festive market where you will find tons of handmade gifts, figurines for nativity scenes, and plenty of traditional Christmas decorations across the Fira's 300 stalls.
The fair will run from November 24th until December 23rd, during which time it will play host to plenty of family activities, workshops and even a parade.
The market is situated in front of the Barcelona Cathedral at Plà de la Seu, in the beautiful Barcelona barrio of El Gótico. For those who wish to truly immerse themselves in the Christmas spirit, we recommend choosing to stay in one of the many Ramblas apartments in Barcelona, just a few minutes on foot from this magical fair.
Barcelona's Oldest Christmas Market
Dating all the way back to 1786, this wonderful Christmas Market is named after Saint Lucy, or Santa Llúcia. Legend holds that on December 13th, the day of Saint Lucy, people would flood the streets surrounding the Catedral de Barcelona to commemorate her life. She was known as the patroness of seamstresses, tailors, needleworkers and the blind, so it is said that they would pray for clarity and eyesight. Records show that the market was also referred to as the 'girls' fair' as many people believe that young ladies would attend the Fira in hopes of finding their future husbands.
El Día de Santa Llúcia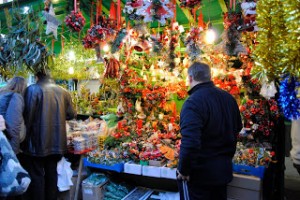 One of the best days to visit the market is December 13th, the Day of Santa Llúcia, when the market dedicates all of its activities to Catalan Christmas traditions. During this day, you may find yourself chiming into Christmas carols, which fill the air throughout the fair, or maybe even partaking in a crib scene-making course. Be sure to make your way to the Carassa de Nadal parade, during which a wealth of sweets are thrown to the children as the Christmas figures pass by on lavish floats.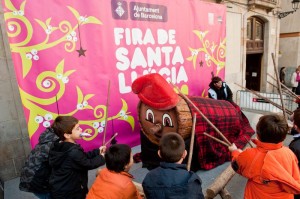 What's more, the giant Tió de Nadal will be displayed at the markets. The custom of the Tió de Nadal, aka the Caga Tió, is one of the more unusual traditions in Barcelona. In the run-up to Christmas, children have smaller versions of this smiley-faced wooden log in their houses and schools, which they 'feed' with turrón (nougat) until Christmas Eve, when they beat the log with sticks until they find gifts or candy hidden under its red blanket.
A Magical Market
The Fira de Santa Llúcia Christmas market is split into four sections, making it easy to find exactly what you are looking for.  Pick out the perfect Christmas lights, baubles, candles and handmade models in the Nativity & Figures section, or stock up on lucky branches, natural & artificial trees or grab  your very own Tió de Nadal in the Greenery section. And for those who seek a more personal touch, including jewelry, clothes and accessories, the Crafts section is just right for you. Of course, no Christmas would be complete without music to set that joyful mood at your Christmas party, so head over to the Simbombes quarter and grab your Catalan instrument of choice.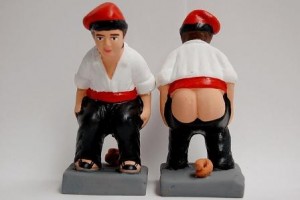 Be sure to watch out for the 'Caganers', too! These little figures come in many shapes and sizes, and you'll typically find them hidden in nativity scenes, or 'pessebres', squatting with their trousers around their ankles. A Catalan tradition that dates back to the 18th Century, the kids enjoy searching for these little guys that are said to be fertilizing the earth. You can pick up your own nativity addition in the form of a well-known character at the Fira de Santa Llúcia, as the market has many stalls full of famous Caganers from Tito Vilanova to Albert Einstein!
So, whether you are looking for that perfect gift, or simply wish to experience the Christmas spirit Catalan-style, the Fira de Santa Llúcia is one of those Barcelona events you just can't miss!
How to get there: Metro L4 to the Jaume I stop.
Opening times: Open daily from 10:30am-8:30pm on working days and 9:30pm on weekends and holidays.