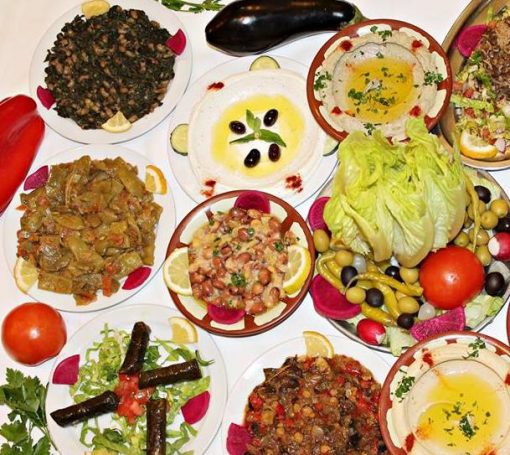 If you're looking for some authentic Halal food in Barcelona, there is a large selection of restaurants that will satisfy your needs. This city has a number of eateries that specialize in Middle Eastern and Moroccan food. Scattered throughout the city, you're sure to find one that is convenient. Explore this article for some of the top Halal restaurants in Barcelona.
Lal Qila Barcelona

Located in the heart of Eixample, Lal Qila Barcelona specializes in a variety of cuisines, from kebabs to pizza. A local favorite, this destination has a menu of well priced and delicious items that are sure to appease your appetite. Be sure to try the curries and the Durum Kebab. This casual lunch or dinner spot is great for groups and families.
C/ Roger de Lluria, 49
Take the L4 to Girona
Aska Dinya

Take a walk into the happening neighborhood of Gracia and pop into Aska Dinya for a promising meal. Aska Dinya is a great vegetarian destination, as they are most well known for their excellent hummus and falafel. There are also plenty of vegan options, which makes this destination a hit amongst every foodie!
C/ de Verdi, 28
Take the L3 to Fontana
 Arabia

A gem in the El Born area of Barcelona, Arabia is a cozy restaurant with a beautiful outdoor patio. Not only is their sangria especially good, but their Moroccan dishes like the vegetarian cous cous and the chicken tangine make this restaurant one to return to. Well prepared and mid-priced, the food at Arabia is a hit every time.
C/ de Sant Pere Més Alt, 18
Take bus 45, N8, V15 or V17 to Via Laietana – Comtal
La Mamounia
For a nicer dining experience with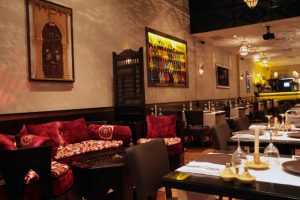 mood lighting to match, try La Mamounia. This Moroccan-inspired restaurant has particularly good cous cous and vegetable dishes. Head over to this Eixample restaurant with Halal food for a proper dinner for two, or an intimate evening with family and friends.
C/ de València, 193
Take the L7 to Provença
Maharaja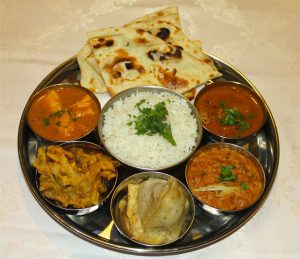 If you're looking for great Indian food, this is your spot. Maharaja, in El Raval, is well suited for both vegetarians and meat-lovers. With outdoor seating and chefs that know their way around a spice cabinet, you can't go wrong here. This destination is kid friendly and stays open late, so you can enjoy great food at any time with any company.
Rambla Raval, 14
Take bus 120 to Rambla del Raval
Rincon Persa

A restaurant renowned for their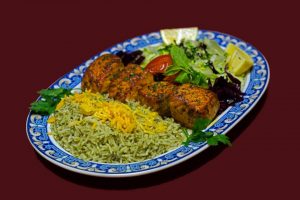 Persian cuisine, Rincon Persa is a family favorite. Though the restaurant is small, it makes up in quality of food what it may lack in size. With great service to match the caliber of food, this destination is perfect for anyone in El Raval looking for a great Halal dinner in Barcelona.
C/ de Floridablanca, 85
Take the L1 to Rocafort
Abou Khalil
Located up by Sarrià-Sant Gervasi, Abou Khalil serves excellent Lebanese and Middle Eastern food with a nice view of the city. Definitely try the shish tawooq and reayash if you're able to stop by this fan favorite! A well priced, nice dinner is in your future if you venture over to Abou Khalil.
C/ de Santaló, 88
Take train ES, S1, S2, S5 or S55 or metro L6 to Muntaner
Ziryab
A notoriously popular destination for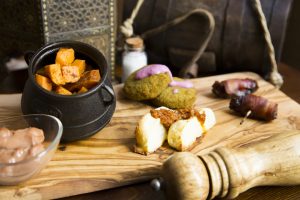 Mediterranean-Spanish fusion, the tapas and accompanying wines make this restaurant a must-go for anyone in the mood for an authentic Mediterranean dinner. The grilled shrimp and bacon-wrapped dates are especially popular. Ziryab is bound to be a success for couples or small groups of friends.
C/ dels Ases, 16
Take bus H14 to Pla de Palau-Av. Marquès de L'Argenter