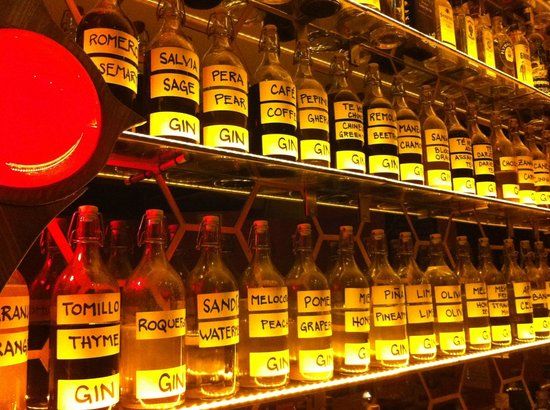 Barcelona's nightlife is known for being one of the best in the world, but as is tradition in lots of European countries (e.g. Spain, Portugal, Germany) the clubs don't start to rock until around 2am. Many people visiting Barcelona therefore are unsure of what to do until that time, whether you are going to a reggae and dub party on the beach, a rave at Razzmatazz, or a more upmarket night at one of the beachfront clubs, you definitely need somewhere to have a drink beforehand.
Barcelona has an awesome bar scene, with each barrio having streets lined with different themes and deals on offer. Don't worry though because we've got you covered and have listed some of our favourite bars and hangouts to have a few drinks before hitting the town.
Bar Marsella

You may already know that Barcelona is a city with a long absinthe tradition and has some bars which specialise in the famous green spirit. Bar Marsella was the first absinthe bar to open in Barcelona, way back in 1820, and is a tavern full of nostalgia. Today, quite a young and diverse crowd can be found there as they prepare for a night they probably won't remember, but will never forget.
Carrer de Sant Pau 65
The Lime House

This spot was opened in May 2014 and is run by the same team behind the awesome Rubi, and since the success of The Lime House they have also opened The Mint in Barceloneta. Any one of these spots is great for a pre-drink session as the drinks are well priced and very strong, but The Lime House is our favourite.
This spot has fast become a favourite for many locals and young people to hang out, not only because of its drinks, but also because of the excellent service from the ever-so-friendly staff and the brilliant music selection – song after song of certified classics! This is definitely one of the best pre-drink spots in Barcelona and after a couple of mojitos or their incredibly varied flavours of home-made gins, you'll be ready for a great night.
Carrer dels Carders 31
Manchester Bar
As you can probably guess from its name, this bar pays homage to the punk and post-punk music scenes of the 70s and 80s in Manchester in the north of England.
Expect to hear track after track from bands like The Smiths and Joy Division whilst you knock back a few beers before going to dance it all off. This is a really great and friendly bar and a hangout among young locals and ageing rockers alike.
Carrer de Milans 5
Nevermind
Still run by the same people since its move from El Gótico, this sick skater bar offers reasonably priced – and very strong – drinks, as well as really noisy music all the time. Usually playing punk, rock and metal, they have even got a slick little skate ramp inside. A great hang-out for young people living in and visiting the city, this is one of the best pre-drinks spots in Barcelona.
Carrer dels Tallers 68