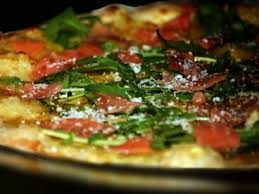 Patatas bravas, olives and tomato bread Barcelona are undeniably tasty Barcelona treats. However, sometimes all you want is a huge slice of good ol' pizza. While you can find pizza on just about every corner in the city and Barcelona isn't necessarily known for its pies, there's nothing worse than a mediocre pizza. If you want that cheese-overload, fresh ingredient, crispy crust goodness, check out these spots and satisfy your craving.
La Bella Napoli 
If you're looking for that true Italian pizza but don't have the time for a trip to Naples, this is your spot. The atmosphere and scent of this classic Italian restaurant should be enough to get you in the door, but once you see the wood-fired clay oven you'll all but run inside to get a table. Hidden in Poble Sec, this old-fashioned joint is a favorite amongst many locals due to its unbelievably authentic Italian menu.
If thee perfectly crusted pizza only gets your appetite wanting more, no need to worry, La Bella Napoli also have an impressive selection of freshly made risottos, pastas, and salads. If you just want to stick to pizza, there are 25 delectable options to choose from.
If you're interested in the pizza, but not in the idea of sitting down for a night out in the town, call ahead and grab a few pies for takeaway! Authentic Italian in the comfort of your own home? Now that is a good night.
Calle Margarit, 12-14
 Pizza Circus 
This hidden gem filled, with an entire Italian staff from Rome, is strictly professional when it comes to making delicious pizza. With squidgy, salty bases and the freshest toppings, this Barcelona pizza restaurant will ensure that you will have an amazing rest of your day. Perfect for a pick me up after a long walk down La Rambla or for a little energy before tackling the markets, vendors, shops, and crowds.
Carrer Nou de la Rambla, 40
Vitali Pizza 
If you can combine 'quick and easy' with healthy and delicious when it comes to pizza, the you truly deserve the 'Best Pizza 2014' award. With a range of classic, gourmet, and gluten/lactose free pizzas, Vitali Pizza deserves every award sent their way. Appealing to every type of person and most possible allergens, this place also uses only the freshest and highest quality ingredients- winner pizza take-away dinner!
With two pizzerias in Barcelona, these saintly people deliver to most address in the city, but if you're not sure, simply put your postcode into their website. It event gets better… if you're a guilty sweet tooth and don't even feel like opening a bag of galletas, try the 'Special' pizza which is a scrumptious combination of banana and Nutella- you can't go wrong there!
Carrer de París, 109
Les Dues Sicilies 
With winding cozy streets and hip shops and restaurants, El Born is a hidden gem away from all the madness in the center of Barcelona. If you're looking for a good time yet don't want to spend an hour at lunch, Les Dues Sicilies is the place to be. Other than the line winding out the door, you may not notice this little joint- but trust me, the line is a strong indicator of the quality! The size of the restaurant at first might scare you away, but wait that line out for it moves fast and there is a charming restaurant fully equipped with seasonings and candle light down a few stairs!
The pizzas vqry every day from arugula and blue cheese to meat-filled and tomato based toppings. Oh, and the biggest bonus? Each massive slice is only two euro! Yup, you read that correctly. Two euro for a freshly made, warm, unique piece of pie.
Carrer Carders 22
 Luzia 
Belonging to the renowned family business, Grupo Tragaluz, this Barcelona pizza restaurant has mixed prestige with fabulous pizza since its opening in 2011. Having been in the food industry since 1987, this family has fully mastered the art of Mediterranean cuisine – from tapas, to salads, to pastas – and now, pizzas! Using their wood oven to cook each pie to perfection, this restaurant makes simplicity quite simply delicious.
With sun dried tomatoes, creamy burrata, and the freshest basil, this pizza place has some amazing dishes.
The base of each slice or pie is thin and crispy, just as the Romans like it. And trust me, they know how to enjoy pizza! You won't get any doughy, oily, messy pizzas here, just the most homemade pie that crisps with each bite.
Carrer del Pintor Fortuny, 1