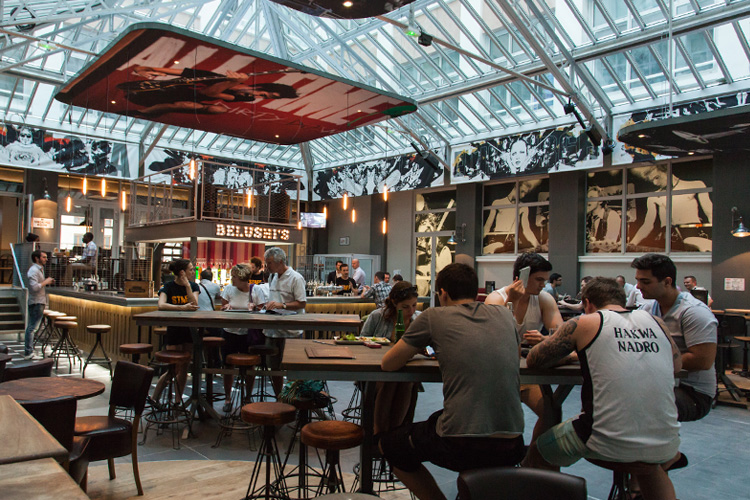 If you can't make it to the Olympics in Rio on August 5th, you don't have to miss all the fun. If you're in Barcelona during the Olympic Games 2016, you'll be able to catch all the events. Many bars throughout the city will be showing all the action constantly so whether you need a break from the sun or want to watch the whole thing live, these are your best places to do so.
1. The George Payne 
Being the biggest Irish bar in Barcelona, this place really knows how to watch the Olympics the correct way- with a big ol' pint of beer and some grub! Showing most of the games and having some of friendliest staff around, all you have to do is to get to the Urquinaona metro station and you're right where you need to be.
The bar has two separate floors with TVs pretty much everywhere, so you can comfortably watch the games and not miss a second of action. The atmosphere is so lively that you will most likely find yourself spending a few hours in there. But not to worry, take your time and order one of their massive burgers or deliciously spicy wings!
Plaça d'Urquinaona, 5
2. 7 Sins Bar 
If you want to watch the Olympic Games while in Barcelona, but can't miss an ounce of that sunshine, 7 Sins bar is your spot. Directly in the heart of Barcelona and near Plaça Universitat, this bar offers a young and hip crowd with a relaxing atmosphere.
Grab a drink and some international cuisine and either head to the terrace to watch the games casually, or head downstairs to see every detail of the games with comfortable sofas and a large projector. Better than the option of lounging in the Barcelona dusk or cozying up on a huge couch? The bar also offers 2 for 1 cocktails every day from 5-9 pm so get there early and keep the drinks rolling!
Carrer de Muntaner, 7
3. Belushi's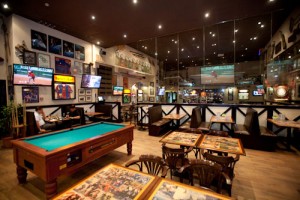 If you're not up for watching the 2016 Olympics in a tight and dimly lit bar, Belushi's is the exact place for you. With plenty of room and a glass roof, this place is perfect for grabbing a table with a large group of friends.
Flat screen TVs are located all around the bar for you to take in the games and while you are watching inside, you don't have to feel like you're in a dark hole, as all of the windows provide great natural light. You will probably spend most of the day here so grab one of their famous Belushi burgers and a 2-1 drink until 11pm! The vibes here are just too perfect for the Olympic games so if you're in the Plaça Catalunya area and looking for a good time, this is your spot.
Carrer de Bergara, 3
4. Scobies Irish Pub 
While The George Payne is fun and rowdy with its two floors, this Irish pub is cozy and quaint, with all of the necessary sport viewing essentials.
Wanting to watch a specific game but can't find it playing anywhere? You can message the owners ahead of time and ask for it to be played… now that's service! While they only serve snacks, this is a fabulous place to stop before or after a meal and watch the Olympic Games with a pint of Guiness! Keep up with the schedule here.
Ronda de la Universitat, 8
5. Flaherty's Bar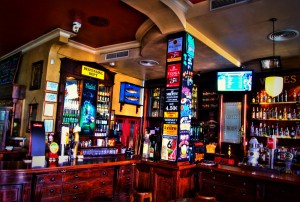 If you find yourself wandering around Las Ramblas and you realize it's about time for some food, a drink, and to get caught up with the Olympics, Flaherty's is the absolute place to go.
Start with a variety of craft beers and specialty cocktails or dive right into it and order some homemade food. While the walls are decorated with an assortment of pictures and goofy artwork, they are also accompanied by TVs. Better than the great food and delicious drinks is the fact that you can call ahead and book a table. Barcelona in the summer is a great atmosphere, but also very crowded. If you know you're heading to the games with a group, getting the perfect viewing table is essential.
Plaza Joaquim Xirau, s/n