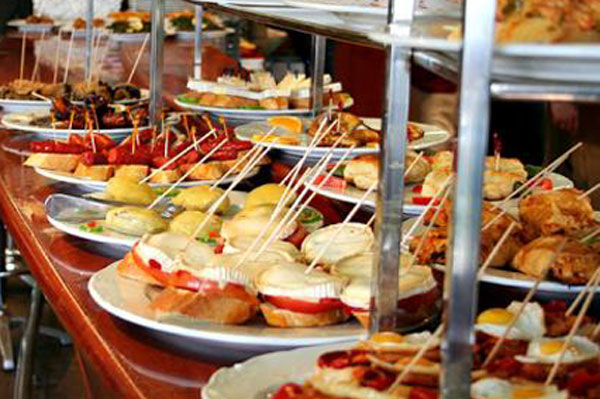 Visiting Barcelona and not sitting down for some traditional tapas is like going to Paris and not seeing the Eiffel Tower… you just have to do it. There is a sense of pride in this booming city as being a gastronomic centre, so it is time to indulge! Save some extra bucks while treating your taste buds to traditional plates such as patatas bravas and pa amb tomàquet.
These may appear as a carb overload but not to worry, you're on vacation and you're guaranteed to walk it all off while trying to visit each and every end of this beautiful city! Whether you're visiting on a budget or looking to dish out some cash on amazing food, the same tapas bars are suggested since many of the best are the cheapest.
1. Bormuth 
This Barcelona tapas bar opened in 2013 tucked away in the trendy neighborhood of El Born and has been a hit ever since. These dishes are affordable and delicious food, while the atmosphere is exactly what you're looking for after a long day. Choose from a variety of typical tapas such as tomato bread and tortilla but don't forget to go out of your comfort zone with this bar's famous patatas 'mojo picon' and honey drizzled fried aubergine.
Intermixing the regulars with the famous dishes will ensure a happy stomach. Yet if you get nervous about ordering an unknown item, feel free to ask the waiters! Being situated in such a residential and cozy neighborhood creates a very welcoming ambiance.
With such a comforting atmosphere, there is the slight issue of seating and space. Friday and Saturday night can get a little hectic, but try to get there a little early and snag a spot by the window. With a glass of vermouth, cheap and incredible tapas, you can sit and watch the city go by.
Plaça Comercial, 1
2. Moritz 
If you haven't enjoyed a refreshing Moritz beer quite yet, either get up this second and go buy one or just head towards this restaurant for dinner tonight. This exclusive and trendy restaurant has a menu devised from the incredibly talented Jordi Vilà. This place knows good cuisine with a range of Catalan inspired tapas dishes with some of the most incredible produce you can get.
If you're looking for some traditional favorites as well as beer-based tapas dishes, this is one of the best tapas places in Barcelona to go for a nice and reasonable dinner. Moritz is known for its 'siscentó′ tapa, keeping in line with the factory's theme of delicious beer. Many of the tapas dishes are under 6€.
Ronda de Sant Antoni, 39 – 41
3. Mosquito 
Warning: this is not your average tapas bar. If you've had your fair share of traditional tapas and are looking for something more exotic, there's no better place in Barcelona. Here, there are a variety of Asian flavours, all inspired by Vietnamese, Chinese, and Korean cuisinse which all come together to create one of Barcelona's most incredible hidden gems. The specialty here is Chinese dumplings, with the xiaolong bao (steamed pork dumplings). The moment that dumpling melts in your mouth, you'll not regret your decision to come to this restaurant.
If, however, dumplings are not your first choice, go for their selection of noodles, soups, and vegetable dishes. Wash everything down with a crisp beer, some which are brewed specifically for the restaurant.
While the restricted lunch menu at this tapas bar in Barcelona is incredible, if you're looking for the full experience, we recommend you go for dinner when the menu is offered in entirety.
Carrer dels Carders, 46
4. Ca'l Chusco 
Tapas originated as a free snack alongside a drink way back when. Unfortunately, in most cases, that is a far away fairytale for most restaurants in Barcelona. However, one restaurant has been able to keep this tradition. Ca'l Chusco, a local and family run restaurant located right in the heart of Barceloneta, has kept this tradition of free tapas.
Whether you're looking to save a few extra pennies or don't quite know if tapas is your thing, this restaurant will give you the chance to sample with the purchase of a drink. Popular dishes include their renowned bombas (potato balls) or fried fish. If you're satisfied with these small plates, sip on your drink and enjoy the beauty of original tapas. If you liked what you tasted, grab that menu and order some of the bigger portions of these incredible tapas.
Carrer l'Almirall Aixada, 5
Pintxo Bars:
While this type of tapas originated in the Basque Country and Navarra, Barcelona has mastered the art of this style of cuisine. Pintxos are essentially small pieces of bread with different toppings, which are displayed beautifully on a bar counter for your choosing. At the end you will be charged for however many skewers are you have from each pintxo consumed, which give you the option of eating as you please.
While these miniature open sandwiches can entice just about anyone walking down the street, there are a few that really help you to enjoy your first pintxo experience.
5. Irati 
With an undeniable famous name in the pintxos industry, Irati is known for its ridiculously delicious miniature tapas dishes. There should be no doubt in your mind that you (or your tapas) are in the right hands, for these professionals have had 15 years in business. Every pintxosincludes at least four toppings, with perfectly complimenting flavours to die for.
During the busy months of business, there can be up to 600 pintxos dished out with 50 different varieties, whether you are looking for hot or cold. A local favorite is the scorpion fishcake with sour cream and egg, which really gets the taste buds ignited. At only 1.95€ per pintxo, you can enjoy an affordable and enjoyable evening here.
Carrer del Cardenal Casañas, 17
6. Euskal Etxea 
This traditional bar is located Barcelona's adored Old Town and is the spot to be for gourmet pintxos. Regardless of the kind of evening you're looking for, this joint has it all; a lively bar for drinks and then a more civilized dining for those simply going for dinner.
With a Basque cultural centre, Eudkal Extea offers some of the best 'tapas on a toothpick' that you can find around Barcelona. Get your taste buds going with their divine selection of bite-sized tapas that ranges from melted provolone with mango and crispy ham as well as chicken tempura with saffron mayonnaise. Mouth watering just reading that? Well head on over to this incredible place that doesn't only offer the best of the best, but offers each pintxo at a mere 1.20€.
Placeta de Montcada, 1