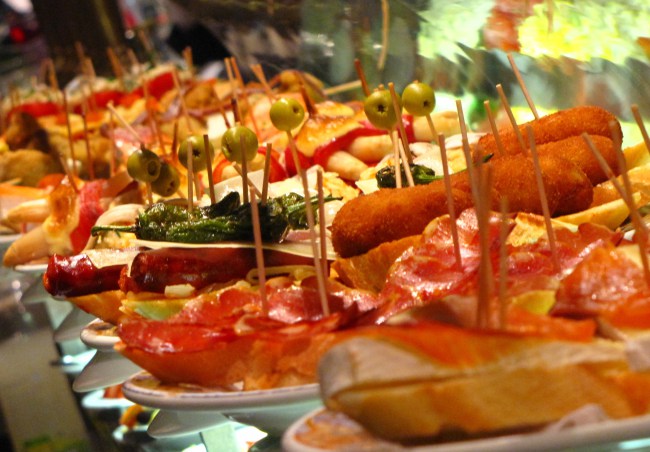 Tapas, tapas and more tapas! What is Barcelona without the excitement of good tapas? With the many options of great tapas bars to choose from in the city, we have compiled a list of the top 10 places to eat tapas in the Barcelona area. Whether you're a resident of this beautiful city or a welcomed visitor, this list will have stomachs howling, mouths watering and appetites buzzing! On your mark…get ready, set, TAPAS!
 1. Quimet y Quimet
This family-owned tavern has quite a few locations awaiting you for an afternoon pick me up! Known for its exquisite tapas, wall to wall bottles of beer, wines and spirits, and a small group of people waiting in line for their taste buds to explode, Quimet y Quimet is a won't disappoint.
We recommend the salmon with truffled honey, tuna dotted with caviar and balsamic syrup or the cured beef with roasted tomatoes and red peppers – delicious.
Carrer del Poeta Cabanyes 25, 08004 Metro: L2 Paral-lel
2. Cal Pep
Welcomed with smiling faces and an upbeat atmosphere, Cal Pep has no problem making its way on this list! Offering some of the best tapas in Barcelona like the seafood platter which includes, deep fried calamari, small fried shrimp and two different types of fish, or the grilled green peppers! Talk about satisfaction!
Looking for originality and authenticity? Search no more! Cal Pep comes highly recommended by both locals and visitors near and far. This Barcelona tapas bar encourages you to make reservations in advance to assure your time is valued and your dine-in experience is memorable.
Plaça de les Olles 8, 08003 Metro: L4 Barceloneta
3. Bar Pinotxo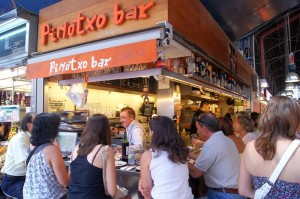 "What's good today?" This one question will lead you into a world of delicious tapas to choose from. A taste of their traditional tapas dishes such as lamb stew, lentils, and chickpeas with botifarra (a type of Catalan sausage) appropriately accompanied by Pinotxo's own sparkling wine, adds a touch of innovation! This legendary bar seats 14 people at a time, which will explain the crowd of people hovering over, so keep that in mind when you are visiting this Catalan classic!
Carrer la Rambla 89, 08002 Metro: L3 Liceu
4. El Xampanyet
Founded in 1929, El Xampanyet, once called Ca l'Esteve, is a landmark tapas bar that has well conserved its welcoming personality over the decades. This small, yet quaint, bar is very popular with visitors and is not amongst the quietest places in Barcelona.
El Xampanyet caters to its love of tapas and wine, which is always complemented by conversation and laughter. Come in and find a seat, enjoy the choice of anchovies, bread with tomato or asparagus, no matter your decision it gives you one more thing to talk about!
Carrer de Montcada 22, 08003 Metro: L4 Barceloneta
5. La Cova Fumada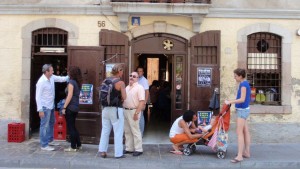 Look for wooden doors and a long line of hungry people, that's the only way you will find this tiny hole-in-the-wall tapas bar! At first glance it may feel a bit crammed, but once you get seated congestion will be the last thing on your mind. At this point the biggest problem
will be choosing what to eat from a menu that includes an array of authentic and savory tapas! Good luck!
Carrer del Boluart 56, 08003 Metro: L4 Barceloneta
6. El Quim
When something is good you keep it in the family. El Quim de la Boqueria is a sure example of a true family business. This tapas bar may be limited on seating, but its food is definitely worth the wait. Offering homemade croquettes, roasted artichokes and steamed mussels with white wine, this Barcelona tapas bar's sensational aroma will meet your nose before you see it. While you are in El Mercat de La Boqueria take a stop by, your stomach will thank you later.
Mercado de La Boqueria, Les Rambles 91, 08002 Metro: L3 Liceu
7. Morryssom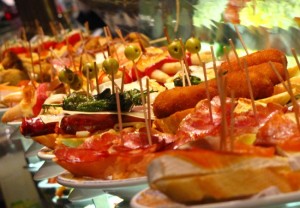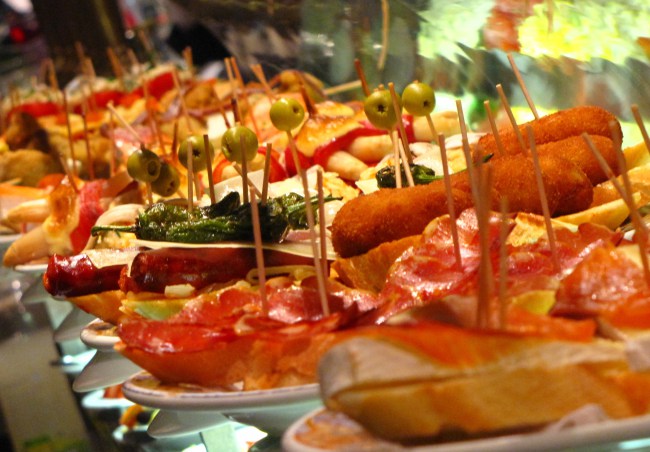 Looking to enjoy tasty tapas on the terrace while soaking up the sun? Morryssom has a lovely little outdoor seating area, perfect for those warm, summer months. Regardless of where you choose to sit the service and choice of tapas and other foods are of great, authentic quality! If you miss the afternoon rush, no worries; Morryssom allows you to dine with them till 1am on weekdays!
Calle Girona 162, 08037 Metro: L4 Verdaguer
8. Nou Candanchu
Located in the heart of Gràcia and soon in your heart too, Nou Candanchu encourages an atmosphere that welcomes all ages. The restaurant offers an extensive menu from standard Catalan tapas, to full entrées, sandwiches and salads. Want to sit outside? They have that option too!
Plaça De la Vila de Gràcia 9, 08012 Metro: L3 Fontana
9. Jai Ca
Graciously priced tapas and jugs of Sangria? What a combination! This friendly Barcelona tapas bar may not be for you if you don't enjoy the sound of hearty laughter, loud conversation, sociable waiters and fine seafood inspired tapas like the mejillones (mussels in tomato vinaigrette) which is known as one of their most popular delights! Jai Ca gives that bar-like feeling you desire with a touch of rugged warmth.
Carrer de Ginebra 13, 08003 Metro: L4 Barceloneta
10. Cervecería Catalana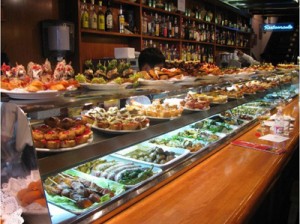 Timing is everything! Want a good seat? Plan strategically! Cervecería Catalana is a well-known tapas bar in Barcelona whose food comes highly recommended. The best times to partake in these cold or cooked tapas are during lunch hours or for an early dinner.
Carrer de Mallorca 236, 08008 Metro: L3 Passeig de Gràcia