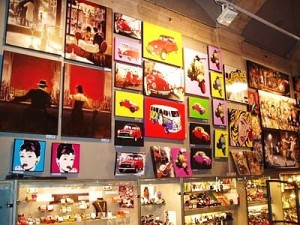 After visiting Barcelona, it's nearly impossible to return home without having bought a souvenir. Shopping in Barcelona can be as hard or easy, and as entertaining or boring as you make it. Nearly every street in Barcelona is equipped with fun, vibrant stores awaiting your entrance, and if you pick the right one, you may just land that perfect souvenir! Whether shopping for yourself or for someone else, follow these few simple guidelines on where to shop and how to buy the best souvenirs in Barcelona.
1. Know when to bargain
One of the easiest ways to make your Barcelona gift shopping experience enjoyable is to bargain, if you can. You will know which stores you are capable of negotiating with because they usually extend an offer sometime during the exchange. And if they don't, simply ask! Many stores will bargain with you, as they find it enjoyable to converse with the customer and like to end the experience feeling like both partners are satisfied with the purchase.
2. Be money conscious
When shopping in Barcelona, it's important to be aware of the exchange rate if one applies to you. Items could appear to be cheaper or more expensive than they actually are due to the exchange rate, so if you have a handy calculator on your phone, it might be worth taking a look. Also, don't forget to store hop: that is to say, go to one store, keep your selected items in mind, and go to the next. You never know which shop will offer you a better deal or lower price on those souvenirs in Barcelona. This is only recommended if you're doing all your shopping in one day. We'll explain why in tip #4…
3. Explore the alleys
If you're walking down main streets such as Las Ramblas, Passeig de Gràcia, etc., challenge yourself to take that next left or right turn down an unknown alley. These side streets hold some of the most random, unexpected stores, and you never know when one of these twists or turns could lead you to your favorite souvenir shops in Barcelona!
4. If you like it, buy it
Due to Barcelona being heavy with tourism, shopping is an activity that takes place every day of the week. For this reason, it's important to keep in mind the likelihood of a unique item being available for you the next day, after you've walked away from the purchase the previous day. If you see an item you like, and haven't clocked it before (during store-hopping suggested in tip #2), buy it! Holding back from buying it right then and there might mean you lose out on that special item.
5. Do your research
No, I'm not talking about major research, just be aware of the culture in which you are shopping. There is a short period, usually from 2pm-4pm known as the 'siesta' period, where many souvenir shops in Barcelona close for lunch. Keep this in mind when you are setting out for an afternoon of shopping in Barcelona. What's more, remember to keep any eye on the days of the week. If you were to go shopping on Saturday, and wanted to wait until Sunday to buy something, think again. Sundays are days off for most stores in Barcelona, and these wanted items will have to go unclaimed until Monday.
Here we have some suggestions for some great souvenirs from Barcelona:
• Casa Miranda – Quirky household assortments C/ Banys Nous 15
• Col.leccionisme Coixet – Vintage arts, food, and more C/ Banys Nous 19
• Els Encants Vells – Barcelona's flea market C/ Dos de Maig, 186
Now that you've gained some insight into ways to approach shopping for souvenirs in Barcelona, I hope you find it useful and to your advantage. Feel free to tell us what you think in a comment below!