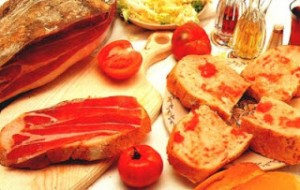 There is a never ending list of activities in Barcelona to enjoy, from exploring the masterpieces of Gaudí and strolling around the winding streets of the Gothic Quarter to spending a day at one of the beautiful beaches. However, aside from all of the fantastic attractions on offer, the capital of Catalonia is also host to some of the finest culinary creations in Europe.
This Mediterranean hotspot triggers those taste buds with some of the best cuisine in Spain, from simple tomato bread to smoked and cured meats to some wild, fishy creations. So, for those of you looking to get a real taste of the city, check out our short guide to Catalan cuisine in Barcelona.
Catalan cuisine for beginners
World renowned for its blend of elegance and simplicity, its use of healthy, fresh, ingredients and its incorporation of ideas from other cultures, Catalan cuisine is a vibrant and forever changing tableau. This, of course, is reflected in Barcelona's upscale restaurant scene which includes a variety of quality dining choices. Barcelona, in fact, has received an astonishing share of high scores from the esteemed Michelin survey.
The authentic home-grown factor makes gastronomy in Barcelona oh-so special. The region is blessed with a wide variety of natural landscapes from the Mediterranean Sea to the Collserola Mountains, meaning chefs in Barcelona are spoiled for choice when it comes to selecting the finest ingredients for their dishes.
Top Notch Dining in Barcelona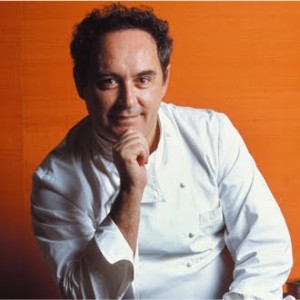 Catalonia has the privilege of being home to one of the most renowned chefs in the world: Ferran Adrià. Starting out as a dishwasher, Adrià flew his way up the ranks to become the head chef of three star Michelin restaurant el Bulli. This master Catalan chef has a significantly unique talent. Being named one of the 100 most influential people in the world by Time Magazine, its clear that food is Adrià's forte and perhaps he is the reason behind the high quality, great tasting foods produced in Catalonia – he's set the standard!
Typical Catalan Dishes
Pa amb tomàquet
Let's begin with the basics. An extremely tasty appetizer in Catalonia and definitely the most iconic, is pa amb tomàquet or "bread with tomato". So what is this creation? It is simply toasted bread smeared with fresh garlic, salt, olive oil and the juice or flesh of a ripe tomato. This may sound somewhat lackluster, but it is actually quite the opposite. The Catalans have somehow turned this delicious concoction into a part food, part social ritual. Making pa amb tomaquet is half the fun and an essential part of any embotit dinner (this is up next).
Embotits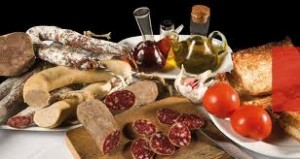 So, combine some dry-cured meats and chuck in a little smoky paprika and what do you get? Well the answer would be expertly aged sausages a.k.a embotits or embutidos in Spanish. These tasty sausage-style meats are some of the most traditional Spanish and Catalan products and have played a significant role within cuisine in Catalonia for over a century. From chorizo and fuet to jamón from the Vic region, the embutidos found in Barcelona are richly flavored and completely versatile, allowing them to be served cold, hot, in paella or with cheese and bread.
Escalivada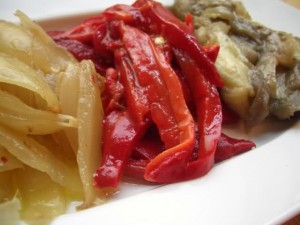 Derived from the regions of Catalonia and Aragon, this Catalan dish is the perfect appetizer or side dish for your meal. This simple and tasty little number consists of tomatoes, eggplant, peppers and onions. The name comes from the Catalan verb "escalivar" which translates as "to roast in ashes". This refers to how the vegetables are cooked – usually grilled over hot embers. The smokiness of this vegetable dish harmonizes perfectly with meats in the warmer months and goes great with some crusty bread as the perfect entrée.
Esqueixada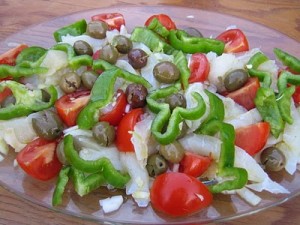 Spice up your salad with a Latin twist. Esqueixada consists of salted cod, tomatoes, onions, olive oil, vinegar and salt. The tasty secret behind this dish is to shred the salted cod with your fingers, creating the perfect texture for the salad. This is a particularly popular side dish in Catalonia during the summer months.
Botifarra amb mongetes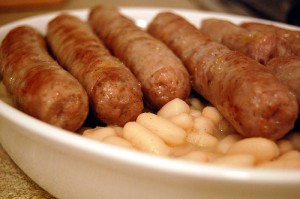 The food in Catalonia owes a lot to the countryside and there is no better example of this than the Catalan meat dish, botifarra amb monegetes (sausage with beans). The Catalan botifarra sausage comes in a wide variety of flavors, from botifarra blanca (white sausage) to botifarra negra (black sausage). Caramelized and cooked in red wine and butter, the sausages infuse a bona fide Catalan flavor. Served on top of sautéed baby white beans and occasionally a fried egg, this is one rustic, plentiful meal perfect for those chilly days in Barcelona.
Crema Catalana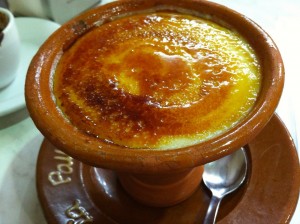 Like any good story has its happy ending, every good meal has its dessert. An excellent example of how the Catalans have taken some culinary inspiration from another culture and added their own touch is Crema Catalana. This popular 'postre' is inspired by the notorious French Crème Brulée, as it derives from egg yolks, sugar, cinnamon and a broiled, crusty topping. Make no mistake, the Catalan version is totally unique with its thick texture and avoidance of extravagance.
Shopping for Food
Fantastic food would be nothing without its fantastic ingredients. Barcelona provides a kid-in a-candy shop experience when picking up fresh ingredients for those Mediterranean inspired dishes. Most neighborhoods in the city feature their own indoor/outdoor markets, such as the Mercat de Santa Caterina and the Mercat de la Barceloneta. The most famous one on the list is "La Boqueria", Barcelona's main market which can be found just off Las Ramblas. The Boqueria Market is set apart from others with its tourist attraction appeal and its food distribution to the city's population. Inside you'll find stalls, restaurants and the most inventive ingredients on display. Food lovers can stroll around and sample some of the tasty delights over the small counter top bars, too.
Cooking Classes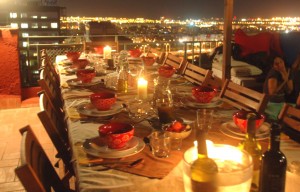 Catalan cuisine is far too tasty to be kept behind closed doors. With this in mind, an increasingly popular activity for visitors is to sign up for one of Barcelona's cooking classes. We recommend taking your next cooking class with chef Yves Nicolier. From private parties on top of his three storey terrace in the hills of Barcelona, to larger classes which can be found at La Boqueria, Yves offers some very enjoyable and interesting classes that are sure to enrich your Barcelona experience and send you away with some top culinary skills and unforgettable memories!
Barcelona: Calling all foodies!
Delve deep into the culture and daily life of Barcelona during your trip through the endless mouth-watering selection of Catalan cuisine. With your new skills and knowledge, you could even take a trip to the Boqueria Market, pick up some fresh ingredients and try your hand at preparing some of these delicious dishes above from the comfort of your very own holiday apartment in Barcelona!