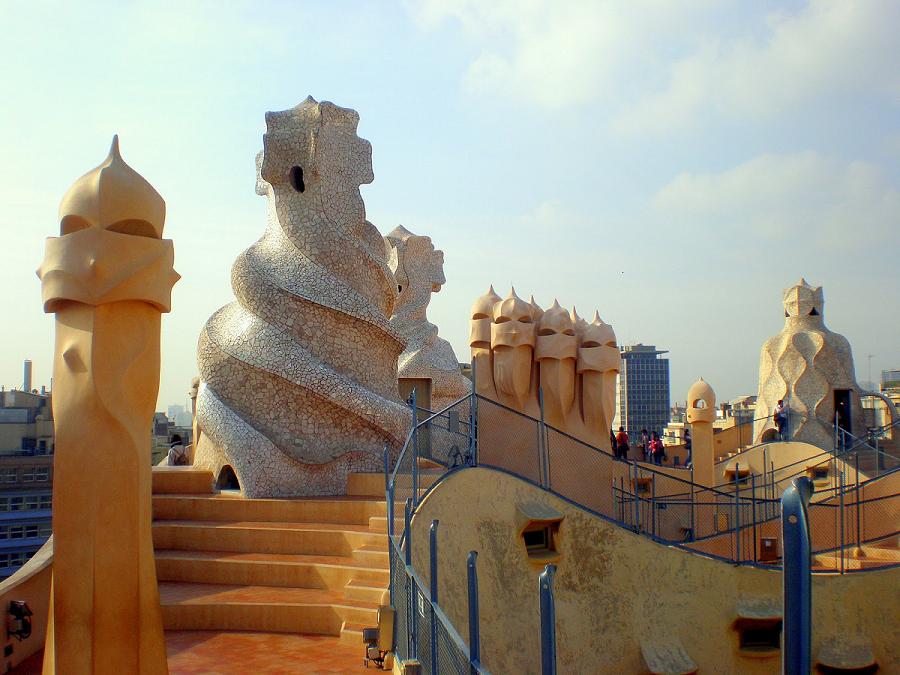 El Raval in Barcelona is one of the city's most up-and-coming neighborhoods and a top spot for the latest trends, the hippest art and some of the best nightlife in the Catalan capital! The best way to describe this Barcelona 'barrio' may very well be as the 'melting pot' of Gaudí's city with everything from skaters showing off their tricks to endless bars offering unforgettable nights out.
Packed to bursting with sights that should not be missed, El Raval is one town that's well worth checking out on your trip to Barcelona. This charming neighborhood is one of the most historic in Barcelona, and it was once hemmed in by city walls until they were demolished in 1859 due to the rapid rate at which the city was expanding. Rich in history, culture and a dash of modern art, El Raval in Barcelona truly has something for everyone!
El Raval in Barcelona: Top Sights
Església de Sant Pau del Camp: The oldest standing church in Barcelona is a true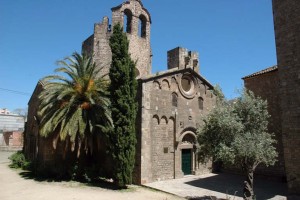 homage to Romanesque architecture and is one which has certainly stood the test of time as it was ransacked twice in the 10th and 11th centuries, and once more at the beginning of the 20th century during the Catalan capital's revolutionary riots. Don't miss a visit to the Visigoth temple (a monastery founded in the 9th century), the chapel and the cloister for a memorable religious experience.
How to get there: C/ de Sant Pau, 101. Metro station: Paral-lel (L2)
Palau Güell: This UNESCO World Heritage Site is not one of Gaudí's more famous buildings in Barcelona. Palau Güell was completed in 1890 and offers an up-close look at some of his most intricate and colorful designs. Don't miss your opportunity to see the famous chimneys of all shapes and sizes on the roof of this beautiful building.
How to get there: C/ Nou de la Rambla, 3. Metro station: Drassanes or Liceu (L3)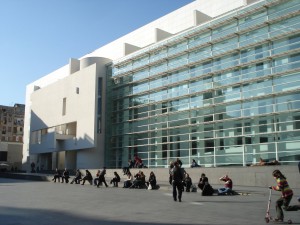 MACBA and CCCB Museums:  If you wish to marvel at some of the best contemporary art in Barcelona, the MACBA (Contemporary Art Museum of Barcelona) is a must! Featuring exhibits for everyone from the art buff to those who just like to browse, this cool building in the center of el Raval in Barcelona is great for those looking for a touch of culture. And for a more audiovisual twist, the CCCB (Center for Contemporary Culture in Barcelona) is worth a visit, too.
How to get there: MACBA is located at Plaça dels Àngels, 1, while the CCCB can be found at C/ Montalegre, 5. Metro station: Universitat (L1)
Antic Hospital de la Santa Creu:  A fine example of Catalan-Gothic architecture, construction on this hospital started in 1401 with the aim of connecting Barcelona's six main hospitals on one site. Be sure to check out the courtyards and high-ceilinged rooms which currently house the library of Catalonia, art schools and cultural organizations.
How to get there: C/ de l'Hospital, 56. Metro station: Liceu (L3)
Shop 'til you Drop in El Raval
El Raval in Barcelona is considered to be one of the most 'trendsetting neighborhoods' in the Catalan capital and is home to some of the best shopping spots in the city. Chic boutiques, vintage stores and everything in between means that everyone from the hip fashionista to the cool bohemian will find the perfect item here.
Accessorize: Searching for the best in vintage clothing? Look no further than Lailo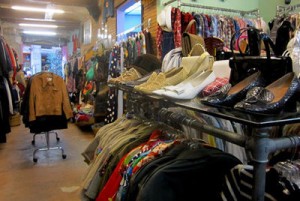 or HoLaLa Plaza where you are sure to stumble across some retro and antique bits and pieces for your collection!
How to get there: Lailo is located at C/de la Reira Baixa, 20. Metro station: Liceu (L3) and Holala is situated at Plaza Castilla, 2, near the Universitat Metro station (L1).
Souvenirs: For some unique and artistic Barcelona memorabilia, head to Ras Bookshop and Gallery in el Raval.
How to get there: C/ del Doctor Dou, 10. Metro station: Liceu (L3)
The Boqueria Market: One of the city's most famous attractions is the colorful Boqueria Market on Las Ramblas. Here you will find the freshest fruits and veggies, fish and meat, as well as endless tapas bars where tasty treats await!
How to get there: C/ de La Boqueria. Metro station: Liceu  (L3)
Delectable Dining and Nightlife in el Raval
El Raval in Barcelona is home to a wide variety of cuisines sure to satisfy every palatial desire, as well as a buzzing nightlife. From Arabic to Indonesian foods, and of course, Catalan cuisine, to some cool cocktail joints, this area is a gastronomic and nocturnal playground! Buen provecho…
El Mesón David: For the best in traditional Galician cuisine, be sure to head to El

Mesón David! The Pulpo Gallego (Galician octopus) and the Parnillada de Pescado (mixed grilled fish) are some of the top picks!
How to get there: C/Carretes, 63. Metro station: Paral-lel (L2)
Biocenter:  For the best organic bites in town, look no further than Biocenter in el Raval. The tofu curry and raw lasagne should not be missed!
How to get there: C/ Pintor Fortuny, 25. Metro station: Liceu (L3)
Marmalade: For a dash of 50's Havana vibe, be sure to check out Marmalade in el Raval, where hand carved black matter billiard tables await! Add to that cool and classy cocktails, including 'Bling Bling' and 'Champagne Charlie' and you've got yourself one unforgettable evening lined up!
How to get there:  C/ Riera Alta, 4-6. Metro station: Sant Antoni (L2)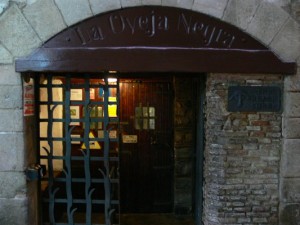 L'Ovella Negra: A favorite dive with locals and students alike is L'Ovella Negra, translated as 'The Black Sheep', where you can kick back in a relaxed atmosphere with sweet Sangria and salty snacks!
How to get there: C/ Sitges, 5. Metro station: Catalunya (L1 or L3)
Moog: For those looking to dance the night away, Moog in el Raval is a top pick! With the latest techno, house and pop tunes, jiving the night away amidst Barceona's hip crowd will be an easy feat!
How to get there: C/ de l'Arc del Teatre, 3. Metro station: Drassanes (L3)

Apartments in El Raval
By choosing to rent one of the many Barcelona apartments in el Raval, Barcelona, you are sure to experience all the treasures of this bustling Barcelona 'barrio'. With easy access to some of the top sights, the best shopping stores just around the corner and an electrifying nightlife to boot, you can't go wrong! There are plenty of fully-equipped apartments in el Raval, many with balconies, allowing you to enjoy looking out over this lovely Barcelona neighborhood as you soak up the Mediterranean sunshine!