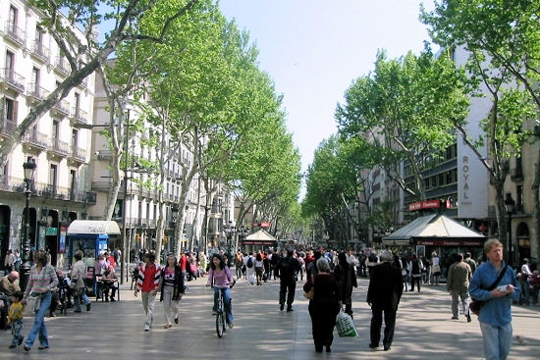 The most famed boulevard in the Catalan capital is hands-down the Ramblas street in Barcelona. A must-see on everyone's list of things to do in Gaudí's city, this 1.2km avenue is a hit with those visiting Barcelona. What was once a dry riverbed that marked the limits of medieval Barcelona, is now packed full of top attractions and great restaurants. This iconic street is to Barcelona as Gaudí is to architecture, and the stats certainly reflect its popularity, with a staggering 2.5 million tourists moseying up and down Las Ramblas annually.
Located in the city center of Barcelona, this bustling avenue, also known as 'La Rambla', serves as a divider of the Old Town, separating the winding alleyways of the Gothic Quarter from the up-and-coming neighborhood of Raval. The tree-lined walkway starts at Plaça Catalunya and ends at Port Vell, but it is worth noting that Las Ramblas is actually made up of five different streets, or 'ramblas', joined together. Spattered with charming outdoor cafes, unique street performers and cool stores, spending a day on this avenue, or even staying in a Ramblas apartment in Barcelona, is sure to leave you mesmerized!
Check out a few of our 'must-see' spots along this famous Barcelona street:
The Gran Teatre del Liceu
A Barcelona staple since 1847, the astonishing Liceu Theater is one of the biggest opera houses in Europe. Withstanding several fires and even a bomb attack, the theater remains to be one of the most revered cultural and art centers in Barcelona, hosting shows ranging from opera to ballet, with some of the most notable performances including the Nutcracker and Madame Butterfly. For those who simply with to marvel at the amazing architecture of this building rather than see a show, tours of the Concert Hall, Saló dels Miralls, Cercle del Liceu (a private club that shares the building with the Opera House and houses a collection of works by Ramon Casas) and the dressing rooms are available.
The Boqueria Market
One of the oldest and most famous sights along Las Ramblas is the Boqueria Market. Known for its delectable selection of scrumptious fruit, fresh seafood and the most delicious vegetables, as well as the huge selection of spices and candy, the Barcelona Market is a must-visit on your trip to Barcelona. The Mercat de Sant Josep de la Boqueria (to give it its full name), is also home to some of the best smoothies and fruit juices in town, ideal as a refreshing snack. If you're feeling a little more peckish as you amble around this incredible space, head to the bar 'El Quim' for some traditional tapas.
Barcelona Museu de Cera
For a different take on all things Spanish, a trip to the Wax Museum in Barcelona offers an interesting insight into the Iberian culture. Get up close to the tradition of Flamenco or share the company of Pablo Picasso as you explore the history of Spain and marvel at the likenesses of some famous faces. We also recommend you stop at El Bosc de les Fades Café, which adjoins the museum. Directly translated as the 'forest of the fairies', grab a drink in this magical world of mystifying creatures.
Where to Dine
If you find yourself ready for a bite to eat, there are endless cafés and restaurants lining Las Ramblas offering a variety of snacks and meals. For those who seek a truly Spanish experience, we suggest heading to Tablao Cordobés. This restaurant serves the very best traditional Spanish and Catalan food, and also has a buffet. But what really sets it apart from the rest is the fact that it is also one of the top spots to catch a Flamenco show in Barcelona! Find out more at the official Tablao Cordobés website.
Shop Till you Drop!
Seeking the perfect souvenir or looking to spruce up your wardrobe? The stores on Las Ramblas cater to all, offering everything from Barcelona memorabilia to high-fashion labels! Be sure to check out Custo for some unique designs, and don't miss the stalls of Las Ramblas, offering everything from fresh floral arrangements to quirky portraits.
Street Performers on Las Ramblas
Las Ramblas is well known for its amazing cast of street performers. With quirky personalities from demons to angels as well as some unusual imaginary characters, you are sure to have a giggle (or two) as you stroll along.  Watch out for the break dancers throwing some breathtaking shapes, too!
Tips to Avoiding Pickpockets
One of the most frequent complaints about Las Ramblas is the problem of the ever present pickpockets. Just follow a few of our handy tips to avoid falling victim:
–          Always wear backpacks/handbags on your front and check all zips are closed
–          Never leave your bag on the back of your chair or on the floor while eating
–          Avoid keeping belongings in your back pockets
–          If someone asks you to sign a petition, ask to see their badge – this may be a distraction technique
Apartments near Las Ramblas
By choosing one of the many Ramblas apartments in Barcelona, you will have the chance to explore every element of this famed street! And by choosing this central location, all of Barcelona's attractions are easily accessible, meaning that all of the Catalan capital will be at your fingertips. For those who feel that they still need more time to delve into Catalan culture, be sure to take a sip of water from the iconic Font de Canaletes, as legend holds that those who do so are guaranteed to return to Barcelona…we'll be waiting!
Check out our video guide to the bustling Las Ramblas!